Day 33 - 100 Days of Erotic Graphic Novel Challenge.
Alice Gets Slut Shamed by the Queen of Hearts, and I do Character Design.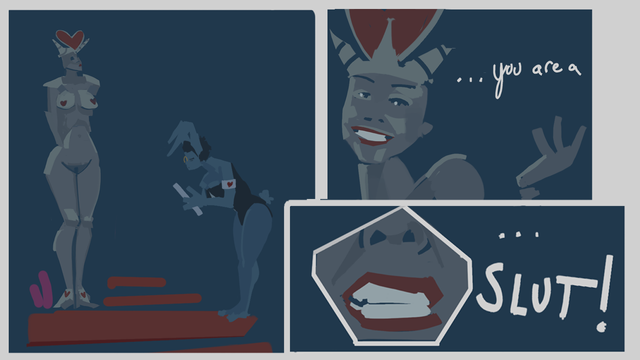 Here is a fun early iteration of the Queen of Hearts -- Me figuring out what she looks like: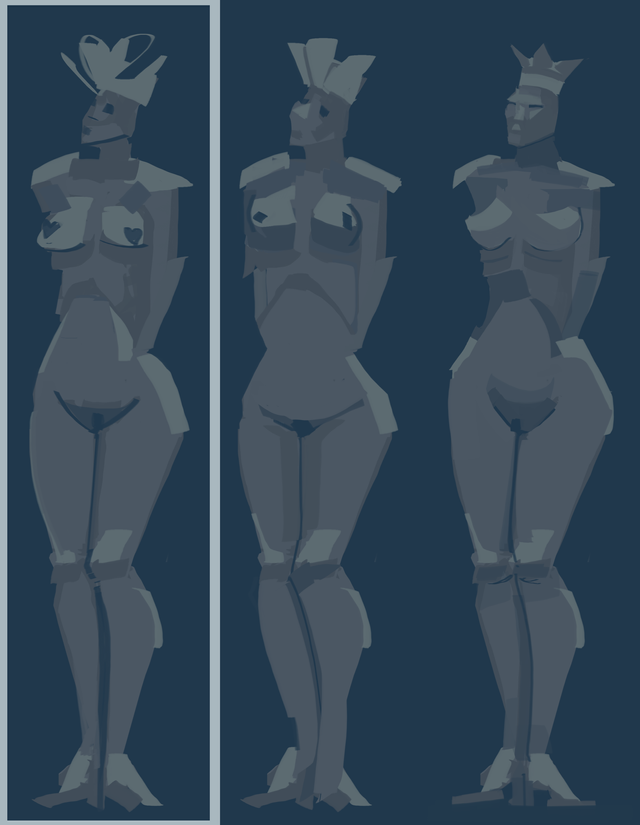 One interesting point of note here -- for aspiring comic creators, seeking tips and tricks of the trade.
If you'll look at the Kickstarter Campaign for this Storyboard Here, you'll see that I got $100 from a backer who had a very specific vision for what the Queen of Hearts ought to look like. That's over a quarter of the income from that campaign, and likely was the difference between me being able to spend 2 months in storyboard mode, than only one month.
The suggestions for the design were poky, boney, angular, tall, thin, spiderlike, similar in my mind to the Other Mother in Coraline, and something similar to the work of Tim Burton.
I'll have to integrate more of these concepts into the design as I move forward so as to validate this person's support in the project. I'm thinking the central spike indicating a broken heart of the crown is solid. I'm also thinking that there ought to be a spiderweb integrated into the three spikes.
Sort of like the 3 of Swords plus a spiderweb.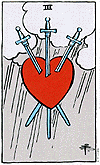 I think I'll have to integrate that as we move forward.
The Gothic undertones of the Gaiman / Burton influences dictate black hair with strong sharp shapes. She might also need to be wearing some vinyl. I'm not sure.
I'll keep exploring it as I continue rather than just focusing on a single character sheet for this one.
I'm super busy this month. Need to do a minimum of 2 storyboard pages per day in order to stay sharp and ship on time.
Technically I only need to come up with 64 storyboard pages by the end of the month in order to meet my minimum goals, and be able to fulfill the last kickstarter campaign and then transition into the March Episode 1 campaign -- but if I do 2 storyboard pages per day, I'll be able to come up with a whole 75 pages before the end of the month, and still do the prep necessary to launch the campaign in March.
In doing this, I'll be able to spend all of March making the first ~25 pages min. of the rough draft / storyboard into a final project. At about 1 page per day.
Kind of interesting and useful. I think it's going to make a really solid final project.
Here is the speedpaint: