Visiting Kish Island in Iran - Exploring the Marine Life
Kish island is built entirely out of corals and this is why it has some very beautiful white sandy beaches. The warm waters teem with wild marine life and just by dipping your toes into the water at the beach you will encounter schools of fish and even bigger fish (like sharks!), although fortunately they are not very dangerous to humans.
What I have learned is that marine life seeks shelter and so if you want to see more of it you have to drive a bit out where there are more stones. You can see them in the first picture in the distance. One could go scuba diving which would already be an amazing experience as one is surrounded with all kinds of fish or go diving. And I decided to do the latter as I haven't done it before and the locals here seemed very routine in taking tourists out for a dive.
In fact, the whole island is built for tourists and there are many things that one can do here. Just walking down a busy street will get you easily hooked on something like parasailing, diving, banana boats ;), glass bottom boats (which I will be showing in a next post), and so on. I guess one just has to overcome some anxiety (if you get a little apprehensive about these things) and enjoy the trip...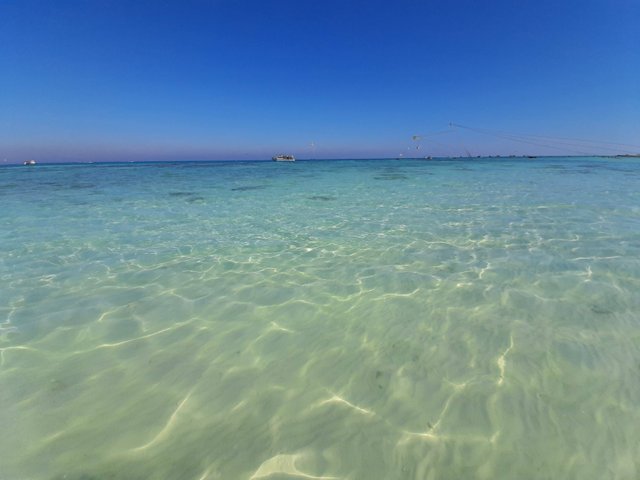 There were at least 4 or 5 different agencies here which specialized in all things water related. I thought they were pretty well organized and I never had the feeling that they were trying to scam me or anything (which often happens at these places). The equipment was a bit dated, but it still felt safe (although I am far from being an expert in e.g., diving equipment). As there were people going all of the time, I definitely felt some reassurance from this.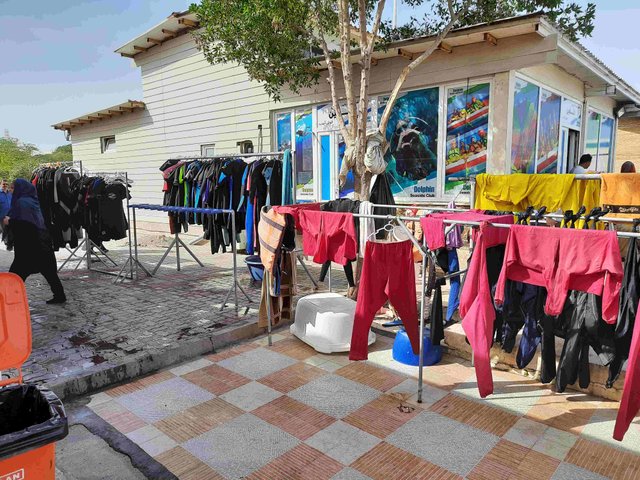 This is the beach from where all the water activity starts from. A somewhat strange thing of course is that women have to cover their hair or their bodies (even in a wet suit as this would still be too revealing) when they go on these activities. So for diving this meant that they had to wear a loose cape which is probably not too comfortable considering that you would want to get rid of the annoying things when going for a dive. This was also the case for other activities like boat riding, although I noticed that it seemed to be okay to wear a helmet (no hijab underneath necessarily required). Yet it would be wrong to assume that women were very strict about these rules: many just simply walked around with their hair open (at least for a short while) and didn't seem to be too much bothered by it. Again I felt that a lot of women here felt rather burdened by the strict dress codes while others seemed to be perfectly okay with them.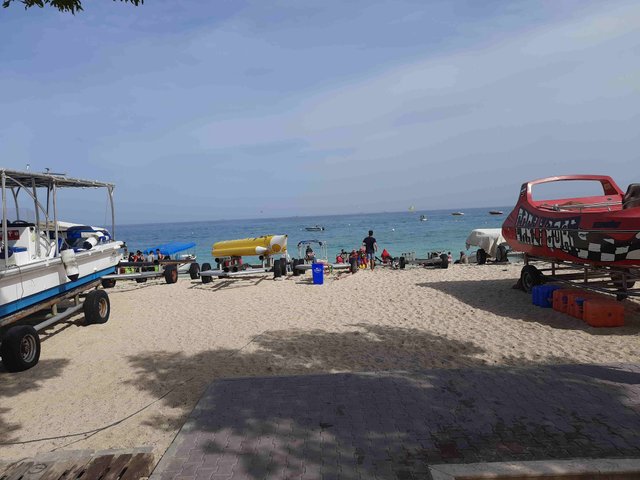 The ocean is teeming with fish! Of course I am not sure how great of an idea it is to throw bread into the waters (I saw a lot of people doing this), but it certainly attracted a lot of fish!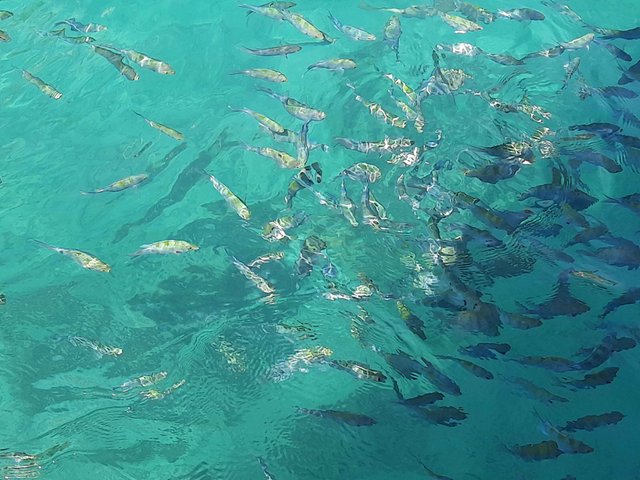 This is the men boat (yeah, women were on a different boat) and three of us were going diving this round. The others, opposed to me, had some previous experience, but there was an experienced diver going with us which made me feel much safer. So it was time for a quick briefing, checking the equipment and getting with it as accustomed and comfortable as possible and getting ready for the famous backwards splash (which made me feel a bit apprehensive :D)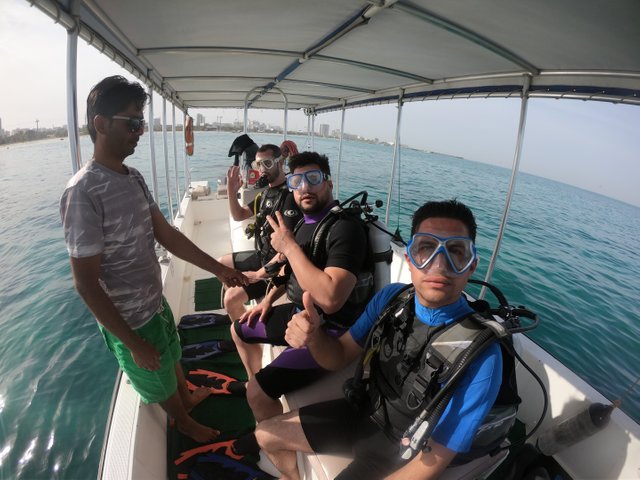 But everything went well! The first thing you do is actually float back to the top which surprised me. In fact, as it would turn out getting under water was actually the hard part! The guide said that you should just dip your head in the water and breathe normally. Easier said than done... because it's really strange to breathe underwater. But once you get over this sensation and relax a bit it seems to work. I remember getting a push from behind and then I was actually descending :) But the waters were very shallow here so it wasn't a long swim to the bottom. Perhaps only 4 meters and I soon discovered that the stones here were quite sharp (I got some cuts on my legs which I only discovered later).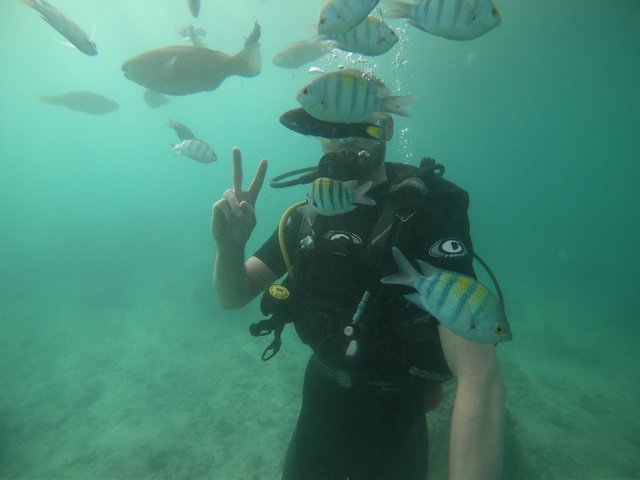 Unfortunately, there weren't any corals around here, but that was probably also much better for them as us tourists would have probably damaged them. Instead there were these large stones or were they dead corals after all? Most of the marine life seemed to be gathering around them and with just a bit of food they all came flocking around me. I could identify at least 4 or 5 different kinds of fish with one being quite large (about 40 cm) and blue. The most common were the yellow grey stripped ones which seemed friendly enough :)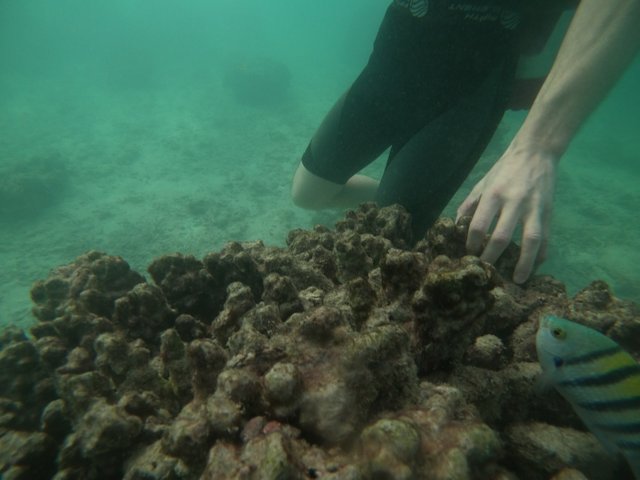 Hey there! :)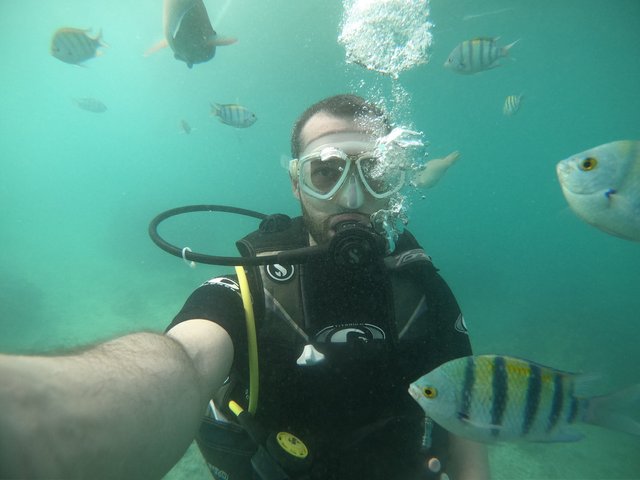 Stay tuned for upcoming posts about Kish Island!

⛅🌦🌧🌦🌧🌨☁🌩🌦⛅🌧☁🌤🌥🌪🌧🌨🌩⛅🌦☁🌤🌥🌤⛅🌤⛅🌦⛅

⛅🌦🌧🌦🌧🌨☁🌩🌦⛅🌧☁🌤🌥🌪🌧🌨🌩⛅🌦☁🌤🌥🌤⛅🌤⛅🌦⛅