Campaña masiva de publicidad para STEEM: @team-mexico. ¡Únete Ahora! / Massive advertising campaign for STEEM: @team-mexico. ¡Join now!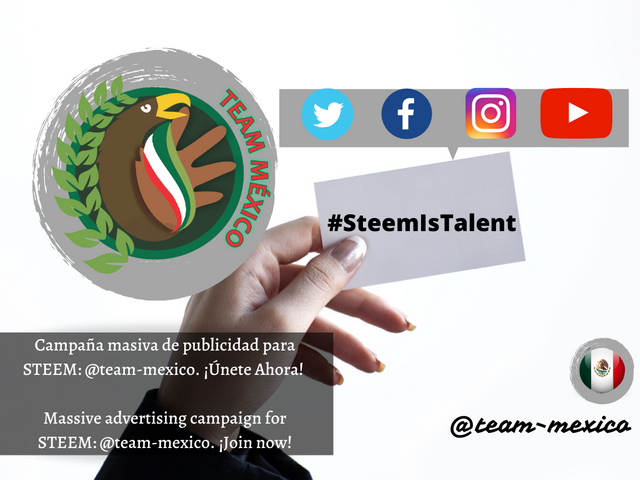 Fotografía editada con Canva. / Photograph edited with Canva.
Una forma efectiva y rápida de crecimiento para cualquier proyecto es la publicidad en las redes sociales o en cualquier otra forma de marketing tradicional, nuestra plataforma de Steem necesita mucho de esto ahora.
Todos queremos que crezca la plataforma, pero esto no es tan fácil como parece y entonces debemos trabajar juntos para lograrlo.
Decidimos crear una campaña masiva de publicidad en la cual nos beneficiamos todos y con la ayuda de nuestras redes sociales.
Como parte del proyecto SteemPOD, formamos más esfuerzos y nuestro apoyo en el crecimiento de esta plataforma, queremos de manera justa el beneficio para todos.
Necesitamos la ayuda de todos ustedes para que esto funcione, lo que debes de hacer para apoyar nuestra campaña, de manera muy simple vamos hacer cosas grandes.
Requisitos:
Comparte una publicación original de steemit en las redes sociales, con el hashtag #SteemIsTalent. (Facebook, Twitter, Instagram, Youtube, etc.)

Muéstranos una captura de pantalla de tu publicación y déjala en los comentarios.

Todos pueden entrar a la campaña, hagamos crecer la plataforma.
Beneficios: Por cada publicación de steemit que compartas en tus redes sociales, te otorgamos 1 semana de votos fijos al 100%, pero debes comprobarlo con tu captura de pantalla en los comentarios y tu contenido debe de ser original.
Así como también te daremos reesteems, pero esto si cumples todos los requisitos.
Hagamos esto, crezcamos juntos.
---
No te olvides de seguir las noticias de @steemitblog y sus dinámicas, puedes ganar grandes recompensas.
100 DAYS OF STEEM : Day 59 - Weekly Roundup #8
Todos nosotros tenemos un dia favorito, únete a la dinámica. 100 DAYS OF STEEM : Day 57 - Friday Challenge - The Biggest Day of My Life
Bueno, en México los medios de comunicación no son muy buenos, aunque hay algunos que demuestran su esfuerzo y son profesionales informando a las personas, cuenta en una publicación como son los medios en tu localidad. 100 DAYS OF STEEM : Day 55 - Wednesday Challenge - My Local Media
---
Translation to English
Massive advertising campaign for STEEM: @team-mexico. ¡Join now!
An effective and rapid form of growth for any project is advertising on social media or any other form of traditional marketing, our Steem platform needs a lot of this now.
We all want the platform to grow, but this is not as easy as it seems and so we must work together to achieve it.
We decided to create a massive advertising campaign in which we all benefit and with the help of our social networks.
As part of the SteemPOD project, we form more efforts and our support in the growth of this platform, we justly want the benefit for all.
We need your help to make this work, what you must do to support our campaign, in a very simple way we are going to do great things.
Requirements:
Share an original steemit post on social media, with the hashtag #SteemIsTalent. (Facebook, Twitter, Instagram, Youtube, etc.)

Show us a screenshot of your post and leave it in the comments.

Everyone can enter the campaign, let's grow the platform.
Benefits: For each steemit publication you share on your social networks, we give you 1 week of 100% fixed votes, but you must verify it with your screenshot in the comments and your content must be original.
As well as we will give you reesteems, but this if you meet all the requirements.
Let's do this, let's grow together.
---
Do not forget to follow the @steemitblog news and its dynamics, you can earn great rewards.
100 DAYS OF STEEM : Day 59 - Weekly Roundup #8
We all have a favorite day, join the dynamics. 100 DAYS OF STEEM: Day 57 - Friday Challenge - The biggest day of my life
Well, in Mexico the media is not very good, although there are some who demonstrate their effort and are professionals informing people, tell in a publication how the media are in your locality. 100 DAYS OF STEEM: Day 55 - Wednesday Challenge - My Local Media
---