Covid 19 Vaccination ✔️Entry post by @shadia931
Hello everyone how are you and how is life taking you.
Today I woke up very early and I had to first pray to God for the gift of life's He has given me. Then I had to prepare my self for work . Immediately after the preparation I boarded a taxi to drop me in town where I work from.
I then reached in time and so they had not yet opened so I had to wait from outside upto when they opened the bank and I entered.
I then started off by greeting my fellow work mates and also prepare and clean the place where I work from. After wards the customers came in and I had to work on them respectively.
While working I received a call from my friend that at campus they are vaccinating us so I had to inquire from the manager to allow me go get my first jab.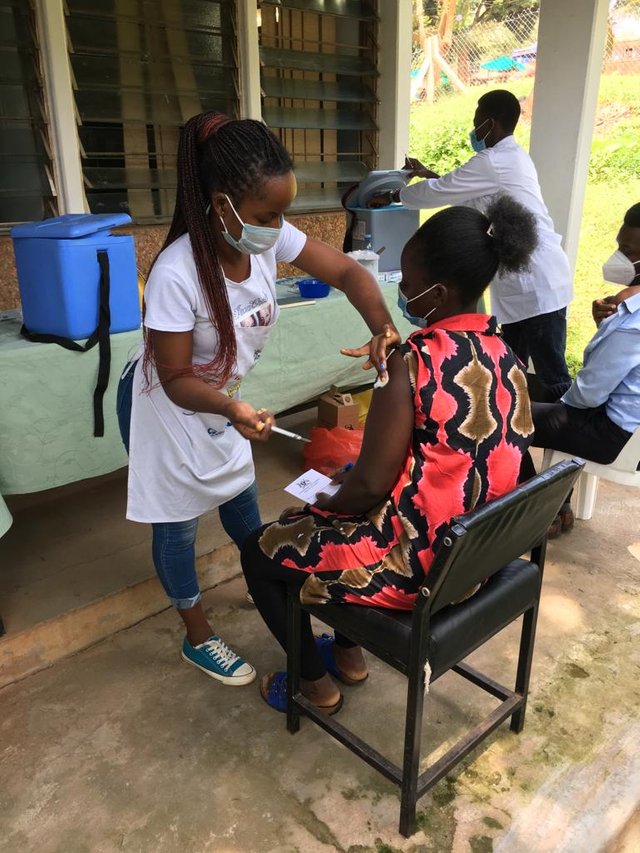 After he allowed me and so I first took lunch because I couldn't go without my free stomach. So I got a motorcycle that would rash me to the place quickly before I find the place closed. I reached in time and I was one of the lucky ones because they were going to close off. I then entered the room and registered for the dose called Pfizer and so I had to write down my names and so I went with my national id because it was very crucial.
After that I went and they injected me the vaccine. But really the thing was so hurtful and I had to go home and take some pain killers and sleep immediately.
That's how I spent my day thank you.