Top Cryptocurrencies of 2021 👌👌
Top Cryptocurrencies of 2021
Greetings from @a-lass-wonders!!
.
.
Hello my steemit friends! As I promised yesterday, here I am going to reveal something special.
Are you only starting in Crypto, but want to make money with it? Want to become profitable with crypto in 2021. This is your top guide on top cryptocurrencies of 2021 to buy. Read the article to learn about the best buying cryptocurrencies.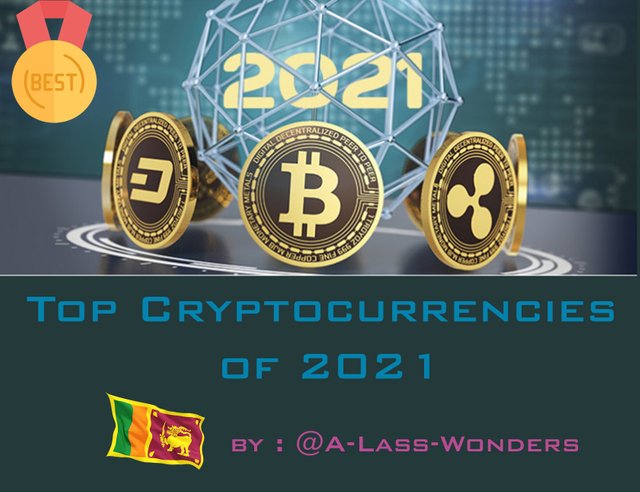 01) Bitcoin
The king of all cryptocurrencies - Bitcoin is a best buy for 2021. It is presently in the middle of bull run, which means it keeps getting more and more costly. For example, if you were to match it to the starting of 2020, it is gotten six times more expensive.
The largest reason why 2021 is a best time to be holding Bitcoin is the hype. The largest bitcoin cash token has recently reached its all-time high. Many professionals, giving their opinions on it, guess the price to push beyond the 100 000$ mark in the future.
02)Ethereum
The key reason for you to have some Ethereum in your 2021 portfolio is this. Vitalik Buterkin, the maker of the token, and his team are planning on making transactions with the coin quicker and implementing staking by improving their work to Ethereum 2.0. This event is already hyped up and once it launches, Ethereum is bound to increase in price. Its biggest spikes so far has been January 2018, since then, the lowest rate was in a year. Right now, we can view the price is steadily rising without any downfalls.
03)Tron (TRX)
Tron started on the Ethereum blockchain, making it just another little project. Anyway, it proved every person wrong and replaced to an impendent block chain platform. For cryptocurrency exchange transactions, it uses a proof-of-stake algorithm. Anyway, why should have it in your portfolio in 2021.
Firstly, because the token holds a lot of decentralized applications. Even more, than Ethereum does, and these programs are getting famous nowadays, bringing the coin attention. Additional, many organization plan on using the TRON blockchain platform in the future.
04)Litecon (LTC)
Litecoin had several big discoveries in 2020 which might lead it to a bright begin in 2021. Experience shows how volatile this token can be when it grew 8000 percent in price over just 1 year.
For example, it released a game known as LiteBringer and it made the rate of transactions go up almost twice. The video game is pretty famous and has an active economy with people trading items for LTC tokens. This influences the transactions number a lot.
Hope you guys enjoyed my article. Count on to meet back from something special. Stay tuned with me.
GOOD LUCK AND HAVE A NICE DAY!!
By @A-Lass-Wonders
.
.
.
#projecthope #cryptocurrency #srilanka #best #finance