Lauch your content creation start-up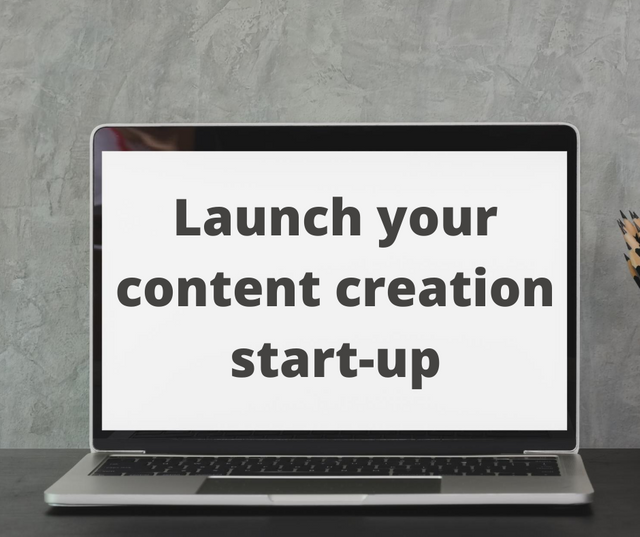 When I started my journey on the blockchain it was such a slow progress at the beginning. After a first post where I presented myself, I got only a couple of cents upvote on the following ones. It was discouraging and it's only thanks to some great people that I managed to continue.
I believe that it is not much different today when people join the blockchain. First new users need to understand how things work and there is so much to understand that it can be overwhelming. If they manage to write a post or two they will be quickly disillusioned because of the few upvotes and interactions that they generate.
When you start on Steem you are launching your own content creation start-up
When I look at it from a business perspective, when you start on Steem, you are launching your content creation start-up. You have no customers, no resources, no market and you have no experience but you have some ideas for products/content that you want to create.
How would you proceed if you had a start-up?
If you invented a little tool and would build a start-up around it. How would you start to promote your product? You would probably begin by presenting your product to your friends and the people around you. This would give you some feed-back and maybe your first sales.
In a way it is not different for content creation here on Steem. But when you start on Steem you probably don't have any friends yet. That's why you need to find friends and build relationships before you can sell your stuff. If you just throw your products on the market, they will be invisible among all the other content that is produced.
You need to develop your market first. You need to develop your brand, make yourself known and build a level of trust by showing up regularly.
Where to start?
The world of Steem is actually huge and it's virtually impossible to discover everything that is produced on it. The key is to target not the whole but a section of this blockchain. You can do this over communities. Try to find the community that fits your interests best and start building relationships within these groups.
It's much easier to build relationships within a community of a limited number of people. In this community, you will find the same authors over and over and you can engage with them regularly. Comment their posts and give upvotes.
If you are consistent and you engage regularly with the same people, they will start to recognize you and a certain level of trust will be created. On this basis they will start to look at what you have to offer.
Study the community
Besides knowing what the community is about and what the main topics are, a good idea is to find out who are the leaders of this community.
How to find out who the leaders of a community are?
The first thing is to look at the team and the administrators. These people matter because they will define what will be seen in this community.
There are also in each community a certain number of people who attract a lot of engagement to their posts and often also generate posts of higher value. You can simply go through the feed of the community and look at the number of comments under the posts. After a while, you will know who you should follow and interact with.
Engage with the people that valorise your comments
In every tribe you will find people who have understood that this blockchain is about engagement and about keeping their customers/readers happy. These people will make it their duty to answer your comments and sometimes even give upvote them. Maybe they have a big account and can do it with steem. These are the people that you should interact with first. Why? Not only will you to earn a bit while engaging, you will also learn a lot of things from them because they are developing their own business in a great way.
Your start-up won't succeed over night
To be able to be successful with your content creation business, you need to be aware that you are in this for the long run. You need to show up regularly, if possible every day.
Don't forget that this blockchain is about engagement. If you understand this, you are on the right path...
---
My free e-mail course: The 100'000 satoshis a week strategy

---
Picture source: Canva.com