Yes the quality of your content matters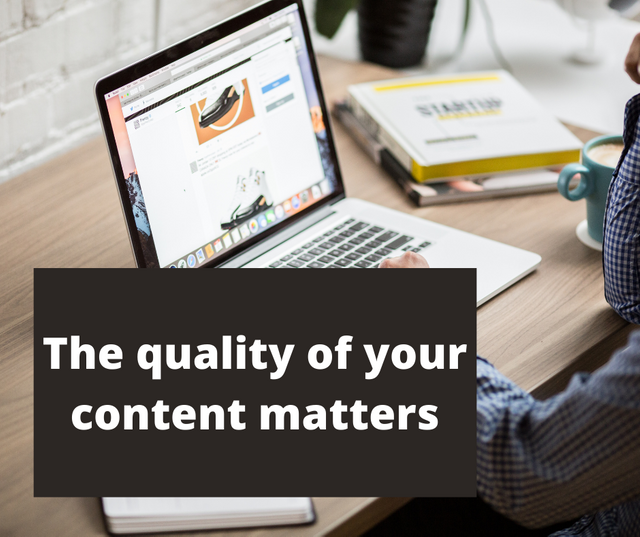 When we produce content on the blockchain sometimes we have the feeling that our best posts get very little love and sometimes bad posts get upvoted by whales.
In the end, we might think that the chances to get upvoted is kind of random. Therefore a lot of authors on the blockchain tend to put quantity over quality. The thought behind this is: If I post a lot of posts, my chances to get powerful upvotes is bigger.
Why you should put quality over quantity
Why are you writing posts? If you are like me, you write posts that you want to be read. Of course it's nice to get upvotes but without readers, in a way your whole work was only worth the couple of cents that you earned with your content.
If what you produce is actually watched or read by others, you might also earn some money but in addition to that you can reach these people. You become present in their eyes. You get exposure and maybe you can even influence the reader with what you have written.
With quality content, you will encourage readers to follow you and to read your posts regularly. You can then interact with their comments and build relationships. You can build your own brand on the blockchain.
What happens when you produce low quality content?
Let's say I see your post in a feed and I open it. If the layout is not inviting or the text is not structured or the quality of the content is low or uninteresting, I will simply close the post again without reading it. In my subconscious mind, I will associate your name with low quality and in the future I will probably not even take the time to open your posts.
When I see low quality content not only do I not read it, I also associate the author with low quality!
When you keep this in mind, the quality of your content becomes even more important. You have only one chance at a first impression.
Don't just put quality over quantity, get rid of low quality content
It's not always easy to differentiate good from bad, especially with content creation. When you produce a post, you should set for yourself a minimum quality requirement that you try to reach for everything that you produce.
My quality standards
When I have no idea for a post, I don't write a post. Better no post than a bad post.
Always use a good picture and a researched title for your posts. They are the billboard to attract readers.
A post should contain at least 300 words.
My content has to be structured with H2 and H3 headers. This makes the reading easier and readers can jump to the section of the header that interests them
Always put the content through a spelling tool. English is not my first language and I make mistakes. When putting the content through a corrector I can at least eliminate spelling mistakes.
A pure analytical aspect of why you should produce quality content
As a curator I want to vote on posts that will allow me to earn curation rewards. What we need to understand is that my upvote value and my curation rewards are defined by all the people who vote after me.
If I upvote a post with 5000 HP and the post reaches 0.10 $, then my upvote will be worth maybe 0.02$ and I will earn around 0.01$ curation rewards. If I do the same and the the post reaches 10$, then my upvote will be worth around 0.06$ and I will earn 0.03 or more curation rewards.
For me as a curator it's very important that the post will gain value. I can scale my income by voting for good posts.
Why is it different to vote for good posts or bad posts?
If I give my upvote to a quality post, there are chances that some manual curator will upvote this post at a later stage. Maybe there is even a curation trail linked to this curator and it can develop a very interesting value. My curation reward will grow with every vote that comes after mine.
If I give the same upvote to a poor post, I'm sure that no curator will appreciate this post and I will earn very little from it.
Constant good quality will make people add you to their fanbase
If you write good posts constantly, they will attract curators and they will put you in their fanbase. They know that your posts will reach a high level and it will guarantee them a nice return on their curation.
Even if it doesn't appear at first sight, quality matters a lot. It will influence how you evolve on the blockchain, how many relations you will build and how much you will earn in the long term.
---
My free e-mail course: The 100'000 satoshis a week strategy

Image source: canva.com