The Steemit Awards 2020- My Nominations
Hello Everyone
This is the festival and holiday season and I hope that you guys are having a good time. I am back with this post to share my nomination for The Steemit Awards 2020. I must say that this is a wonderful initiative by @steemitblog here is the official post for the same.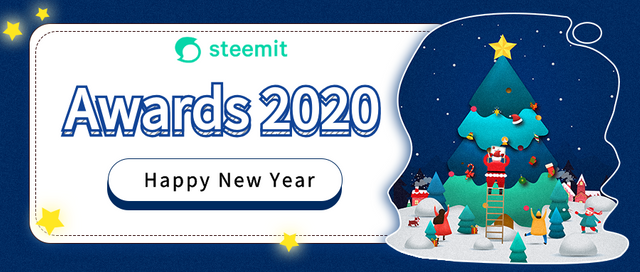 Best Author
I have many names in mind but I take this opportunity to nominate @josevas217 . He is the one who keeps on posting great and quality content on the Project Hope community most of the time. He is a very active steemian who also engages with every post in Project Hope Community. I believe that the best author should the one who not just produces quality content but also engages with other authors through quality content and he has been doing it for a long. He also replies to each comment within an appropriate time and I want him to get rewarded for the actions that he has been doing to make steemit a better place.
I share one of his wonderful publication shared about 2 weeks back and here is the link-
Do you think people are going crazy about Bitcoin?
Best Contributor to the Community
I have only one name for this category and that is none other than @crypto.piotr and I also share the reasons for this.
I got to connect with Piotr in 2018 and its been over 2 years for me to have a connection with him. He is an amazing man with down to earth attitude and has great leadership. He started Project Hope community and worked very hard to what it is today. He is very much focused and has a clear and long term vision with the steemit platform. He made project hope, not just a community where quality content is published but also engagement is very high here. He is active on discord and he goes through every question and replies as early as possible. I like his supporting attitude and positive approach. He is helping so many people to earn income from here along with managing quality submissions. Unoudntely he is a great human being and a and wonderful contributor to the community.
Piotr Steemit Profile- steemit.com/@crypto.piotr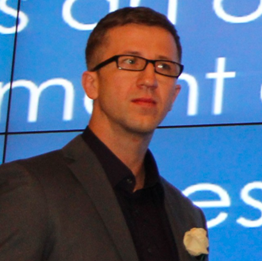 Best Community
My nomination for the best community goes for Project HOPE
Project Hope Community Link- https://steemit.com/created/hive-175254
This is my favourite community because of some reasons-
Quality Content and completely against Plagiarism
High Engagement with authors and You rarely see any post with zero comments.
Offers a variety of topics to choose from for content submission within the community.

I have been part of the project Hope community since the beginning and its a leading community on steemit.
here is the snapshot of popular curation trails on steemit and you can see that @ph-fund (curation account of Project hope) has 389 followers while the other one is not even half of it. it clearly shows that Project Hope is one of the communities adding more action on the steemit platform and its a stable community because most of the authors here are here for since long and have a long-term vision.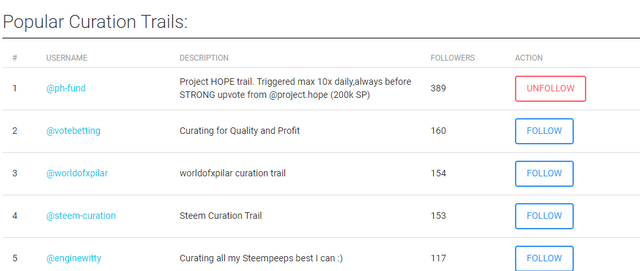 source
This community has everything that is needed to be the best community and I have explained all the reasons above. I wish this community gets good support from the steemit team and it will help the platform to get more popularity and growth.
---
Thank you so much and wishing luck to everyone I nominated in the post.
Special thanks to @steemitblog @steemcurator01 & @steemcurator02 for their wonderful work on the steemit platform and this post is published with 100% power-up