Steemit Awards 2020 - Nominations by @awah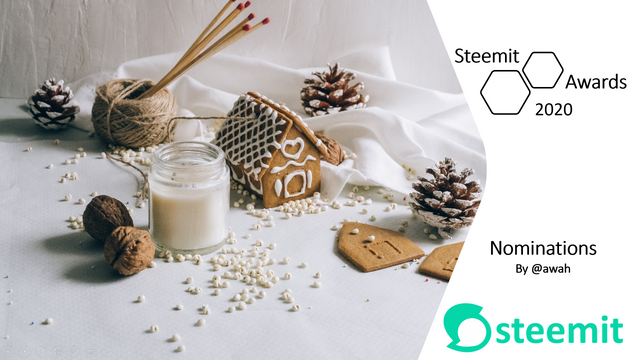 As the year ends, and on this fine Christmas day, it is good to remember what we have achieved and look forward to how we can build things further in the new year. With this thinking, it was great to see the Steemit Awards 2020 post and seems the ideal time to make my nominations for some outstanding people.
Best Author
I would like to nominate @josevas217 - I have been reading posts by @josevas217 throughout the year and many of his posts are on investment, crypto, general wellbeing and self-help and or course, Steem.
Not only do I find his posts interesting and informative, but they are also nicely styled. The key to being a good author is considering your audience and how they are going to digest the content. He even wrote about effective communication recently to share his experience with others on Steem.
Best Contributor to the Community
For this category, there could be none other for me to nominate - @crypto.piotr is an absolute superstar. I remember my early days of Steem and how he helped me to start getting engagement. He has helped so many people to get started on Steem and encouraged them when they have found it is difficult to get started. He has also dedicated so much time to successfully running the Project Hope community that is one of the most vibrant communities on Steem.
I am truly honoured to have met @crypto.piotr on Steem and blessed to consider him as a friend. I know there are so many people who would echo my thoughts on what @crypto.piotr has done for them.
Best Community
How could I finish off a series of nominations without nominating the Project Hope community? This community has developed its own economic system whilst promoting a really strong community spirit. The system supports a number of Venezuelans with financial support whilst they in turn then support the community by curating and administering the community. This process allows for smaller minnow authors to get better curation rewards and readership. The whole system is self-reinforcing which has helped the community grow to a huge number of active participants.
The Project Hope community also covers some of my favourite topics: Cryptocurrency, blockchain, investment, AI and tech. It also covers the economy and business.
The thing though I love the most about Project Hope is the community spirit and most of the people that I have met through Steem and have formed a community bond with, are through the great Project Hope community. These include the following excellent people (sorry if I missed a couple) - thanks to all of them and to others for making this community so strong:
@juanmolina @thetimetravelerz
@achim03 @lanzjoseg @josevas217 @fucho80 @gbenga @alokkumar121 @carlos84 @samminator @bala41288 @unbiasedwriter @luckyali @franyeligonzalez @newton666 @paragism @adityajainxds @mandate @tfame3865 @mynima @wiseagent @shortsegments @solarwarrior
Thank you and Merry Christmas
Thanks to all of the above to your contribution to Steem and I hope that you will support my nominations above.
Merry Christmas all!