Poloniex : Referral Program
Poloniex : Referral Program
---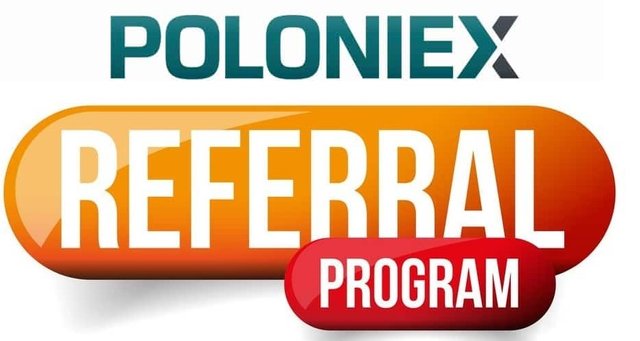 Introduction to Poloniex Referral Program
At Poloniex Exchange, now you can earn with inviting your friends Poloniex platform. We know that Poloniex platform has a great community of traders and crypto fans. So Poloniex has started to reward their customers who promote the platform to personal networks. Poloniex uses a referral program which is eligible for existing customers where they can invite their personal contacts, friends and earn a commission from their trading fees. There are two parties, inviters and referrals. Inviters means the people who bring people to Poloniex and referrals means the customers who are invited to Polonex by a person through the referral program. This referral program is very creative. When you invite a friend to the Poloniex platform and when your friend start trading , you will get 20% commission from your friends trading fees. And there is a benefit for your friend too. He will earn 10% back from the trading fees. That's the reason why I mentioned this Poloniex Referral Program is very creative. It's benefited to both parties.
How does it work ?

The steps you have to follow are very simple. The first step is to get your referral code. You have to visit to the settings page after login to the Poloniex and select "Referrals" and you will directed to the following page. In this page you can find the referral code , referral link and the rewards you have earned through this program.

The second step is to invite your friends. What you have to do is share your referral link or code with your friends. You can directly share for your personal contacts or you can use social media or email marketing strategies to find new customers. When people sign up to the Poloniex platform through your referral link or code, that customer will be recorded as a referral by you. So you will earn a 20% commission from his trading fees and at the same time he will get a 10% money back from his trading fees.

What are the Terms & Conditions ?
Rewards for this referral program will be paid daily in USDC.
The daily rewards should be larger than 0.00000001 USDC , to be paid out.
Both referrals and inviters will receive rewards only up to 180 days from the sign up day of the referral or until both the inviter and referral earn 5000 USDC together from commissions.
You can't invite already existing traders to re-sign up through your referral code. When the Poloniex platform detect this behavior you will be disqualified from this program and rewards will be canceled.
You can have any number of referrals. No limitations.
You can real all the Terms & Conditions of Poloniex Referral Program from here

How referral rewards are calculated ?
For the each trade completed by a referral , the fees are calculated. There are few steps in this process. First the net trading fee is calculated considering the trading fees paid by the referral and the counterparty of that trade.
Net Trading Fee = [Trading fees for trade counterparty + Trading fees for referral ]
This calculation will be processed for each trade. And after that summation of net trading fees are calculated for the referral for all the trades by the referral. So the daily payout of the inviter and the referral is depending on this value.

Final Thoughts
Poloniex : Referral Program is very creative. Both the inviter and the referral are getting rewarded. This will encourage people to bring new traders to Poloniex exchange. And the other point is , the referral reward is very high. It's a 30% of total reward from the trading fees. According to my point of view , this Referral program will be a key factor for the Poloniex's journey to the success.
Thank you.
References
[1]POLONIEX: USER AGREEMENT
[2]POLONIEX: Referral Program FAQ
[3]POLONIEX: Introducing our Referral Program
[4]POLONIEX: Referral Program Terms & Conditions


Cc:-
@steemitblog
@steemcurator01
@steemcurator02

#poloniexspotlight #srilanka #steem #steemcryptochallenge