Spotlight on Poloniex | The legendary crypto assets exchange
Spotlight on Poloniex | The legendary crypto assets exchange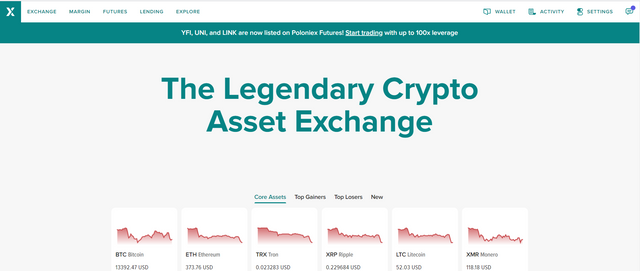 Greetings my dear friends , It's @besticofinder here. Today I'm going to talk about the Poloniex crypto currency exchange with you. I think you should have heard this name Poloniex , if you are in this blockchain industry. Today I'm going to help you to find out whether it's the right crypto exchange for you ?

What is Poloniex?
Poloniex is a crypto currency exchange which support wide range of different crypto currencies. This is a centralized exchange which is designed as suitable for both newbie and expert traders. Actually it's a complete platform for trading which offers wide variety of feature such as margin trading up to2.5 leverage , lending ,poloni DEX, IEO launchpad etc. Before going further, let's find out where are the roots of this exchange. Tristan D'Agosta launched this platform in 2014 at Delaware , United States. And in 2019 , owners of this exchange changed and Polo Digital Assets Ltd. is the parent company. After that the exchange came up with more open and less regulated structure which attracted lot of traders all around the world. There is a very important fact about Poloniex exchange. It has not hacked a single time in last five years. That means this is a highly reliable platform which consider security as a major concern.


Advantages and Disadvantages of Poloniex Exchange ?
| Advantages | Disadvantages |
| --- | --- |
| Trading fees are very low compared to other exchanges | Do not support conventional deposit methods like bank account , debit card etc |
| Support wide range of different crypto currencies | Hacked in 2014 |
| Margin trading available | Customer support is comparatively slow |
| No KYC or verification needed , if you got an email , you can start trading | No good support for fiat currencies |
| This is a USA company , so it's well regulated and with reliable security for your assets | |


How to create a account and start trading ?
So when reading the above two paragraphs and understanding the key features , pros and cons of this exchange, sure you must feel this is the right crypto exchange for you. Actually it's a good exchange and no one can argue with that point. So why don't you create a account and start trading ? It's really simple. You just need a email to start trading. Follow these steps
1 .Visit poloniex.com and then click on Sign Up

2 .After that you will be directed to following page. Enter your email address and provide a new password for the exchange. Then verify that you are a human by clicking on the checker provided and then tick and agree on the terms. Finally press on sign up.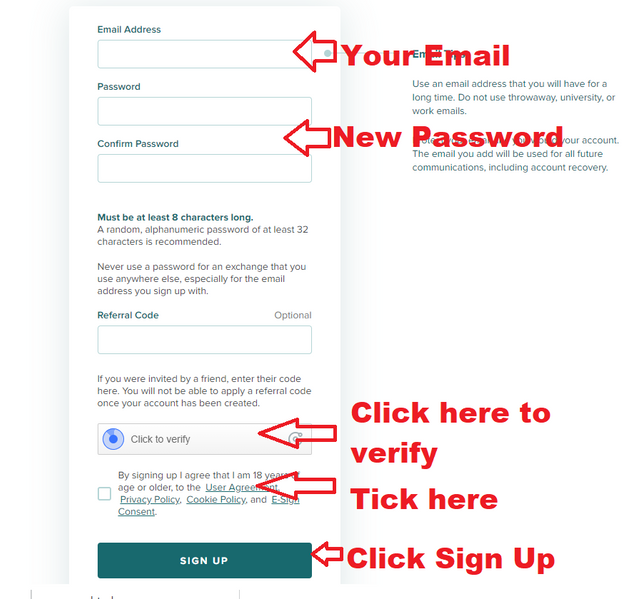 3 . After the step 2 , you will receive an email to confirm your email address. Just click on the URL provided on the email and that's the end of the account creation process. Now you can sign up to the site with your email and the password you provided previously.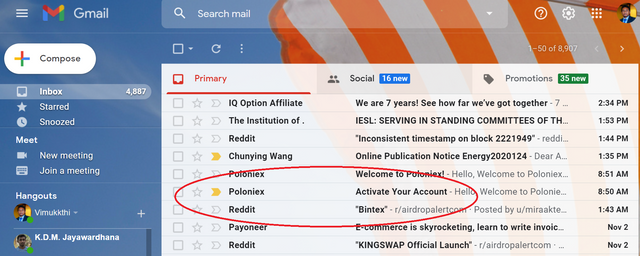 Okey , now you just created an account in Poloniex exchange and you are ready to trade.

How to deposit funds to Poloniex Exchange ?
1 . You just created the Poloniex account. After signing in you have to visit to the wallet section. After that from the search bar you can filter the type of crypto currency you like to deposit.


2 .After selecting the crypto currency. Click on Deposit and you will receive the deposit address for the relevant crypto currency.


3 . You just have to follow these few steps and it's really simple. After that you just have to make a transaction to that address and fund will be in the exchange soon and you are ready to trade.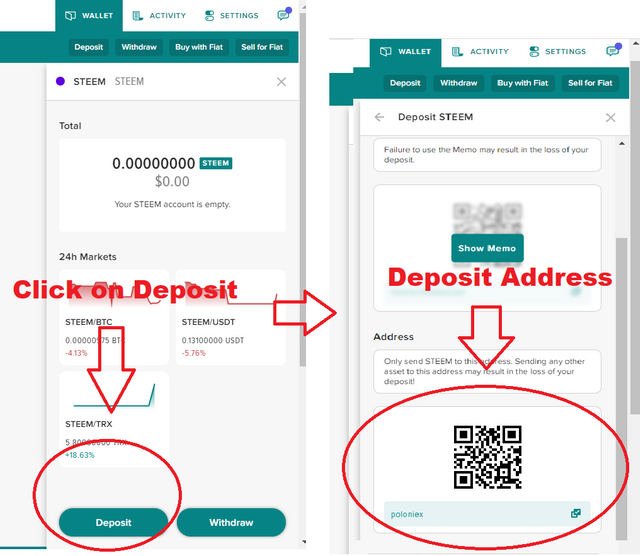 Let's trade in Poloniex Exchange ?
As I mentioned about Poloniex Exchange is not only for experts. It has a very user friendly interface even a newbie can comfortably trade. So on the trading page you will find the order book with buying and selling orders , trade history , open orders , my trades windows. Those things can be identified by a person very easily. And it's supported by trading view which enable you to use different analyzing tools and indicators. So it's a good place to trade crypto and you have to experience it by your self.


Conclusion
What I feel is Poloniex exchange should be in a better position in the list of crypto currency exchanges when considering the quality , security and features. We can see that exchange changed a lot after the new ownership and it has already getting attention of people all around the world. This is a crypto currency exchange which offers a law trading fee to users which can challenge any other crypto currency exchange in the industry. It has an own decentralized exchange and an IEP Launchpad and provides lot of trading services including margin trading and lending. So as an exchange it's 100% complete. History is history. There was an incident in the past but nothing happened in last 5 years as security was really great. So I feel Poloniex is reliable and ready to take even the whole industry.


Cc:-
@steemitblog
@steemcurator01
@steemcurator02