How do you see BITCOIN - AN INVESTMENT OR WEALTH PROTECTION AGAINST INFLATION?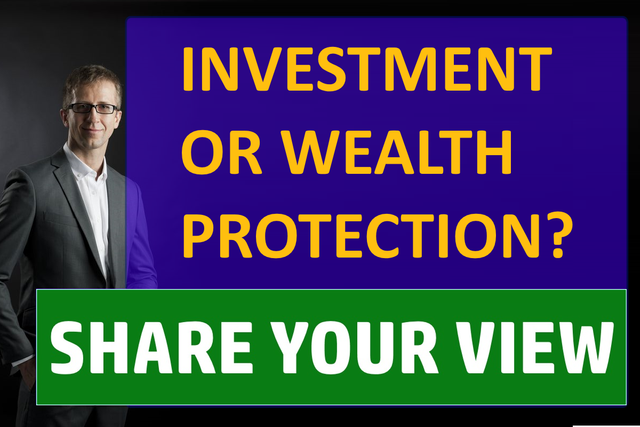 INTRODUCTION

A few days ago, I had the pleasure to have a Skype call with a good friend of mine. A business owner from Switzerland, who has been involved in the cryptocurrency space for quite sometime. He mentioned his recent interesting conversations with some of his own business partners. They talked about cryptocurrencies and BITCOIN in particular.
His goal was to encourage those people to look closer into bitcoin and treat it as an asset class worth investing in. However, he seemed to fail and wasn't able to get much of their interest. Which made me wonder, what was his mistake?
I've asked him then, how did he approach this topic. I wanted to know how he explained the benefits and risks of moving some of our savings (in FIAT currency) into crypto. After all, building the right mindset is necessary to be able to build our listeners' interests and trust.
And one can have a very different mindset when it comes to bitcoin and cryptospace. This I know for sure.
Today, I would like to discuss this topic and I'm very curious about the replies I hope to receive.
STORE OF VALUE vs GLOBAL CURRENCY?

Many people out there still seem to consider crypto as a new digital currency. Often dreaming about BTC being used as the world reserve currency.
Personally, I do not look at BTC as a currency and I probably never will. Mostly because the majority of BTC holders seem to treat it as a store of value. We buy BTC either to speculate and trade, to exchange for other cryptos, or simply to hold long term. Not many people out there seem to use BTC (or other cryptos) to pay for goods and services. We simply do not want to spend any of our bitcoin.
Also if we would like BTC to become a currency, then very different (and super strict) laws and regulations would have to be introduced and applied. And that could cripple the entire industry, which is still quite at an early stage of development. Therefore, in my opinion it's best to present BTC as a store of value. One, which in so many aspects are better than gold.
Once we have this part out of the way, then let's move to my main question:
would you promote Bitcoin as an investment or wealth protection against inflation?
AN INVESTMENT OR WEALTH PROTECTION AGAINST INFLATION?

I've learned that people react very differently if we would talk about investing (most are losing their interest) or focus on a different aspect and change their approach. Instead of talking about investing their money into some assets, it seems to be more efficient to talk about "protecting their hard earned money".
The idea of investing scares many, however talking about protecting our wealth attracts more attention. That's at least my impression so far. Would you agree?
I've realized that more often than not, this is the key if we want to hold our listeners' interest and attention. And I wonder, how many of you had a similar impression and similar experiences?
What is your approach towards bitcoin? Do you see it as an investment or hedge against potential high inflation? If you were to talk to a friend of yours with the purpose of getting him/her interested in the cryptospace - how would you play it out? Which path would you choose?
Please, share your views and experience with me. I read all comments.
Yours, @crypto.piotr
@project.hope founder
Our PH community: https://steemit.com/trending/hive-175254