STEEMIT AWARDS 2020 results are available. And it's hard not to feel fooled and dissapointed ...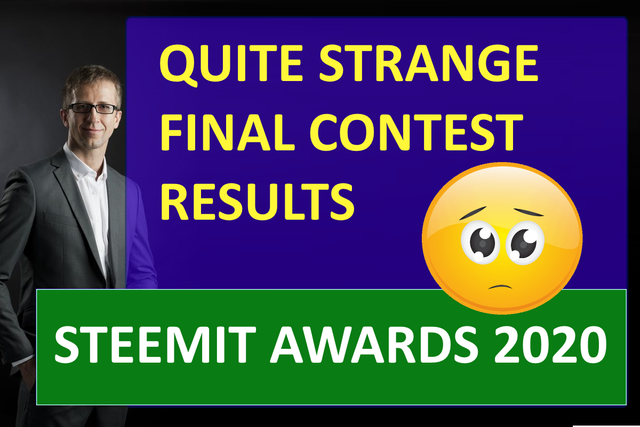 INTRODUCTION

Several days ago @steemitblog published another interesting contest, where Steemit users were allowed to nominate and then vote for their favorite author, best community and best community contributor.
Their publication gathered over a thousand comments already. Such huge activity only proves to me that Steemit is far from being a "dead space" as some people seem to claim. In my opinion, people working for STINC are currently doing an amazing job supporting the growth of many different communities, by supporting community leaders and country representatives.
This post is not to praise STINC and their work but to thank everyone who participated and nominated/voted for me as "best community contributor". So many @project.hope members took their time to show their support, for which I'm absolutely grateful..
WHY DID PROJECT.HOPE pull out from the contest?

I received a few questions asking me why Project.hope obviously pulled out from this contest and I've realized that for some PH members it is still unclear as to why we made such a decision.
I've discussed this topic with several core team members and I shared my concerns, that STINC would expect our community to be loyal towards Steemit only. Which is against our policy to be neutral within the conflict between STEEM and HIVE. After all, PH is supporting a large user base on both chains and we intend to continue doing so.
WORLD OF XPILAR community

We came to the conclusion that pulling out and encouraging our members to vote on "World of Xpilar" as the best community would be our next move. @xpilar is one of our major allies and he has been supporting the growth of our community ever since the very beginning (mostly by following our curation trail with all accounts under his management).
We're hoping that this gesture will only strengthen our relationship with him and his community.
MISCALCULATED results and small disappointment

According to recently published results, supported by us "World of Xpilar" community was not selected as the best community. They gathered around 190 votes (out of which, around 60 came from our PH members) which is so much more than some other winners.
Just as a small comparison: I only calculated less than 30 votes on "Steem Sri Lanka" and yet, they apparently did better than World of Xpilar.
I've also calculated votes of those who supported our PH community member @josevas217 as best author. I've lost count after 100 votes. And yet, he was not selected as one of winners. Instead other authors who didn't even reach half of his support won. Strange.
The only explanation so far I received says:
"The Steemit Team will then take on board these votes as part of their final selection of the five winners for each category."
I'm not sure what does it mean. Personally, I see it as a way to explain that our votes do not really matter.
Best Community Leader

I also have been hardly selected as 5th "Best Contributor to the Community", which is also quite disappointing. Our common friend @adeljose calculated those votes and according to his comment results are very different from official ones.
I still think, that people behind Steemitblog are putting a huge amount of time and effort into their work and generally they are doing a great job. However, situations like the current one should not be repeating.
That is surely quite discouraging.
BIG THANKS TO ALL OF YOU

Thumbs up to everyone who participated in this contest and supported our community.
Regardless of those little disappointments, I would also like to take this opportunity to congratulate @cryptokannon, @alikoc07, @girolamomarotta , @xpilar , @sapwood , @randulakoralage, @anroja , @rishabh99946 and @stef1.
I took the time to make a list and see which PH members participated in this contest and I would like to thank all of you. This list will be quite long, but I would like to mention the names of all those who showed their support. BIG THANKS:
@abuahmad, @achim03, @adesojisouljay, @adityajainxds, @ajewa, @alexbalan, @alokkumar121, @amestyj, @angelica7, @awah, @belemo,
@besticofinder, @carapthian, @carlos84, @chesatochi, @chimzycash, @churchangel, @cyberspacegod, @davidke20, @deathcross,
@elgranpoeta, @eliorrios, @emiliomoron, @fijimermaid, @foxicoreviews, @franyeligonzalez, @fucho80, @gifxlove, @great-a, @hardaeborla,
@jadams2k18, @janettyanez, @jawad101, @joelagbo, @johnkuzzy, @josevas217, @juanmolina, @karamyog, @knowledgefruit, @lanzjoseg,
@lavanyalakshman, @levycore, @lfgiaa, @lighteye, @luckyali, @lupafilotaxia, @machnbirdsparo, @madridbg, @majes.tytyty,
@mandate, @marchrain, @mccoy02, @memes777, @menoski, @mintymile, @mllg, @mtl1979, @munawar1235, @oredebby, @pablo1601, @papa-mensa,
@qsyal, @ramsesuchiha, @rbalzan79, @reeta0119, @reinaldoverdu, @resiliencia, @ritxi, @sacra97, @samminator, @sandracarrascal,
@tcpaikano, @tfame3865, @thetimetravelerz, @tocho2, @tolustx, @tomoyan, @trabajosdelsiglo, @unbiasedwriter, @uyobong, @valchiz,
@videoaddiction, @wiseagent, @yusvelasquez, @whatageek, @sumit71428
Yours, Piotr
@project.hope founder