What is cryptomission? | Achieve missions and get rewards.
Hello all,
We have given you missions for about a month. There were various missions. Thank you to everyone who has participated hard so far!!
Get up at six in the morning
Reading book
Join mini diarygame
Use hand sanitizer every day
To become lazy - walk less than 100 steps
Would you like to know more about cryptomission? I will let you know.


1. What is Cryptomission?
A Best way to achieve your goals is to bet your money. How difficult to keep good habit you know. It is difficult to keep it. As time goes by, your mind will weaken. We are ready to help you!!
It is easy to join it.
Install app.
Select the missions on the list what you want.
Pay your STEEM to participate in mission.
Take on a mission and upload a photo to verify via app.
Get reward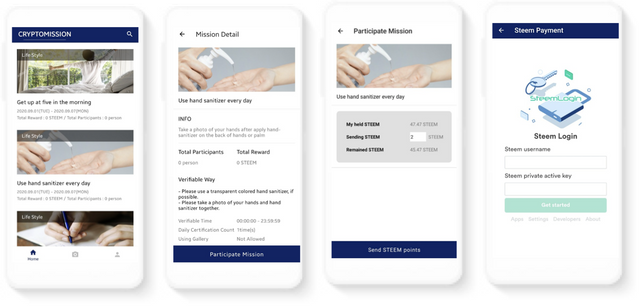 2. Achieve your mission and get prize
When you achieve your mission completely, your participant fee will be refunded and you will get reward and prizes. The more money you bet, the more prize money you can get.
For example, four people (AAA,BBB,CCC,DDD) participated in the mission below.
| Account | Success rate | Participant fee/refund | Reward |
| --- | --- | --- | --- |
| AAA | 0% | 100 STEEM / 0 STEEM | 0 STEEM |
| BBB | 33% | 10 STEEM / 3.333 STEEM | 0 STEEM |
| CCC | 100% | 1 STEEM / 1 STEEM | 19.200 STEEM |
| DDD | 100% | 4 STEEM / 4 STEEM | 76.800 STEEM |
One in four (AAA) has a mission success rate of 0%. All Steem paid by AAA as a participation fee will be used as prize money. BBB paid 10 Steem for participation and achieved 33%. BBB receives only 33% of the participation fee and the remaining 67% is used as a resource for the compensation.
CCC and DDD achieve 100%. They will get 100% of the participant fee back and get prizes. Prize money is divided in proportion. DDD paid four times more money than CCC. DDD gets more prize money than CCC as much as he pays.
10% of collected reward pool for AAA and BBB's failure costs will be used as prize money and operating expenses for the next mission, while the remaining 90% will be used as actual prize money.
Accumulated prize money = 100 + 6.666 = 106.666

Prize money for this mission = 106.666 * 0.9 = 96
3. Share post and Get voting
We give an option within the app to choose whether to share the mission verification to Steemit. If you don't want to, click NO (you will still participate in selected cryptomission)
From yesterday we have been voting once our players who complete the mission. I think this reward will help you keep your mission steady. Currently, Steem Power is low, but it will grow and give you more rewards. Share posting and get voting!!
4. It should be sustainable
It is important to make this project sustainable. Our team needs a stable business model for continuous operation. We will try to make it.
We set up so that if you write through the app, we can receive part of author rewards. Currently it is 10%. The benefit rate may be adjusted as it operates in the future. The profits can be used as prize money and also used as operating expenses.
5. When missions are registered?
Missions are newly registered every Monday and Thursday. We plan to make interesting and meaningful missions in the future. Any good idea is welcome. Please give us missions you want to join.
Also we plan to make the various challenges of the Steemit Foundation into missions. I believe this will help the Steem community become more active.
---
---