How profitable is tron in staking, passive income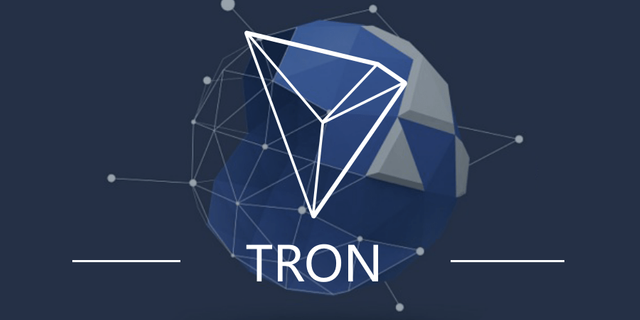 [source]
Hello friends, I hope you are very well, today I bring you something that I love and it is passive income some time ago I saw a post from my friend @ achim03 on how to stake with Tron, I really did not know what could be done so that post It seemed very interesting and I decided to put it into practice, I share with you what the experience was like and how good the profitability is.
The first thing I did was create a tron wallet, since I did not have it, create it at https://tronscan.org/ which is the official site, when you enter https://tronscan.org/ you will see the option that is to connect with the wallet when entering there they must choose by which means they will connect with tronscan as I did not have a wallet select the option to import a wallet when entering there you will have the option to create one or to import one if you already have it.
After having our wallet already active what we must do is add funds to it, Tron is traded on most exchanges so it is very easy to get any altcoin to Tron to be able to send the funds to our wallet.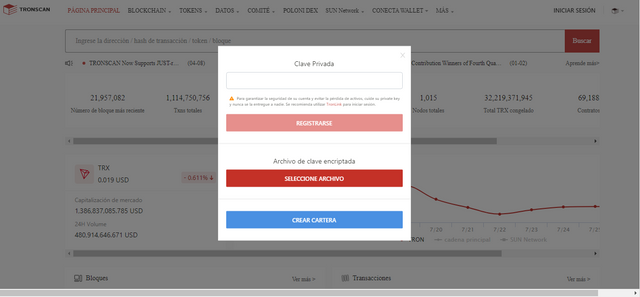 After we have the funds in our wallet what we are going to do is freeze them, by freezing our tokens apart from the Tron Power that we generate we have two additional options that are energy and bandwidth, this time I transferred 3018 TRX, half of that bone amount 1509 freezes it for energy and the other 1509 bandwidth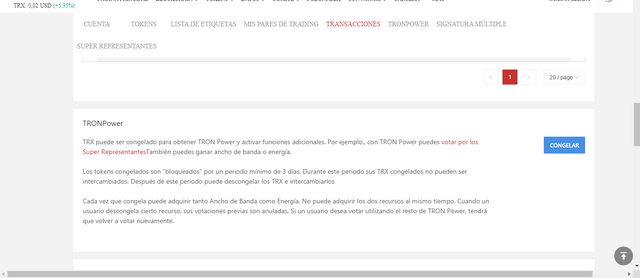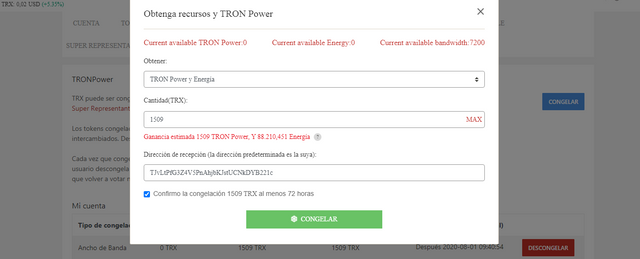 After we freeze all our tokens we have to vote for a super representative, these super representatives have a role similar to that of the witnesses, and also depending on the number of votes they come to be in the top 27 who are the ones who recently reward for supervising the Tron blocks
In Tron, voting rounds are held every 6 hours so there are 4 voting rounds a day, in each vote the position of the super representative is decided and also in each round they earn their rewards, each super representative has the option to share with everyone those who voted for them the reward won, obviously the most recommended is to choose a super representative who distributes the entire reward, so I chose one who distributes 100% in each vote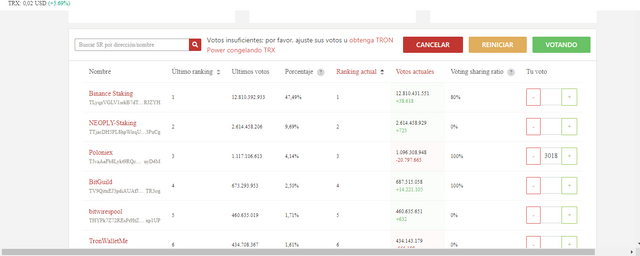 Now we go with the most interesting numbers to see the profitability of the staking, I freeze a total of 3018 TRX and after 24 hours I earn 0.4208 TRX, making a small rule of 3 we get the% that would be 0.014% daily, which would give 0.41% monthly or 5% annually.
It is certainly not a very attractive%, since here I am currently voting from 0.03% to 0.06% per day or 0.9% to 1.8% monthly or 10.8% to 21.6% annually, it is certainly a much better amount, of course to take into account that TRX allows us to have 100% of the liquid token in just 3 days, I think that having a part of our TRX portfolio in staking is almost like having a conventional savings account with almost immediate withdrawal but also a% low gain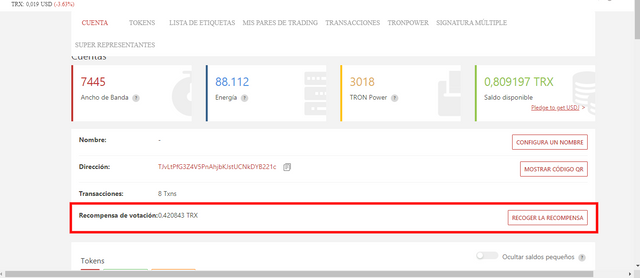 I think it is a good option to put some money from the emergency fund that everyone should have, as we can have it available in 3 days and it gives a higher% to conventional savings accounts. I think it could go up to 20% from the emergency fund to tron
Well friends, I hope you liked this post, if you have any questions, you can ask me, I will gladly reply.
Regards

If you want to support me in this new stage of migrant, you can send your donations here
BTC 18oXg7hfBnso6241ACCSkmHMTKZNKZPZqc
ETH 0xde966945355BC8061fFfCD71Af93751d8c699042