You are viewing a single comment's thread from:
RE: IT'S OFFICIAL! Our new partnership is starting TODAY. Let's see where will it take us ...
Hey, I've been checking the steemscan for a long time.
I think it's great that I don't need KYC, this calls other users.
I must also say that its use is very easy, easy enough to understand, and it is simply great that it is, because people in general when talking about cryptomonies, they get a little scared, and with so many keys and other particularities of the Blockchain they tend to get a little far away. And in this case everything changes, it's understandable for anyone, at least I think so.
Also the tools and graphics it offers are easy to understand.
This on one hand, but, I said that I have been analyzing the fees, etc, and I must say that I find it quite expensive when it comes to change to BTC, if they really charge the fee that is reflected. I don't know if it's a mistake or not, but a fee of 0.005 BTC is in Latin America a lot of money for a fee collection, it's about 60-65 dollars. I tried to update, to see if it was a detail, but no, that's what the fee says. I brought the image so you know what I'm talking about. In the case of USDT I think a fee of 1.96 USDT is reasonable, in fact I think it's low compared to other exchange sites.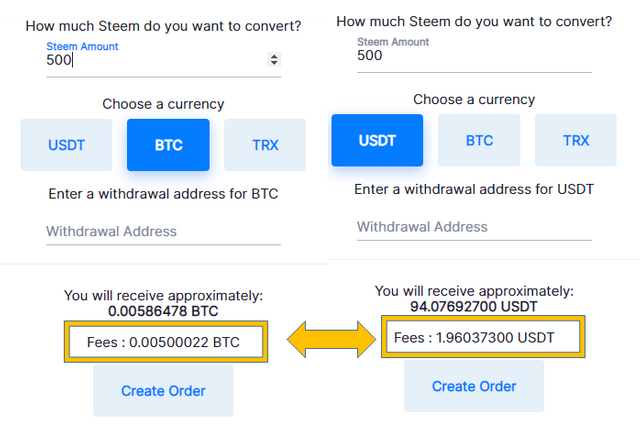 Of the rest, except for that detail of the fee at BTC I think it's a good idea, an excellent project that comes to fill a gap that existed in this platform. It is also a good time to join forces, I think that together and with mutual support we can go further.