Compressed air "batteries" will store up to 10GWh/"Baterías" de aire comprimido almacenarán hasta 10GWh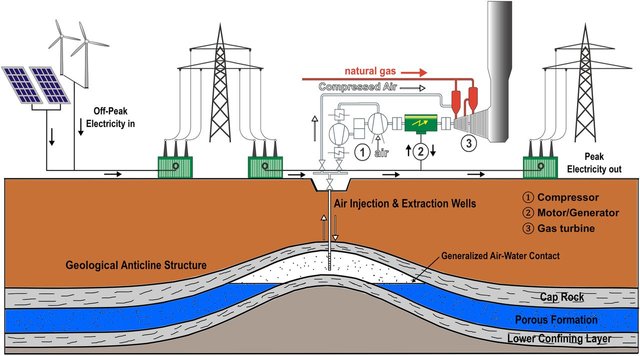 Source
As fossil fuels are being replaced by renewable energies that, as you all know, work intermittently depending on the atmospheric conditions, it is necessary to store the energy to use this stored energy when the climatic conditions are not adverse.
A medida que se van sustituyendo los combustibles fósiles por energías renovables que, como todos sabéis, funcionan de manera intermitente dependiendo de las condiciones atmosféricas se necesita almacenar la energía para usar esta energía almacenada cuando las condiciones climáticas nos son adversas.
Various methods are used for this storage: huge lithium batteries, pumping hydroelectric, molten salts, etc., the most used is the hydroelectric method that is used in 95% of the cases but it needs to be built in very specific enclaves and uses enormous quantities of concrete for its construction which does not help much when reaching the objectives of 0 emissions.
Para este almacenamiento se utilizan diversos métodos: enormes baterías de litio, hidroeléctricas de bombeo, sales fundidas, etc, el más utilizado es el método hidroeléctrico que se usa en el 95% de los casos pero necesita construirse en enclaves muy específicos y utiliza enormes cantidades de hormigón para su construcción lo que no ayuda mucho al alcanzar los objetivos de 0 emisiones.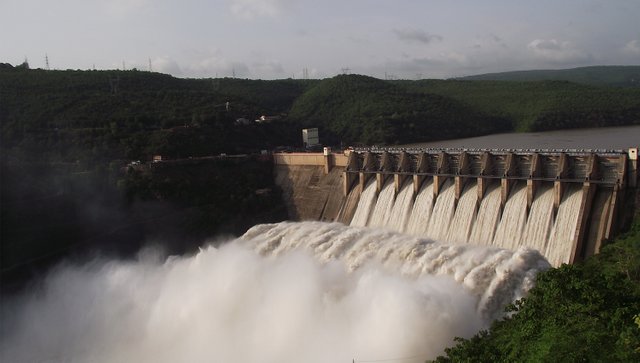 Source
Another technology that has been used for a few decades is energy storage using compressed air, the excess energy produced by renewable energies at peak times is used to operate a compressor that compresses air and stores it in an underground tank for later use in times of power shortage.
Otra tecnología que se usa hace unas décadas es el almacenamiento de energía utilizando aire comprimido, el exceso de energía producido por las energías renovables en momentos álgidos se utiliza para hacer funcionar un compresor que comprime aire y lo almacena en un depósito subterráneo para su posterior utilización en horas de escasez de energía.
When the compressed air is needed, it is released through a turbine that will generate the electricity. With the techniques used up to now, it was possible to store up to 2.8 GW by this method, which far exceeds the capacity of the batteries currently installed, although the technology has not yet finished improving.
En el momento en que se necesita el aire comprimido se libera a través de una turbina que será la que genere la electricidad. Con las técnicas utilizadas hasta ahora se podía almacenar por este método se podrían almacenar hasta 2,8 GW lo que supera con mucho la capacidad de las baterías instaladas actualmente aunque aún la tecnología no ha terminado de mejorar.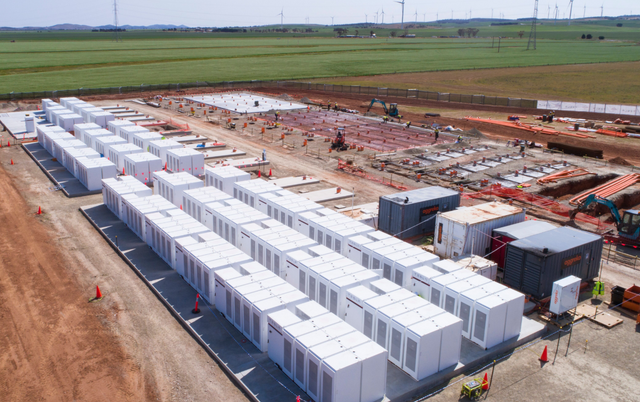 Source
The system that this news talks about called Hydrostor not only manages to store much more energy using an improved method of CAES (Compressed Air Energy Storage) but also instead of ventilating the hot air that is produced in compression, it stores the heat for later reheat the air that is sent to the turbine thereby improving performance.
El sistema del que habla esta noticia llamado Hydrostor no solamente consigue almacenar mucha más energía utilizando un método mejorado de CAES (Compressed Air Energy Storage) sino que además en lugar de ventilar el aire caliente que se produce en la compresión, almacena el calor para después recalentar el aire que se envía a la turbina con lo que se mejora el rendimiento.
The company claims that its system could store up to 10 GW providing between 8 and 12 hours of energy with a full load, on the other hand, according to its manufacturers, this system could have a useful life of 50 years, which is much more than what the current batteries on the market can last.
La compañía afirma que su sistema podría almacenar hasta 10 GW proporcionando entre 8 y 12 horas de energía con una carga completa, por otra parte según sus fabricantes este sistema podría tener una vida útil de 50 años lo cual es bastante más de lo que ofrecen las baterías actuales del mercado.
More information/Más información
https://newatlas.com/energy/hydrostor-compressed-air-energy-storage/
https://ecoinventos.com/mayores-baterias-aire-comprimido-del-mundo-almacenaran-hasta-10gwh/