Birth of the Project "PH-EMERGENCYFUND"
Hello dear Project Hope community, this is an informative post of a new project that we are already running. It arises as an initiative from a concern of an area that is particularly important in everyone's life, as it is the process of HEALTH / DISEASE.
We are practically certain that this is a project in which we will be pioneers, which will have a very positive impact on the lives of many people.
Fortunately we can support each other in the complicated moments that life sometimes puts in our way.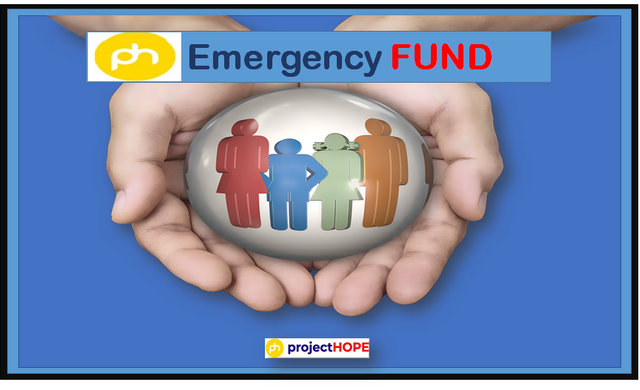 Edited image in power point Source
In view of the difficulties faced by some countries and how difficult it can be to cover medical expenses in most cases, this project arises in which we intend to create a fund for unexpected medical expenses to the members of the Project Hope Core Team.
For more details on how this idea started you can check out the following post:
FEW UPCOMING CHANGES within PH community 4 problems and suggested solutions
The following is highlighted in this publication, and it is good to keep it very much in mind:
Access to ph-emergencyfund support will be limited to PH CORE TEAM members only, who also share in the 50% reward split in their posts. This is an additional way to encourage our most loyal members to establish a 50% beneficiary to ph-fund.
At the end of each month, 3-5% of all profits received in the @ph-fund account will be transferred to this account (@ph-emergencyfund) and those funds will be used as needed.
At this point, we already know that we have captured your attention and that you can see the significance of this project in terms of the comprehensive support provided by Project Hope, taking advantage of the possibility of making tangible the benefits that through this platform we are obtaining.

Source
In fact, it should be noted that the first large transfer to this account has already been made, a total of 384 Steem are already in the fund, as you can see in the image above.
---
• Jose Vasquez (@josevas217) and Jose Lanz (@lanzjoseg) will manage this project and for you to receive some extra financial help (to cover medical expenses), our members will have to contact them directly.
Jose is a doctor and nurse by profession, so he is trained to attend this kind of situations and provide support not only in the transfer of the funds (previous verification of the case 1).
1 When we talk about verification we refer to those medical reports, receipts, and other documents that justify the request for support.

It will be necessary, once the expenses are paid, to be able to prove them by means of invoices.
More details will be agreed in the process, the important thing is that we are already active.
The project is already alive.
For Discord contacts:
josevas217#0161
lanzjoseg#3591
---
CC.

@lanzjoseg
@adityajainxds
@alokkumar121
@amestyj
@carlos84
@emiliomoron
@franyeligonzalez
@fucho80
@gbenga
@gifxlove
@hardaeborla
@jadams2k18
@joseph1956
@josevas217
@juanmolina
@luckyali
@lupafilotaxia
@madridbg
@mandate
@menoski
@ramsesuchiha
@rbalzan79
@reinaldoverdu
@roronoa07
@samminator
@sandracarrascal
@tfame3865
@thetimetravelerz
@tocho2
@trabajosdelsiglo
@yusvelasquez
---