STEEMIT EXCLUSIVE: recent integration between STEEM and TRON blockchain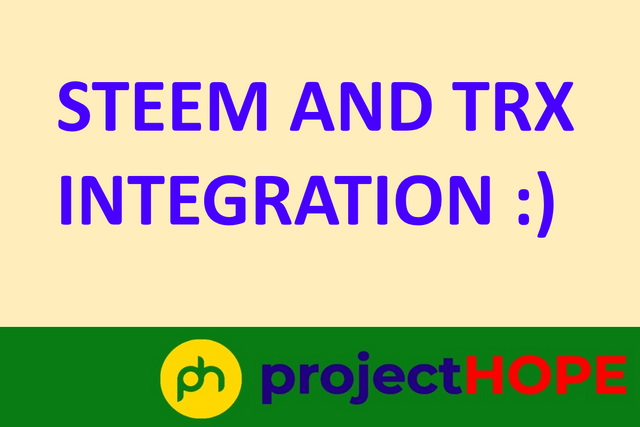 STEEM AND TRX INTEGRATION

I'm assuming that most of our members are already aware about the recent integration between STEEM and TRON. If you didn't hear about it, then please continue reading. Otherwise -> just jump to the part about "IMPORTANT DETAIL TO REMEMBER".
Only two days ago, @steemitblog made a huge announcement about integrating TRON and STEEEM blockchain and if you haven't read it yet, check this out click here.
HOW DO YOU FEEL ABOUT IT?
I wanted to share a post about it right away, however, I decided that it may be best for this news to settle down. To let the initial excitement die down a little bit. And only then ask you all, dear PH members, about your view on that particular partnership?
I spoke with few of our PH community members already, and it seem that everyone is very optimistic about this partnership moving forward.
I remember that when Justin Sun "purchased" STEEM blockchain, initially many users on Steemit were afraid that it was going to be an end game for all of us. So many people shared their worries and concerns, expecting that this integration will take place sometime in the future -> and many of those people forsaw only dark scenarios.
I'm glad to learn that this current big event will actually bring even more value to communities build on Steem. A great step forward.
IMPORTANT DETAIL TO REMEMBER

There is one detail, which is crutial to remember. A detail which will be important for all authors:
TRX rewards will be distributed in direct proportion to the amount of Steem Power earned, at the ratio of 1 TRX : 1 SP.
For every 1 SP earned, 1 TRX will also be awarded.
No TRX will be given for STEEM or SBD earned.
I must admit, that I like this idea to reward authors following "100% power up" policy with some extra TRX tokens. It seems that from now on it will be much more beneficial for all authors to set up a 100% power up and simply trigger power down whenever necessary (which takes only 4 weeks to fully complete).
Check price of SBD before you decide to post
It's worth to mention, that sometimes the price of SBD is way above 1usd. Recently, it reached 5$ and right now it's holding up above 3$. In that situation, it would be more profitable for authors to set up a 50/50 reward split.
It's worth to notice that one small exception.
TRON and Steemit Integration Celebration CHALLENGE

Currently @steemitblog posted another amazing challenge which I fully recommend to visit and resteem. Let's help them get some extra traffic and exposure.
Those Project.hope members who would decide to join this challenge are kindly requested to remember to set up small beneficiary to ph-fund :)
PLEASE RESTEEM


I would naturally appreciate every single resteem, which would help me reach out with this post to all our PH community members.
Yours, @crypto.piotr
@project.hope founder
cc: (our PH community members):
@ritxi
@blockchainfo
@achim03
@lanzjoseg
@fucho80
@neavvy
@juanmolina
@jadams2k18
@machnbirdsparo
@honarparvar
@guruvaj
@alokkumar121
@devann
@edgarare1
@flash07
@djennyfloro
@culgin
@spirajn
@gandhibaba
@forykw
@reverseacid
@focusnow
@tysler
@yonnathang
@pedrobrito2004
@gbenga
@thetimetravelerz
@chireerocks
@josevas217
@deathcross
@karamyog
@doifeellucky
@mintymile
@majes.tytyty
@chrisaiki
@uyobong
@hardaeborla
@reinaldoverdu
@the01crow
@ajewa
@solarwarrior
@oluwatobiloba
@phgnomo
@futurekr
@mojubare
@ojerinde
@frederickbangs
@carlos84
@eni-ola
@ben-edom
@tomlee
@cryptolohy7
@josediccus
@vlemon
@awah
@samminator
@bala41288
@bobinson
@ireti
@papa-mensa
@unbiasedwriter
@whatageek
@taimoorahmad
@janettyanez
@madushanka
@lenonmc21
@gungunkrishu
@luckyali
@franyeligonzalez
@kryptarion
@lebah
@newton666
@mikitaly
@blind-spot
@levycore
@paragism
@syedumair
@sumit71428
@akdx
@reeta0119
@alexcarlos
@peerzadazeeshan
@adityajainxds
@erarium
@olasamuel
@eloghosa
@rishabh99946
@laloretoyya
@iampz
@valchiz
@yohan2on
@oredebby
@mandate
@chimzycash
@steemflow
@benie111
@sathyasankar
@ale.aristeguieta
@bhoa
@tomoyan
@belemo
@qsyal
@tfame3865
@face2face
@mynima
@equaliser
@mtl1979
@dailyke20
@omegarojo827
@busted1
@alquimista1501
@adechina
@darthnava
@chesatochi
@leoumesh
@joelagbo
@cieliss
@dumangabrielrr
@tolustx
@michaelmaddof
@mauromar
@adeljose
@ramsesuchiha
@hassanabid
@nainaz.tengra
@wiseagent
@ritch
@crazysailor
@haidermehdi
@alvinauh
@r1s2g3
@apoloo1
@rbalzan79
@suanky
@monz122
@amestyj
@travelwritemoney
@eliorrios
@shortsegments
@alexbalan
@resiliencia
@engrsayful
@emiliomoron
@sapwood
@hendersonp
@lastminuteman
@openmindedtraveler
@burlarj
@punkblogs
@trabajosdelsiglo
@sholly1
@mccoy02
@diogosantos
@joseph1956
@nainaztengra
@tocho2
@bitbuzz
@burlarj
@team007
@introspectiva
@gamsam
@neerajkr03
@jungleonion
@cryptoknight12
@arunava
@jondoe
@diego1306
@puncakbukit
@menoski
@lucabarbera
@miguelbaez
@rokhani
@munawar1235
@towerone
@fijimermaid
@abdt
@ifgiaa
@kamranrkploy
@lupafilotaxia
@team07
@great-a
@mickvir
@ashkharoo
@madridbg
@besticofinder
@blacks
@bozz
@gifxlove
@fun2learn
@rxge
@davidke20
@sandracarrascal
@moohsin
@jehoshua-shey