The Fear Of Taking The First Step
There is a popular proverb that explains that the journey of many kilometres will always start with the person taking the first step. However, the first step has been proven to be the one that is heavily opposed. The reasons can be summed up as "fear": Fear of the unknown, fear of mistakes, fear of failure and many other fears and these fears have only one objective - to deter the person from taking the first step.
Image from Pixabay
Each time you refuse to take any step based on fear, you are feeding your fears and allowing them to have mastery over you, but when you go against your fears and do that very thing (the first step) that you have been afraid of, you will be surprised that your fears have only existed in your mind as mirage. Most times, what people fear is only created by their mind and not some two-headed monster out there.
Obviously, the first step is never easy even in physics, because you have to overcome many forces like the force of inertia and whatnot, but you should not allow all these to create fear within you. The truth is; fear comes like a seed which if nurtured, will grow and produce other seeds and fruits. The only way to keep fear at bay is by trying out what you have been afraid of. What constitutes a major fear when trying out new approaches or new things is "what if I fail?" Well, have you ever thought of "what if I succeed?" Why must it be the negative?
Maybe someone needs to hear this; it is far much better to fail in the course of doing new things or trying out new methods than to succeed at doing absolutely nothing. At least, if the person misses it at the first trial, he would have gotten enough experience to be better in the next trial than someone that has not made any attempt before.
The basic fears that are inherent in humans at birth are just two: Fear of failing and fear of loud noise. What this means is that all the other fears were acquired overtime through, majorly, inactions. If this is true, then we can undo our fears by taking actions. The fears you have refused to confront through your actions, you may not be able to gain mastery over it. You do not avoid your fears to overcome them: you run towards them and confront them.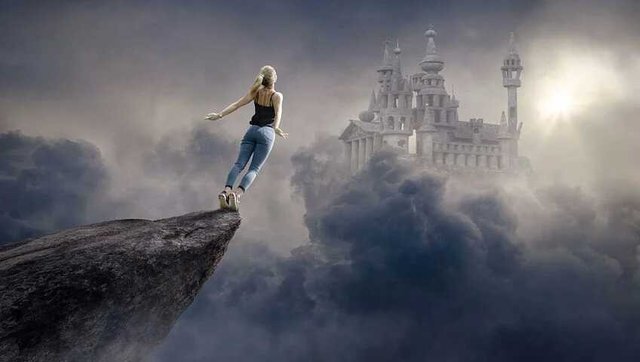 Image from Pixabay
Your dreams may be very big and your destination may be very great but all these will only be actualized if you take the first step towards it and at the right time irrespective of the fears that will want to discourage you. When you have taken that first step, you will be surprised how others will fall into place. Remember, your fears can only leave you alone when you do what fears you the most.
Thanks for reading
Peace on y'all