stem73 NEWS: STEEMIT pays you [EN] - [IT]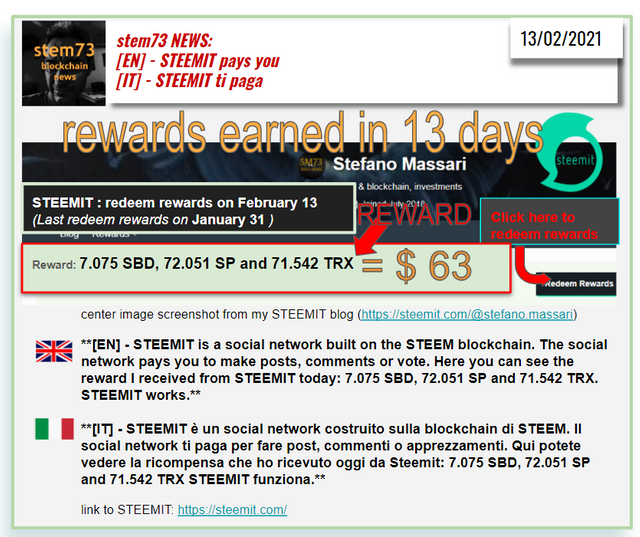 center image screenshot from my STEEMIT blog (https://steemit.com/@stefano.massari)
[EN] - STEEMIT is a social network built on the STEEM blockchain. The social network pays you to make posts, comments or vote. Here you can see the reward I received from STEEMIT today: 7.075 SBD, 72.051 SP and 71.542 TRX. STEEMIT works.
[IT] - STEEMIT è un social network costruito sulla blockchain di STEEM. Il social network ti paga per fare post, commenti o apprezzamenti. Qui potete vedere la ricompensa che ho ricevuto oggi da Steemit: 7.075 SBD, 72.051 SP and 71.542 TRX STEEMIT funziona.
link to STEEMIT: https://steemit.com/
[EN] - My opinion
The last time I withdrew my blogging earnings on STEEMIT was January 31st and received the following rewards: 6,754 SBD, 46,514 SP and 46,251 TRX. These rewards were earned in 14 days. Today I collected the rewards again and it has been 13 days since the last withdrawal. I practically proceeded with the withdrawal with the same amount of time. In this way I can check the quality of my work. In the January withdrawal the rewards, converted into dollars with the token prices on January 31st, were $ 30, while now the rewards have increased to $ 63 over the same time frame. I consider STEEMIT a ready and working platform for web 3.0. I expect to see STEEM value at $ 1 as early as 2021.
Disclaimer: I am not a financial advisor, so this post is not an investment incentive, but remains an information and topical post. If you want to invest, you must do it responsibly after doing your research.
[IT] - Considerazioni personali
L'ultima volta che ho ritirato i guadagni ricavati dal blogging su STEEMIT è stato il 31 Gennaio e ricevetti le seguenti ricompense: 6.754 SBD, 46.514 SP and 46.251 TRX. Queste ricompense sono state ottenute in 14 giorni. Oggi ho ritirato di nuovo le ricompense e sono trascorsi 13 giorni dall'ultimo ritiro. Praticamente ho proceduto al ritiro con lo stesso arco di tempo. In questa maniera posso verificare la qualità del mio lavoro. Nel ritiro di Gennaio le ricompense, convertite in dollari con i prezzi dei token del 31 Gennaio, erano pari a 30$, mentre ora le ricompense sono aumentate a 63$ nello stesso arco di tempo. Considero STEEMIT una piattaforma già pronta e funzionante per il web 3.0. Mi aspetto di vedere il valore dello STEEM ad 1$ già nel 2021.
Disclaimer: io non sono un consulente finanziario, quindi questo post non è un incentivo all'investimento, ma rimane un post di informazione e attualità. Se volete investire dovete farlo responsabilmente dopo aver fatto le vostre ricerche.