stem73: Ranking of the best TRON DeFi application [EN] - [IT]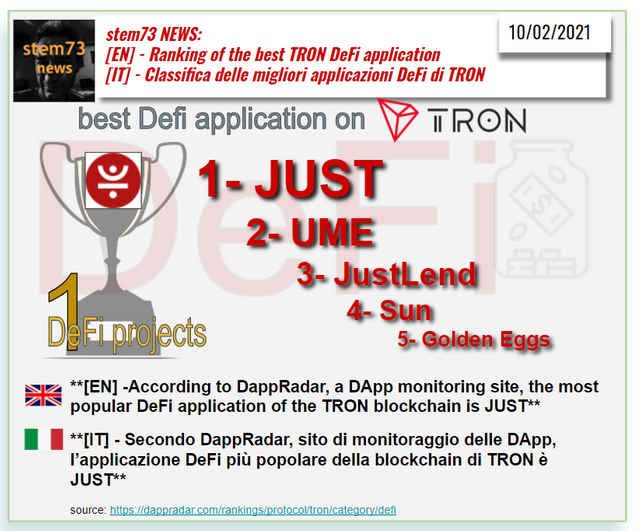 [EN] -According to DappRadar, a DApp monitoring site, the most popular DeFi application of the TRON blockchain is JUST
[IT] - Secondo DappRadar, sito di monitoraggio delle DApp, l'applicazione DeFi più popolare della blockchain di TRON è JUST
source: https://dappradar.com/rankings/protocol/tron/category/defi
[EN] - My opinion
The TRON blockchain is relatively young and its ecosystem is constantly developing. Being a last generation blockchain (DPOS), transactions are fast and on this blockchain DeFi could find a favorable environment for its development. As for my experience, I have also seen many projects fail on this blockchain as in the end scams were detected. I remember the case of "BANK OF TRON" and "Tron Supernode", both projects are no longer active. However I believe that TRON is a good platform for developing DeFi projects and today we have JUST at the top of these projects. I am not currently familiar with JUST, but it is my intention to broaden my knowledge about it.
Here are the positions from sixth to tenth place:
06 - JustOwls
07 - KODX
08 - Unifi Protocol
09 - Oikos.cash
10 - CSE
One of the applications I knew about DeFi on TRON was Zethyr Finance, but in this particular ranking it is only in 14th place.
Below is the link to the JUST website: https://just.network
What do you think of DeFi on Tron? Have you already tried it?
---
[IT] - Considerazioni personali
La blockchain di TRON è relativamente giovane ed il suo ecosistema è in continuo sviluppo. Essendo una blockchain di ultima generazione (DPOS) le transazioni sono veloci e su questa blockchain la DeFi potrebbe trovare un ambiente favorevole per il proprio sviluppo. Per ciò che riguarda la mia esperienza ho visto anche molti progetti fallire su questa blockchain in quanto alla fine si sono rilevati delle truffe. Ricordo il caso "BANK OF TRON" e "Tron Supernode", entrambi i progetti non sono più attivi. Tuttavia credo che TRON sia una buona piattaforma per lo sviluppo di progetti DeFi ed oggi abbiamo JUST al primo posto di questi progetti. Attualmente non conosco bene JUST, ma è mia intenzione ampliare la mia conoscenza a riguardo.
Qui si seguito le posizioni dal sesto al decimo posto:
06 - JustOwls
07 - KODX
08 - Unifi Protocol
09 - Oikos.cash
10 - CSE
Una delle applicazioni che conoscevo a riguardo della DeFi su TRON era Zethyr Finance, ma in questa particolare classifica si trova solo al 14esimo posto.
Qui di seguito il link al sito web di JUST: https://just.network
Voi cosa ne pensate della DeFi su Tron? L'avete già provata?