LEADERSHIP SKILLS TO CULTIVATE FOR A BETTER TEAM MANAGEMENT IN BUSINESS/COMPANY
INTRODUCTION
In the business world today, it is not just enough to assume a position of authority. Being in position comes with so many reponsibilities. Being in a position of authority doesn't automatically make one a leader, there are certain qualities that one must have that makes him a leader. To lead a team and attend to a maximum height of success, you need to be a leader and not a boss.
Hence in this article we are going to look at the difference between a leader and a boss and the possible skills/qualities one needs to be a leader.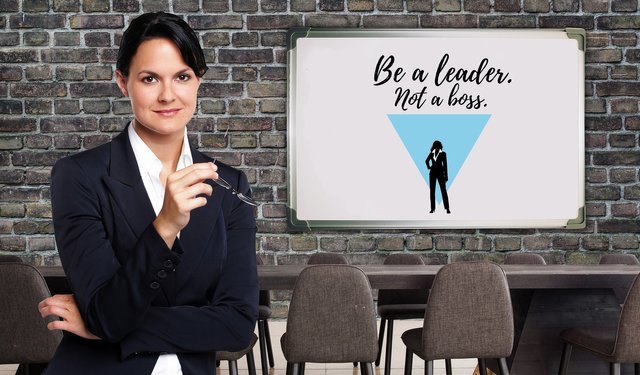 Source
BOSS AND LEADER DEFINED
The word Boss and leader had been severally used interchangeably, but they don't mean the same thing in the real sense.
A BOSS:
This is simply someone who has attained to a management position in a company, he make decisions that affects the company and employees.
A LEADER:
This is someone that inspires the team/employees to innovate and strive for perfection in a company.
Bosses says go, while leaders says let's go (E. M. Kelly).
Having seen the various definitions of leader and boss, let's look at their differences as they apply.
THE DIFFERENCE BETWEEN A LEADER AND A BOSS
Leaders motivates and inspires employees to follow.
While Bosses imposses and control the actions of employees.

Leaders build the employees' confidence.
While Bosses builds the fears of the employees.

Leaders are hardworking.
While bosses supervises the work.

Leaders are influential.
While bosses are authoritative.

Leaders earn repect by their qualities.
Bosses demand for respect.

Leaders are part of the team.
While bosses are above the team.

Leaders are driven by passion and purpose.
Bosses are driven by fear of competition.

Leaders believe in the employees' development and invest in them.
Bosses uses the employees.

Leaders are good mentors. Bosses are disciplinarians
These and more are the qualities that makes one a leader.
Meanwhile someone might assume the position of a boss in the company, but an employee will be somewhere exhibiting the leadership quality.
CONCLUSION
A leader is responsible for the success of the whole team and the individual team member.
To be a leader, it is important to create an enabling environment that facilitates positive relationship with your employees.
Be thoughtful and communicate well with your team.
Be approachable and accessible.
Have guidelines on how to work on your team by investing on their personal and professional development, in other to attain team success.
Above all, be a leader and not a boss.
Thanks for reading through my piece.
Best regards


Subscribe:::Discord.
:::Whatsapp :::join trail