Plagiarism Facts & Hope: Project Hope community will be free from plagiarism!
If you write a post for your blog but few days later you saw that someone stole your article and pasted it on his own or any other blog without your permission, even without giving the reference of original post link, how would you feel?
Thank you, all of this awesome community. I hope that all are you hate the plagiarism and always try to avoid this. Thanks to @josevas217 and @project.hope for their post against plagiarism. Their two post are pinned in announcement section on this community. Everybody should read carefully the two post before publish his own contents here.
1. Some important points to avoid falling into Plagiarism
2. One more reminder about PROJECT HOPE stand on PLAGIARIZM and post spinning
I think plagiarism is dangerous diseases on blogging platform. So strictly handle this issue for create nice environment.
What is Plagiarism
Those who steal the writings and ideas of others and continue to say their own. In the many cases, plagiarism is a punishable offence under intellectual property violation act.
Why plagiarism
According to me, two types of plagiarism is occur...
I) intentionally: This type of plagiarism is dangerous. They intentionally steal someone's intellectual property and say it their own. The reason behind this they are not willing to give enough time and merit to produce content or they have no capacity to create contents.
ii) Unintentionally: Sometimes a few sentences, some part or a paragraph of any writings may match due to different reason but not intentionally. In this case, content creator are ready to accept his fault and he/she will change it when he understood about plagiarism materials.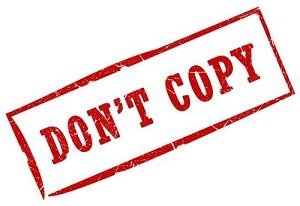 Image Source
How to identify the plagiarism
In ancient times, to detect plagiarism is very hard job but now it is easier to detect plagiarism.
There are some software to detect plagiarism. We can also check it on online for free. I personally use the following website to check the plagiarism.
Quetext
smallseotools.com
duplichecker
plagiarismdetector
I usually try it before publish a new post. Most the time it gives 70-80% accurate result. I suggest that check your content before publish it. You can use simply by copy your content and paste the above-mentioned website and check the uniqueness of your content. It's a very simple so you can try.
Tips: How to avoid plagiarism
• Put your original ideas and thought:
It's a first and important thing that write something with your own ideas and thinking. You can read lots of related article but finally you have to produce content from your thinking, ideas and opinion.
• Paraphrasing
Paraphrasing is an art if you do properly. In this case we should cite the source.
• Cite or references your original content sources
Most of the time we may use thoughts of others but it has not major problem if we can use proper citation or reference of original sources.
• You can use quotation marks with author
When we use someone's quote, we must use quotation marks with the name of authors.
So, conclusion is that we expect Project Hope community will be free from plagiarism. The above opinion is mine and if you feel any mistake on this please comments your idea.
N.B: This post is also published on my another blog (Hive.blog) Here