All about RobiniaSwap !!!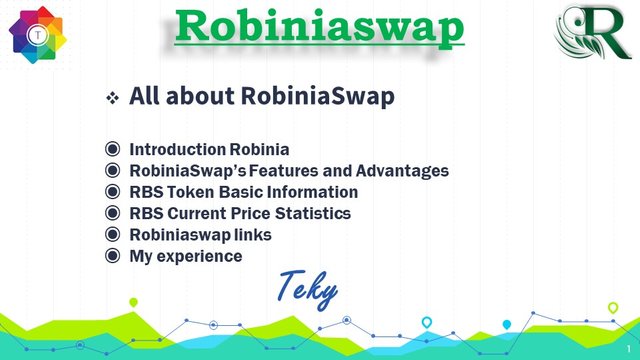 Introduction
---
RobiniaSwap is the first Def opened by blockfield. inc company and it is a cross-chain type Defi that supports many blockchains such as STEEM, HSC, RIZON, etc.
RobiniaSwap provides Defi development services and programs thus supporting many Defi development services and building a growing ecosystem. I believe that working with a variety of ecosystem users is critical to long-term performance and development and is working diligently with many platforms and communities to grow their environment.
Also, to enable their partners to make this process easier and smoother, RobiniaSwap will also expand support services for editors, designers, former developers, and smart contract developers; completely different and speaks volumes about their way of dealing with this Defi space completely. All this and much more and that too, at very low prices too.
It has already been discussed to expand to Hoo Smart Chain and RIZON blockchain, and they are thinking about expanding to other blockchains in the future.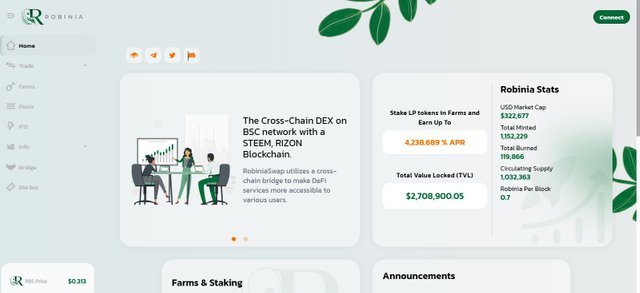 Robinia Swap Features and Advantages
---
STEEM Blockchain Linkage Service.
RobiniaSwap launches services with a long-term Token incineration model using STEEM.
All of RobiniaSwap's Deposit Fees, except for operating costs, are used for STEEM Coin purchases, and purchased STEEMs are locked up to the SP for a year and used for continuous RBS token incineration and RobiniaSwap development.
Transfer Tax (Automatic Burning System)
Robinia Swap has Transfer Tax. All RBS tokens Transaction will be charged a 5% fee and the fee will be automatically incinerated.
Building a Robinia Swap Ecosystem
Robinia will support IFOs, Defi service development through Business Partnerships.
Incinerate RBS tokens through IFOs and grow with reliable projects. Robinia supports the development of Defi services to multiple partner companies, enabling RBS tokens to be utilized in a variety of ecosystems.
Robinia supports cross-chain bridges with multiple blockchains, including STEEM, Hoo Smart Chain, and RIZON. Robinia enables multiple blockchain users to take advantage of Robinia Swap over the bridge.
Airdrop and Marketing Support
Robinia Swap actively leverages STEEM blockchain and actively supports the marketing of token airdrop and partners associated with the Robinia Swap ecosystem using its own service, SteamField. RBS token holders can earn additional revenue from Airdrop and partners can gain positive publicity.
Robinia Swap Token Basic Information
---
Token Name: RobiniaSwap
Token Symbol: RBS
Chain : Binance Smart Chain (BEP20)
Max Supply: Unlimited (Can be changed by governance voting)
RBS Token Per Block: 5 (initial emission rate).
New RPC URL: https://bsc-dataseed.binance.org/
Chain ID: 56
Block Explorer URL: https://bscscan.com
The emission rate will be adjusted reduce gradually.
Transfer Tax: 5%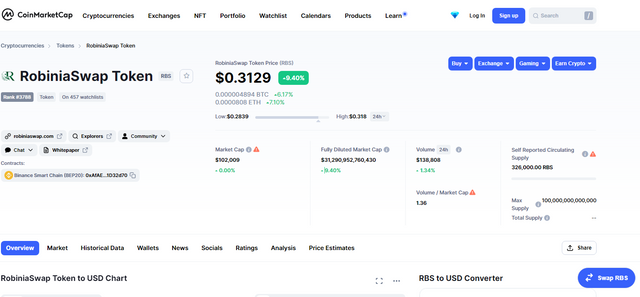 RBS Price Statistics
---
| RobiniaSwap Token Price | $0.3137 |
| --- | --- |
| Price Change24h | $0.02578 (8.96%) |
| 24h Low / 24h High | $0.2839 / $0.318 |
| Trading Volume 24h | $138,221.40 (2.73%) |
| Volume / Market Cap | 1.35 |
| --- | --- |
| Market Rank | 3780 |
My experience
---
I have been adding my crypto to the Robinia Swap project since the first day it was launched. I have found that the process of installing my crypto, without converting it to another brand, is very simple and it doesn't time-consuming.
the profits were very good (up to 10x to 20x ) and could be used in a variety of ways, including those methods, harvesting RBS tokens, and placing them in another dam, which has a 0% deposit amount. And I can convert them to any token I refer from the tokens available (More) in this project.
The price of RBS token is increasing day by day so now its the perfect time to buy and I am also looking forward to buying more and more,
CC: @roadofrich @robinia @nia @robiniaswap @robinia.witness
Robiniaswap links :
WEBSITE: https://robiniaswap.com/
Discord Channel: https://discord.gg/wGv4UjER2f
Robiniaswap official documentation
https://robiniaswap.gitbook.io/robiniaswap/
Looking forward to your responses : )
Regards,
@Teky