EN/ESP - Gold Analysis for May 7th
English
What's up investor friends?
In the April 19th analysis I indicated that Gold's next move was likely to be bullish. It was holding above the $1750 area, controlling the bulls and looking to gain strength in order to test $1780 and $1800 as psychological resistance.
As expected, gold managed to reach $1800 and break through this resistance very strongly. This ceiling was very important for the bulls to break, as it means a possible completion of the correction and opens the door for a long-term bullish continuation.
1-day candles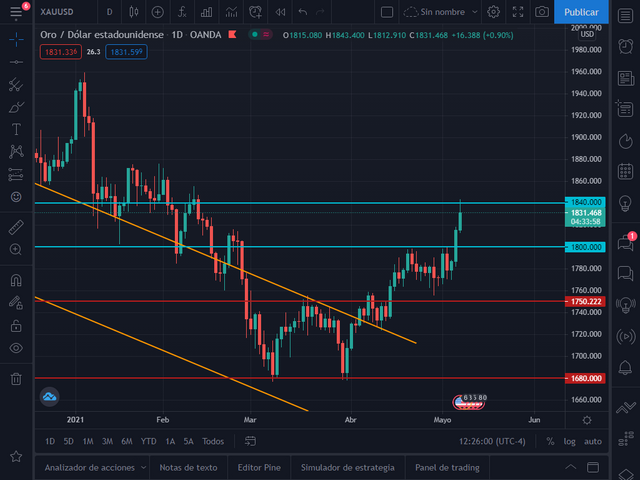 Having broken the $1800 zone, bulls will now have to stay above it to maintain control. As we can see, gold not only broke the $1800 zone, but also already tested the next resistance between $1830 and $1840.
Bulls should now aim to stay between these price zones in the short term and look for the next breakout of $1830 - $1840. If this is achieved, the next target will be $1875.
1-day candles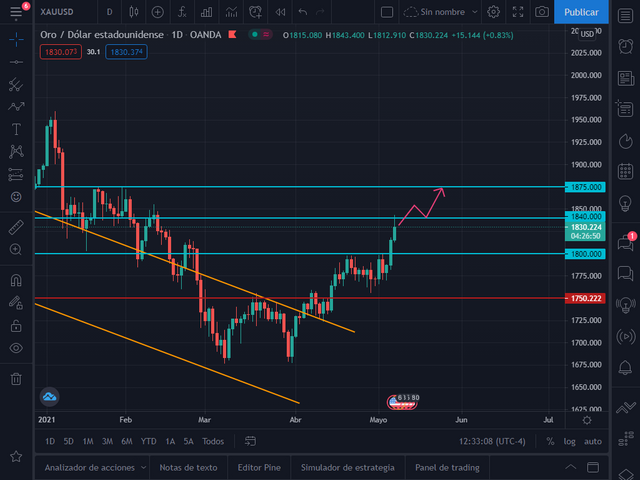 Gold is most likely going to correct in the short term before the bulls attempt the upward move. We should take advantage of that short correction to place our buy position.
An entry around $1810 would be ideal with a Stop Loss below $1800 and Take Profit at $1840 and $1875. We must remember that the path now in the short and medium term is bullish, so we must go with the flow, the trend is our friend.
A break below $1800 would invalidate this scenario, but nevertheless the bias would remain bullish as long as Gold does not fall below $1750, watch out for that colleagues.
I hope this information is helpful to you fellow traders. Best of odds to you 💪📈.
Disclaimer
The information given in this article is only my analysis and personal opinion. Be sure to do your own analysis and research. Trading cryptocurrencies, forex, commodities, etc, is risky.

---
Español
¿Qué tal amigos inversores?
En el analisis del 19 de abril indique que el siguiente movimiento del Oro probablemente fuera alcista. Se estaba manteniendo por encima de la zona de 1750$, controlando los alcistas y buscando ganar fuerza para poder testear 1780$ y 1800$ como resistencia psicológica.
Como lo esperaba, el oro logró llegar a los 1800$ y superar esta resistencia con mucha fuerza. Este techo era muy importante para los toros romperlo, ya que supone una posible finalización de la corrección y abre la puerta de una continuación alcista a largo plazo.
Velas de 1 día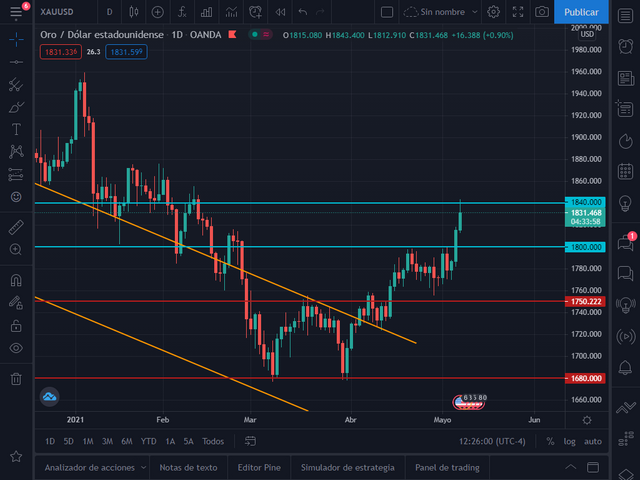 Una vez rota la zona de 1800$, ahora los toros deberán mantenerse por encima para mantener el control. Como vemos, el oro no solo rompió la zona de 1800$, sino que también ya testeo la siguiente resistencia entre 1830$ y 1840$.
Los toros deben tener como objetivo ahora mantenerse entre estas zonas de precios en el corto plazo y buscar la siguiente ruptura de 1830$ - 1840$. Si se logra esto, el siguiente objetivo serán los 1875$.
Velas de 1 día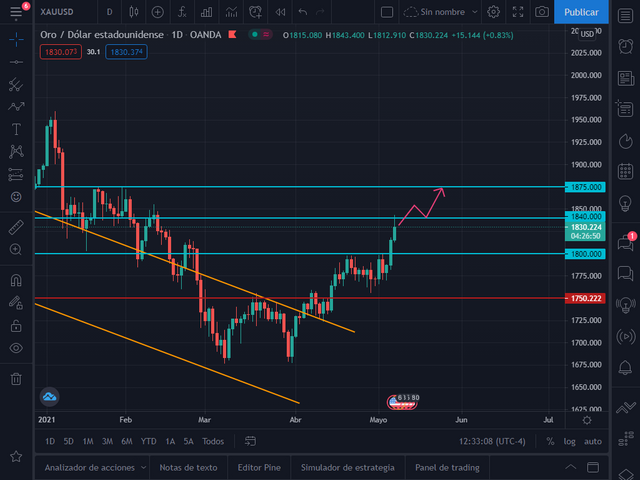 Muy probablemente el oro va a corregir en el corto plazo antes de que los toros intenten el movimiento alcista. Debemos aprovechar esa breve corrección para colocar nuestra posición de compra.
Una entrada alrededor de 1810$ sería lo ideal con un Stop Loss por debajo de 1800$ y Take Profit en 1840$ y 1875$. Debemos recordar que el camino ahora en el corto y mediano plazo es alcista, así que debemos ir con la corriente, la tendencia es nuestra amiga.
Una ruptura por debajo de 1800$ invalidaría este escenario, pero sin embargo el sesgo seguiría siendo alcista siempre y cuando el Oro no caiga por debajo de los 1750$, ojo con eso colegas.
Espero esta información les sea de utilidad amigos traders. Las mejores de las probabilidades para ustedes 💪📈.
Descargo de responsabilidad
La información que se ofrece en este artículo es sólo mi análisis y opinión personal. Asegúrese de hacer su propio análisis e investigación. Operar con criptomonedas, divisas, materias primas, etc, es arriesgado.