Are Defi projects like Zac.Finance going to make tradational banks obsolete?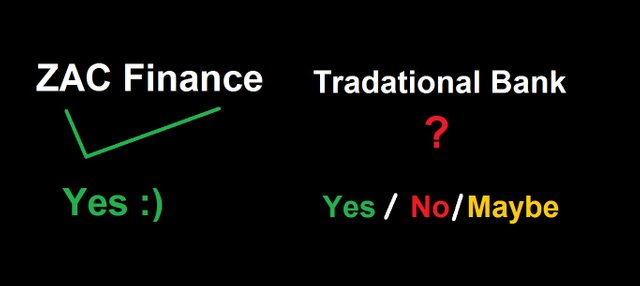 Banks have traditionally been used to handle our money. Be it salary which gets deposited to our account or the facility to taking a loan.
When it comes to dealing with money we have always relied on a bank to use their services.
Banks are going to change for good
Enter DeFi and the way we deal, save and borrow money is changing so fast that at this rate we might switch to DeFi projects completely and never miss our brick and mortar banks.
Zac Finance the round the clock financial services provider
Take Zac Finance for instance. It can be accessed from anywhere
around the world 24X7.
To visit Zac finance all one needs to do is visit the website
https://zac.finance/ and voila all its financial services are at your disposal at the click of a button.
Standard disclaimer: if you are new to the world of DeFi or decentralized
finance do not be intimidated by the mumbo jumbo of technical jargon.
In the DeFi or decentralized world of finance (read money to make it sound familiar if you wish) things are not controlled by one authority instead the responsibility is distributed to multiple points of validation so that chances of making a mistake are much lower.
Let us step into the world of DeFi by visiting https://Zac.finance
Sit back and enjoy the ride. This is going to be no less exciting than Charlies visit to the Chocolate factory.
It may feel a different kind of experience than traditional financial transactions however let me assure you soon you would get accustomed to the whole thing and may even like the idea of investing some of your own money.. crypto money into it.
Lets dive into the offerings of Zac Finance
Visiting https://zac.finance/ one is greeted with a very easy to
understand and intuitive interface.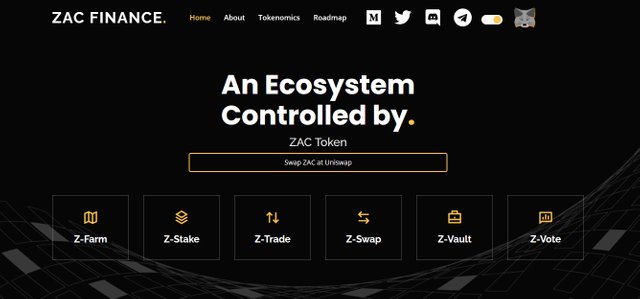 From here one gets some interesting options. These are
Z-Farm
Z-Stake
Z-Trade
Z-Swap
Z-Vault
Z-Vote
Welcome to the world of Zac token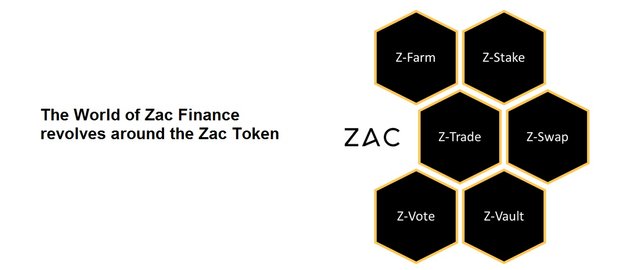 If you are wondering what is this "Z"?
Let me clarify "Z" represents the fact that all the activities in the Zac finance system are controlled by the ZAC token.
So if you have the Zac token you can carry out the activities of the Zac Finance world.
You can also think of it as being a key holding it opens up doors of opportunity.
It can also be seen as having an account in a bank. If you have it the bank offers you a number of facilities and opportunity to invest and multiply your money.
How do I get this Zac token
Zac is an ERC-20 token that works on the ethereum blockchain.
So if you have ethereum you can visit Uniswap site https://app.uniswap.org/#/swap and get hold of some Zac tokens by trading in your ETH or Ethereum coins.
In case you have not noticed. There is a metamask wallet icon present this enables you to hold your own funds in your wallet and perform a transaction as per your requirement.
Most People use a bank to carry out financial transactions and invest to make the money grow over time.
Let us explore Zac Finance in the same context.
Z-Farm
A Zac pool gives a user the opportunity to farm and earn zac tokens.
There are multiple pools available to the user and he would deposit UNI-V2 LP tokens into the pool.
There would be a farming contract or fZac that would be a smart contract governing the execution of the agreement which is known as the contract.
The terms are such that for every 7 days of farming where the investor provides liquidity by way of depositing UNI-V2 LP tokens he earns ZAC tokens as rewards.
How much an investor earns is in direct proportion to the percentage of liquidity he provides to the pool.
When you give someone your funds the big question is the safety of the funds this question becomes even more relevant because you are dealing with a smart contract.
To make and keep these transactions error & bug free an independent audit is performed by an approved auditors Callisto Network.
The audit report for the farming contracts can be found here https://gist.github.com/MrCrambo/ab6768a2e83a41c9aa329f9ece102a9b
Z-Stake
If you hold Zac tokens you can hold them and not spend or move them for a long period of time. This commitment to hold the tokens earns him a staking reward.
A user holding Zac tokens can refer to the rate of staking rewards and the duration of staking.
Zac finance is designed to be a community driven project where the community members who hold the Zac tokens vote and decide the rate of staking rewards.
A minimum of 30 ZAC is required to be staked to earn staking rewards.
To keep the staking process smooth, error and bug free the staking contract would be audited by auditors Callisto Network.
Z-Trade
This is a crypto exchange designed with the intent of providing a leveraged trading opportunity. The leverage factor is 500. So for "X" amount of funds that the uses has to trade he is offered the opportunity to trade upto 500X.
Z-Swap
An automated market maker is an essentially used to provide liquidity and would help in providing liquidity and fair trading opportunities.
Z-Vault
Much like a real life fund manager it is the algorithm driven mechanism that assigns the user funds in manner that the best yield is earned for the user.
Z-Vote
Zac finance is a community driven project and holding the Zac tokens is holding the right to vote on governance and operational matters of the project.
This helps the community collectively vote and decide the future path taken by the project.
Zac Tokonomics
The Zac project is already listed on https://coinmarketcap.com and as per its roadmap it is going forward full speed reaching
one milestone after another.
For more information please refer to the following links
Website : https://zac.finance/
ZAC Contract
Uniswap
Lock liquidity for 1 year
audit report
Twitter
Telegram
Telegram Channel
Disclaimer: This post is not investment advise and is written for education purpose. Please do your own diligence before investing.


If you are interested in earning some extra income
Easy free Crypto money site method even grandma can do
Or wanna try your luck?
Win a lambo Get free crypto or More?