Let your money do the job - Good investment opportunities if you have some left-over cash right now!
We all want more money, and we want it easily and quickly. But, there is no such thing as easy money, and we know that we need to work hard to get every Dollar, not only here on Steem/Hive, but also as employees and more! But, if we first earn money and have some left after paying our bills and putting food on the table, what can we do to make it even more? That is what investing is about!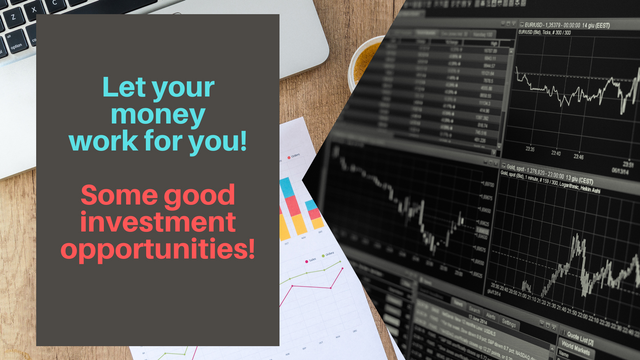 I wrote an article recently, about how you can get almost guaranteed a 10% ROI (yearly rate of interest) by investing on Steem and Hive. How? Simply by voting ten times a day, and you will get 10% of your original investment back within a year. If you vote for good posts that get more votes later, the percentage can reach 13-15% quite easily. So, Steem and Hive are actually quite good investment opportunities in itself, but there is one thing very uncertain - the value in USD and Euro.
What do I mean? You might buy 10,000 Steem today and see that it has turned into 11,000 Steem in one year. But, if the price of Steem has dropped from 0,16 USD (which it is today) to 0,1 USD, then you have still lost money (in Dollar).
I kind of didn't pay much attention recently to what has been going on at all sorts of exchanges, but during an accidental visit to Binance, I suddenly got a little eye-opener! What do I mean?
5%-8% ROI on your USD in a year!
Where I live, I get somewhere between 0,5%-2% interest on my money in a traditional bank. So, as I visited Binance and noticed that they can give you as much as 8% interest on my USDT (and other Dollar-pegged currencies), that was actually quite surprising and awesome. Why is that? Unlike Steem, it is pegged to Dollar, which means that I should be able to calculate and understand for sure what my win will be like. It might not be as exciting as the normal cryptomarket which can give you 50% profit in a day, but it will not give you a 50% minus in a day either.
There are other exchanges doing similar projects as well, but I would say that it is safer to pick among the big and very trustworthy, compared to not so well known and maybe a bit more shady exchanges for such activities.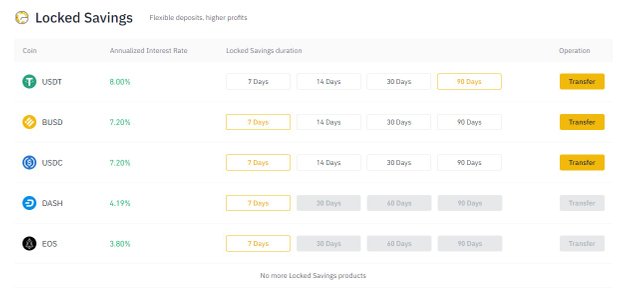 At the picture above, you can see an example of the ROI you will get if you decide to lock USDT, BUSD, and USDC for everything between 7 days to 90 days.
This is quite interesting, but it is also interesting to see that Binance is having a so called flexible saving. With this, you don't even have to lock your BUSD/USDC/USDT, but you can let Binance do so automatically every day, and you will receive about 5% ROI by having it in your trading wallet. You can decide to use it at all times, making it super flexible and easy, but still rewarding you for keeping your currencies at the exchange.
If you want to visit the Binance website, you can do so here. It is an affiliate link which will give you a minor discount on the trading fees, something that might come useful if you haven't registered for the platform yet.
Other platforms that might be interesting!
There are other platforms running with similar interest rates and more. At Hotbit (an exchange I normally don't recommend), they have similar investment opportunities, only with higher interest rates. But, since I am not really a user of Hotbit and have heard that it might be a bit shady, it is not one that I want to recommend.
Nexo is a similar project in which you will get interest rate between 4% and 10% for storing USDT, Ripple, Chainlink, Bitcoin, Ethereum, and other currencies. This is also giving you credit which will make you able to get a loan, but it is a good option if you just want to get interest on your cryptos instead of just leaving them in an exchange where you don't get any interest at all!
Be careful and do your own research!
I have been doing some research most of the day, but I want to tell you to do the same, at least if you plan on investing! It can always be risky, but the Binance options in which you lockdown or work with the flexible saving option for the USD-pegged coins seems to be a somewhat safe and very good option!
I hope you have found the article to be useful. Have you tried it? Are you happy about it so far? Do you have questions? Comments? I would love to hear from you!