What can 12.743 STEEM Work for Me Passively? Curious about Poloniex's TRON Staking (including walk-through experience)
hey everyone!
Today's the day to divert away from gaming experience and come to a curious "investing" experience from the Steemit Inc's new boss' exchange - Poloniex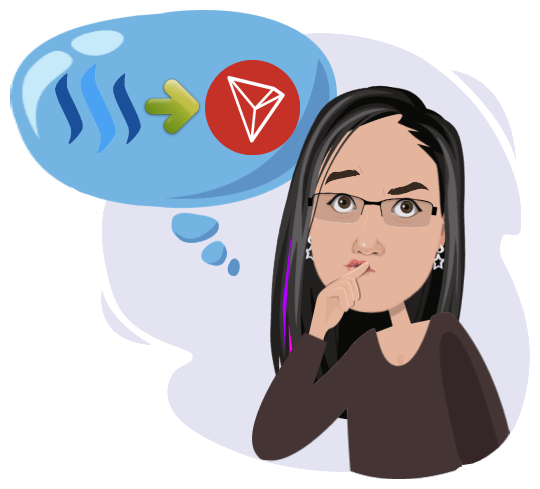 The fortunate part is that STEEM is still values 10x more than TRON, investing 100 TRX to test it out to see if it still works (since it was last year's Christmas promotion) and probably around whatever I have, 12.743 STEEM in my steemit wallet could worth testing out.
---
especially when @crypto.piotr mentioned about the little "panic" looming because of the sudden power down from Steemit Inc
---
So how does the process going to be?
I had about 2.5 SBD to play around into steem via our internal Steem blockchain market, I managed to gather around 12 STEEM plus whatever I had in hand I will try to send it to my poloniex account.

Even though transferring STEEM to Poloniex is seemless without fee, trading from STEEM to TRON will require some extras for taker and maker's trading fee.
So definitely I will loose a little STEEM along the way when I convert to TRX.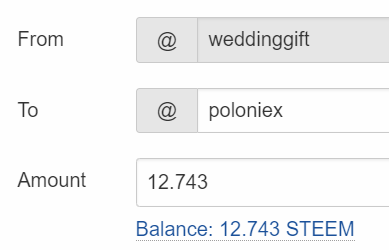 I am just going to bold it and send it all out to poloniex; of course if you are doing so Don't forget your MEMO which I preferred to refrain from showing here.
Unless you'd like to donate some steem to my poloniex account... 😅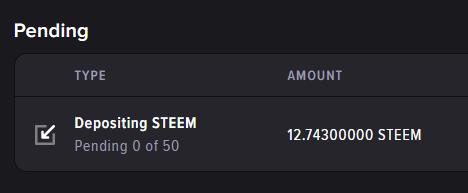 I do miss the seamless peer-to-peer exchange in @dses during the days when STEEM was boom; and everyone would be more than happy to just exchange for steem from one person to another without exchange fee.
Those were the days we just checked on the exchange rate from @coingecko and we immediately exchange from steem to fiat and vice versa.
Will this ideal exchange within local communities in the same region still take place for Steem?
Time will tell.
---
I digress ... (because I'm waiting for 50 confirmations as I am typing this)
I should not complain even though it takes about 6 minutes to complete a transaction between own STEEM account to Poloniex.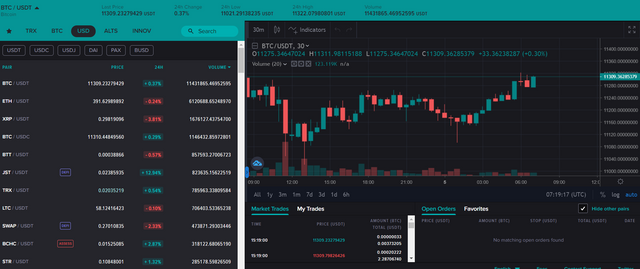 Poloniex has changed a bit on the Exchange page, and I am a little lost and looking for where I can trade my steem into TRX.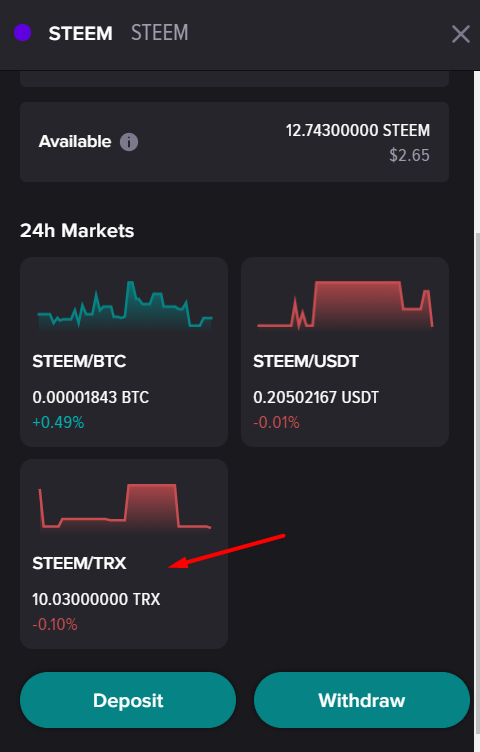 The easiest access, kudos to @poloniex is that it made the access to trading easier directly from the wallet.
The one thing I do not like is that the TROLL Box automatically launches on the left, blocking off the trading experience...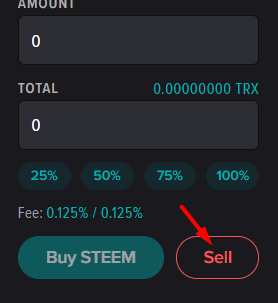 ...plus it took me around 10 seconds to realise that I got to click on the buttons of buy and sell to switch the mode based on the same text box. This is very different from the traditional exchange User Interface, but I think it makes sense instead of having buy and sell set side by side.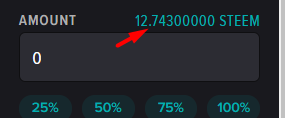 The good thing I can just click on the full amount or choose the percentage buttons to sell; but we need to remember since there's an incurring fees, I'd just do it all in a go since I am not trading a really huge amount.
---
Now, let's see, if this really works....
And the exchange is pretty seamless. Pretty much immediately TRX has been changed over.
Erm.... What's next?

I have searched around and didn't see any obvious signs of "staking", and even the support didn't mention how to do so, except saying that when user holds more than 100 TRX every alternate week there will be dividends deposited into the account... so let's see whether this works then....
---
I haven't touched Poloniex for years so this new interface with TRON's boss' owning the site becomes totally new to me.
How about you?
Are you using your liquidated SBD to stake on other assets besides powering up to keep the community running?
So far I find this is the most active and purposeful "staking" when the powered up assets can help generate confidence and income to content creators here.
Because, in exchanges, not your private key, not your crypto as well.
I am here to discuss with everyone here!
Until Then
Keep Calm, Stay safe and Stay Healthy!