REVISED: SO IM SHARING THIS VIMM STREAM. I RECORDED THE SECOND HALF. ITS UP FOR VIEWING. I EMBEDED IT IN THE POST
YOU GUYS LOVE ME!!!!!! LET ME HEAR YA SAY IT! TESTING A RESTEEM VIMM STREAM
---
Read more: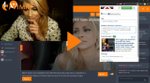 PRETTY NICE LIVE: IM HOPING THIS IS BETTER TODAY BECAUSE I REALLY WANTED TO DO A FEW THINGS AND SHARE A FEW THINGS | VIMM
Broadcast to a live audience! Build your community and monetize your work with STEEM.
Source:
https://www.vimm.tv
---
Share this post:







---
Posted using AltYes browser extension.