Forex Market: NZDCAD is in short position [Market Analysis]
Hi everyone,
I hope you are well. I am Hasanul Banna, Professional Forex Trader. Today I will try to analysis NZDCAD chart. I hope you will benefit.
Lets start!
There are something to keep in mind before taking a entry to place. Those are-
Trend
Support and Resistance
Price action signal
Trend:
If we look at the chart below, we can easily understand that the market is on a down trend. Because market has created Lower High continuously.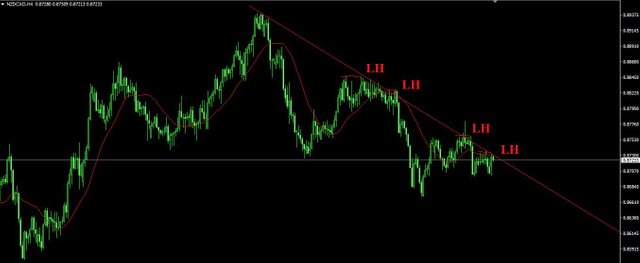 We know you never have to take an entry against the trend. So we have to stay with the trend.
Support and Resistance:
If we look at the chart pattern bellow, 0.87329 is a very strong resistance area. I marked the area in the chart for easy of understanding.

Price Action Signal:
We know that the prize action candle is very useful in taking entry. In the chart below we can see that Bearish pin bar has made on the 4 hour chart at Resistance.

So I hope this can be a very good entry for a short position.
Entry Position:
Postion: Short (Sell)
Entry Level: 0.8723 to 0.8732
SL: 0.8790
TP: 0.8595
Risk Ration: 1:3
Forex trading is a dangerous Profession. There is a possibility of financial lose. I do not encourage anyone to trade forex. Everyone please trade at your own risk. You can try in demo account for learning purpose.
[N. B: If you like this article, you must support it. Then I will get inspiration and bring more good articles for you later. Feel free to comment if you have any suggestions. ]