Contest: Tell us about your future plans || 20 Steem Prize Pool
𝐀𝐬𝐬𝐚𝐥𝐚𝐦𝐮𝐚𝐥𝐚𝐢𝐤𝐮𝐦
𝐄𝐯𝐞𝐫𝐲 𝐡𝐮𝐦𝐚𝐧 𝐛𝐞𝐢𝐧𝐠 𝐡𝐚𝐬 𝐚 𝐩𝐥𝐚𝐧 𝐟𝐨𝐫 𝐭𝐡𝐞 𝐟𝐮𝐭𝐮𝐫𝐞. 𝐀 𝐩𝐞𝐫𝐬𝐨𝐧 𝐡𝐚𝐬 𝐚 𝐩𝐥𝐚𝐧 𝐰𝐡𝐞𝐭𝐡𝐞𝐫 𝐡𝐞 𝐢𝐬 𝐫𝐢𝐜𝐡 𝐨𝐫 𝐩𝐨𝐨𝐫. 𝐄𝐯𝐞𝐫𝐲𝐨𝐧𝐞 𝐡𝐚𝐬 𝐬𝐨𝐦𝐞 𝐩𝐥𝐚𝐧 𝐢𝐧 𝐥𝐢𝐟𝐞. 𝐒𝐨𝐦𝐞 𝐚𝐫𝐞 𝐟𝐮𝐥𝐟𝐢𝐥𝐥𝐞𝐝 𝐚𝐧𝐝 𝐬𝐨𝐦𝐞 𝐚𝐫𝐞 𝐧𝐨𝐭 𝐨𝐥𝐝. 𝐈 𝐚𝐥𝐬𝐨 𝐡𝐚𝐯𝐞 𝐦𝐚𝐧𝐲 𝐩𝐥𝐚𝐧𝐬 𝐟𝐨𝐫 𝐭𝐡𝐞 𝐟𝐮𝐭𝐮𝐫𝐞. 𝐈 𝐰𝐢𝐥𝐥 𝐬𝐡𝐚𝐫𝐞 𝐬𝐨𝐦𝐞 𝐨𝐟 𝐭𝐡𝐨𝐬𝐞 𝐩𝐥𝐚𝐧𝐬 𝐰𝐢𝐭𝐡 𝐲𝐨𝐮.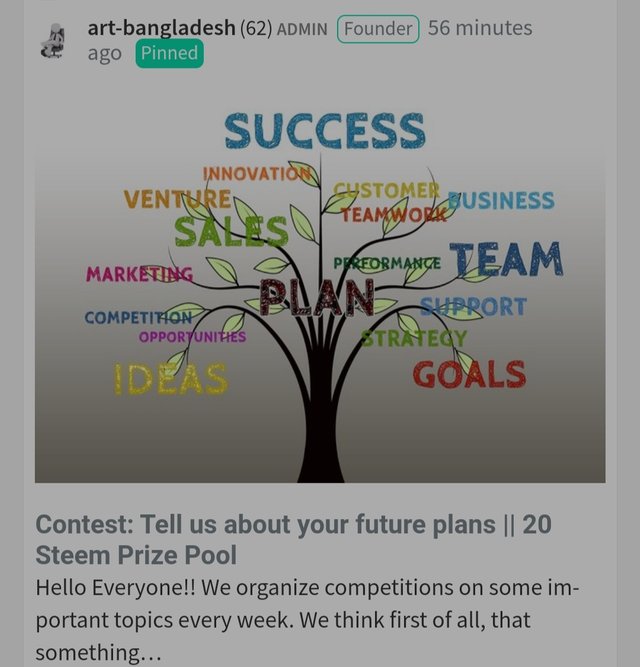 Image:Source
𝙈𝙮 𝙛𝙞𝙧𝙨𝙩 𝙥𝙡𝙖𝙣👇
Everyone has some plans in their lives, so I have many plans in my life. My biggest wish is to go to Saudi Arabia twice. For the first time I will go to visit the Rawza Sharif of our beloved Prophet Muhammad (SAW). Going to Rawza Sharif, I will see the Rawza Sharif of my merciful Prophet Noor Nabi Hazrat Muhammad (SAW). Then I will go home again to circumambulate Kaaba Sharif. I will kiss that sacred stone. This is my greatest hope. May I visit the Rawza Sharif of the Prophet (SAW) and circumambulate the Kaaba, the house of Allaah the Almighty.(Amin)
𝙈𝙮 𝙨𝙚𝙘𝙤𝙣𝙙 𝙥𝙡𝙖𝙣👇
There are many poor people in our country. Those who can't eat dumutho. They can't eat or drink properly, they can't dress properly. They are known as very neglected people in the society. And I want to stand by these people. I will put a smile on their face. They should be able to eat dumutho. I want to make this arrangement so that they can get the right respect in the society. In fact, I want to explain to those rich people in our society that they also have many rights. It is because of them that we have grown so much now. Such an attitude is actually present in all those people in the society, then they will help them, love them. So my dream is to come and stand by these people and help them and put a smile on their faces.
𝙈𝙮 𝙩𝙝𝙞𝙧𝙙 𝙥𝙡𝙖𝙣👇
My latest plan is to get a good job and put a smile on my father's face and in the face of everyone in the family. I want to be a good person. I can fulfill the hopes of everyone in the family. If I can get a good job, I can give something to my parents, grandparents, uncles, aunts, brothers and sisters and keep them happy. I'm happy if they're happy. I want them to be happy all the time. Another of my plans is that I can circumambulate the Kaaba with my father and mother. And I can go around a lot of places I know about them and show them how much I know about the world.
𝙀𝙫𝙚𝙧𝙮 𝙝𝙪𝙢𝙖𝙣 𝙗𝙚𝙞𝙣𝙜 𝙝𝙖𝙨 𝙖 𝙡𝙤𝙩 𝙤𝙛 𝙥𝙡𝙖𝙣𝙨 𝙞𝙣 𝙝𝙞𝙨 𝙡𝙞𝙛𝙚. 𝙈𝙮 𝙛𝙪𝙩𝙪𝙧𝙚 𝙥𝙡𝙖𝙣 𝙞𝙨 𝙩𝙤 𝙜𝙤 𝙖𝙗𝙤𝙫𝙚 𝙖𝙣𝙙 𝙗𝙚𝙮𝙤𝙣𝙙 𝙖𝙡𝙡 𝙩𝙝𝙖𝙩 𝙄 𝙨𝙖𝙞𝙙.𝙈𝙖𝙮 𝙮𝙤𝙪 𝙖𝙡𝙡 𝙥𝙧𝙖𝙮 𝙛𝙤𝙧 𝙢𝙚 𝙩𝙝𝙖𝙩 𝘼𝙡𝙡𝙖𝙝 𝙬𝙞𝙡𝙡 𝙖𝙘𝙘𝙚𝙥𝙩 𝙖𝙡𝙡 𝙢𝙮 𝙥𝙡𝙖𝙣𝙨 𝙖𝙣𝙙 𝙛𝙪𝙡𝙛𝙞𝙡𝙡 𝙩𝙝𝙚 𝙝𝙤𝙥𝙚𝙨 𝙤𝙛 𝙢𝙮 𝙢𝙞𝙣𝙙.
Thanks all for visiting my post.
Specially thanks to
@art-bangladesh
@nevlu123
👋👋 Best Regards @mohamad786
👉👉Special Thanks to All Friends who are supporting this Post.💖💓