Santa Monica Mountains Bay View + MySoCal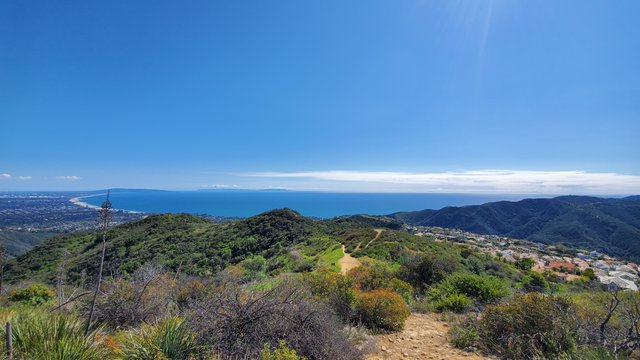 Hello,
This is my first post and entry into the weekly My SoCal photo contest and I hope I've done the hashtag and banner right. I've just joined #SoCalSteemit Community.
This selection is of a view of the Santa Monica Bay from a ridge of the Santa Mountains that runs back to the San Fernando Valley. Catalina Island is out at a distance tucked under the tip of the clouds.
This is along one of my most favorite hikes. My son and I discovered it when we were out and about exploring when he was a wee bit. We watched the community build up around there. When I was a child I could see the bikes riding along the ridge and wondered how they got there. Now I know. Wonderful place to visit and enjoy SoCal expanse. There are 360 views of the north, south, east, and west.