The SoCalSteemit Meetup With Musical Guests Steel Parade at Taco Surf March 6th 2020.
(html comment removed: wp:paragraph )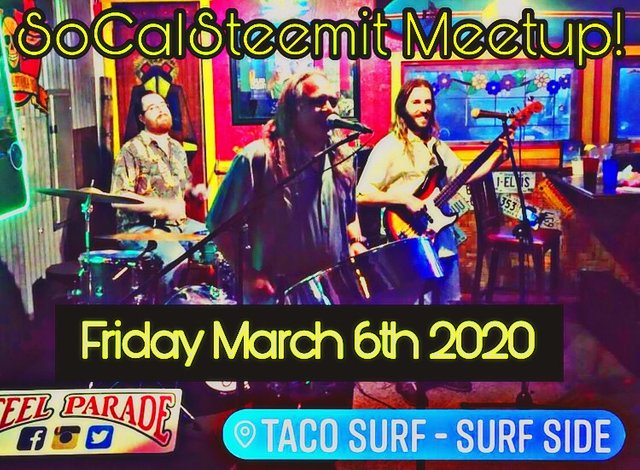 This post is dedicated to the @SoCalSteemit community. Thanks for sticking around! I'm looking forward to seeing you all.


This will be a fun event for all ages. Kids can come, the restaurant is yummy, and there is a full bar. Smoke in the back behind the bar. It's everything, MAN!
🌊🌊🍹🍸🍺 TACO SURF 🌮🌯🥗🏄‍♂️🏄‍♀️
Taco Surf has a few locations, don't be confused!
You want the Taco Surf located underneath and next to this converted water tower:
The Taco Surf you want is in a little town located between Seal Beach and Sunset Beach, known as "Surf Side" on GoogleMap app.
SoCalSteemit's post has lots of great details: https://steempeak.com/hive-179815/@socalsteemit/socal-steemit-meetup-final-reminder-steel-parade-at-taco-surf
This Friday March 6th 2020, and every first Friday of the month, Steel Parade will perform at Taco Surf.
Yelp: Taco Surf - Surfside, CA - Yelp
Food:
I like the Brandi Salad with fish or shrimp on it. Add avocado or guacamole. The happy hour tacos are delicious. Me and the guys in the band favor carnitas, grilled fish, shrimp, and carne asada tacos. (I would get carnitas if I could only have one type.) Order about 16 if you want to feed 4-5 people.
One of the guys in Steel Parade is a vegetarian. He likes the potato tacos and green stuff. I don't think the beans have lard in them. The tortillas usually do everywhere, right? If you're not sure if your dish has meat in it, call me over and I'll try it for you. Better to be safe than sorry. I don't mind helping a friend. I was a vegetarian once too... 4 years and then on and off for years after that.
Drink:
Cadillac Margarita is famous and delicious. It's a lot of booz for me personally, but them make a small one that seems perfect.
Parking:
I'm not telling you what to do. Only do whatever you're comfortable with. Use caution while turning into Taco Surf. Use caution while running onto Anderson Street. Tailgater are abundant these days. People don't alway expect a person to be turning off of PCH.
Don't drive buzzed or intoxicated. The area is known for sobriety checks near PCH and Seal... or was it PCH and 2nd? Either way it's not worth the risk. I'll give you some money for a ride if you need it. I'll get you some Tacos, wait it out. All good.
❤️Do not drive drunk.❤️
Parking is limited and it's valley in front after a certain time. You might find it easier to park near the beach or across the street. Turndown Anderson Street to park near the beach. Walk along the waves and catch a beautiful sunset view. Before the band starts at 6:00pm. It gets windy so bring a jacket.


🎼🎤Steel Parade🕺🏝
Steel Parade is the name of the band performing during this SoCalSteemit meetup. Steel Parade performers all over Souther California. Most of Steel Parade's performances are private events. Taco Surf is the one of the most long running public venues. This summer Steel Parade will be performing several public events at the Laguna Art-A-Fair gallery located in Laguna Beach California.
The instrumentation is comprised of steel drum, bass, drum set, and usually percussion. Phil, the steel drum player, is lead vocalist. I, @steemseph, play bass and sing harmonies. Max is the drummer. We all play several instruments, but I stay on bass while Phil and Max make "magic!"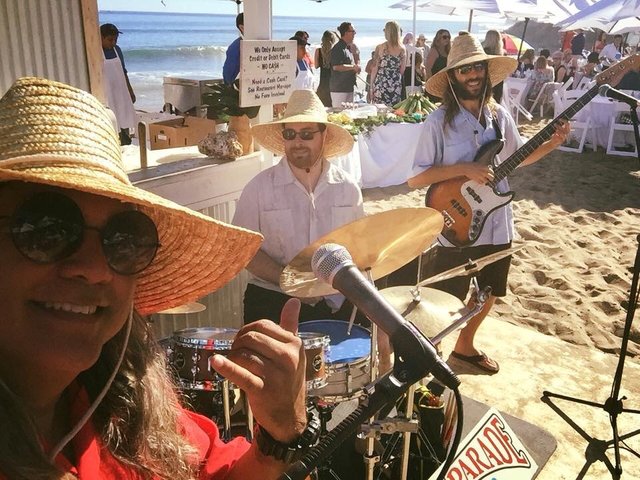 We start performing at 6pm and end at 9pm. Listen to a previous Taco Surf performance in the video below.
Steel Parade performs fun island music. Get "cozy" and then get up and dance with funky steel drum versions of songs you know and songs you will know soon. If you're the romantic type, we have a few tunes for you too.
Check the links below to see past posts that featured Steel Parade:
Keep you hands above the waist for our first set please. After we take a short break, the second set will start. Grab a booty, if you have permission.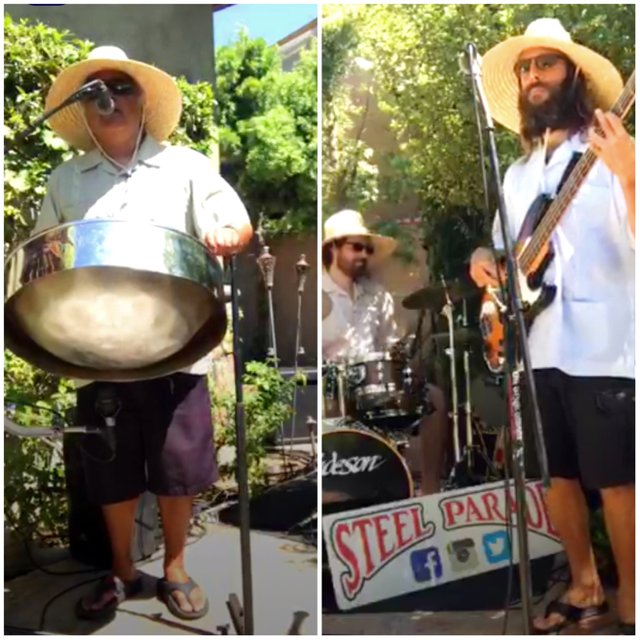 Seriously, Steel Parade, it's good music. Kids love it, parents love it, corporate social events love it, graduations, retirement parties, birthday parties, and block parties all love it too. Search for Steel Parade on your favorite social media platform.

💪🙏THANK YOU🙌👍
Thanks for supporting local music, local businesses and loco Steem meetups like this one.
Thanks to @derekrichardson (and crew) for sharing Steel Parade stuff and enthusiasm. Give an upvote to supporters like @derekrichardson, @stever82, @pennsif, @brian.rrr, @armentor, @joechiappetta, @alaqrab, @csusbgeochem1, @mariannewest, and many others in the SoCalSteemit community located here: https://steempeak.com/c/hive-179815/created
I hope to see you there.