Introduce your Pets to fur-friends community (3 Tron Reward plus $0.3 votes) Powered 100%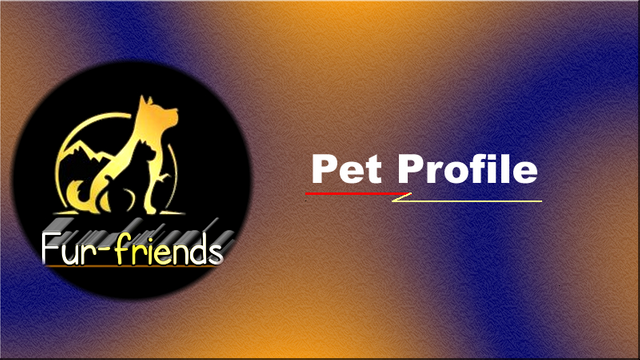 Introduction
We launched Fur-friends community yesterday, the very first community on Steemit for pets and their owners. We were really delighted to see many people take active interest in it and are ready to network with pet lovers from around the world. We say thank you for supporting this project. This is our second publication and a call for all pet lovers to bring their pets to fur-friends.


Why bring Introduce your pets to Fur-friends?
This community is about pets and their lovers. When you meet someone for the first time, it is usually nice to do an introduction. Fur-friends community wants to connect pet lovers on the steem blockchain together. We also want to create a profile, an identity for your lovely pet in the community. We cannot achieve this without a proper introduction by you the owners. So we want you to introduce your pet to us. If you do not own a pet, but has a neighbor of family members that has, still create this introduction post for it if the owner has no intention of joining steem.
Once the introduction posts start coming, we will build a gallery of all the pets on the Steem blockchain so that new comers to this community can easily access all the pets and their owners in a single publication. We will update the publication or gallery once every week to reflect the new pets that join us.


What to include in your introduction post
Its all about your pet. So you are free to write every detail you want everyone to know about your lovely pet. However, your post should contain the following important details:
Pet name
Country of Origin
Sex
Breed (If known)
Health Status
Behaviour/General characteristics
Any other details
After writing about your pet, we also need a little info about the owner. So at the bottom of your publication, you can write a one-paragraph bio about you. You could write about:
Your name
Occupation
Likes/Hobby
Country of Origin
City of residence
Keep it short and simple. One or two paragraphs is enough.
Your post should have this title: Hello fur-friends, I am happy to join this community. My name is (Pet name).
Your first tag should be fur-friends. Remember to subscribe to and make your post in Fur-friends community. You can join us on Whatsapp and Discord. Check the links at the bottom of this post.
After making your introduction, you can drop the link under this post.


Rewards for making this introduction post
This is a new community started yesterday, our wallet balance is 0. But we have a sister community called @steemalive which will loan us some Tron and votes too. So we will send you 3 Tron and try to vote your posts with a value of at least $0.3.
Additionally, we hope that @steemcurator01 or 02, will find your posts and reward them with more valuable votes. Make sure to use the first tag fur-friends


How to Support Fur-friends
We have started a curation trail which is an important way to build some followers and vote your content with more value. Kindly join our curation trail. Just log on to: http://auto.steemdb.online/. Then search for and follow fur-friends
You can also delegate to us, send us your donations to @fur-friends or vote our posts with value.


Conclusion
Thank you all in advance for supporting this community. We hope to move forward together and network with pet lovers around the world. Remember to invite you friends on Steemit here that own pets to join this amazing place. Together we can make it fun and enjoy of passion for pets.

Written by:
@focusnow
For:
@fur-friends



Subscribe:::Discord.
:::Whatsapp :::join trail