SIZ Education | New Ways To Use Your Hard Disk Drive | By @bilaldar113
Hello Steemians!!
I hope you are all Good.
New Ways To Use Your Hard Disk Drive
In this article, we explore the history of hard disk drives and what they're capable of.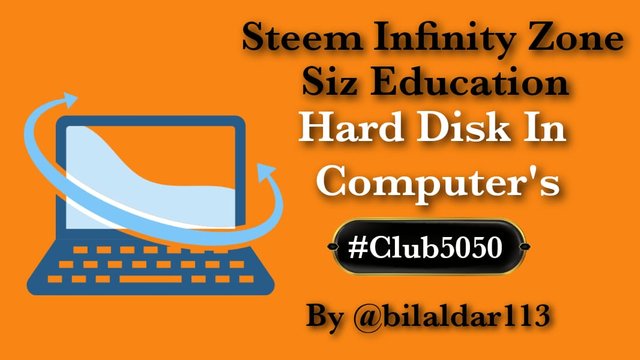 Hard Disk Drives (HDDs) have been a mainstay in computers for some time now, and they're still going strong even as the medium of choice changes. HDDs are most commonly found in desktop PCs and laptops, but they also power video game consoles like Xbox One S or Playstation 4 Pro. They can be used to store photos, videos, documents such as tax returns or homework assignments - anything you want! In this article we will explore what these drives are and how they work as well as some of the major benefits to using them over other storage mediums.
The first thing that needs to be understood is that there are three components that make up a hard disk drive: the platters, the head, and the arms. The platters are circular disks that store information in a magnetic format with read/write heads positioned on top of them. As the platter spins at thousands of revolutions per minute (RPM), it is passed under these read/write heads which are responsible for reading and writing data. The arms keep the read/write heads in place and also play a part in moving them from one track to another on the platters.
One of the benefits of using a hard disk drive is that it can offer large storage capacities. For example, an Xbox One S has a 2TB hard disk drive, and the PS4 Pro has a 1TB hard disk drive. The storage capacity of each is like having several hundred DVDs in your pocket.
Another benefit of using HDDs as opposed to flash drives (e.g., USB flash drives) or solid-state drives (SSDs) is that they are far more affordable - but they are also much slower. This makes the HDDs ideal for storing media that you want to view or listen to offline, where speed isn't an issue.
There are several types of HDDs available. The most common type of HDD is called a "spinning" HDD because it spins at several thousand RPMs which helps it to read and write data quickly. However, this also generates heat, which is why most newer laptops come with SSDs instead of HDDs. "Solid-state" drives don't have any moving parts, so they generate very little heat and are therefore ideal for laptops.
A newer type of HDD that is becoming more popular is called a "hybrid" drive. This type of HDD combines a spinning HDD with a small amount of NAND flash storage. The idea is that the operating system and frequently used files are stored on the NAND storage, while everything else is stored on the spinning HDD. This gives you the benefits of both types of drives - fast access to your most commonly used files/programs and large storage capacities.
Another newer type of hard disk drive is called a "NAS" HDD which stands for Network Attached Storage. A NAS HDD is made specifically to be used as a network drive - so you can access your files remotely through a web browser or other remote connection software. The reason this requires it's own category is that NAS HDDs come in a variety of sizes, from a few hundred gigabytes all the way up to several terabytes. This is perfect for people who need a lot of storage space but don't want to deal with the hassle of setting up their own server.
In conclusion, hard disk drives are still a viable and affordable option for storing large amounts of data. They are great for people who need to store their files locally but are not concerned with fast access times or don't want the hassle of setting up a server themselves. There are several types available, including spinning HDDs, solid-state drives, hybrid drives, and NAS HDDs which offer varying levels of performance and storage capacity. So whatever your needs, there is sure to be an HDD that's perfect for you.



Special Thanks To Steem Infinity Zone Team
@cryptokraze
@siz-official
@vvarishayy
@suboohi
@faran-nabeel
Thanks For Visiting My Post And Your Appreciation
Best Regards
@bilaldar