1000 Subscribers | SIZ Community has Reached this Milestone in 41 Days | 50% to @siz-official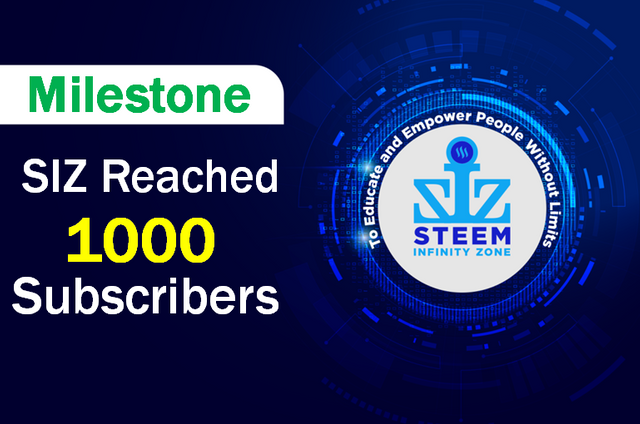 Dear Fellows,
This is @cryptokraze, Founder of community Steem Infinity Zone (SIZ) and It is giving me immense pleasure to announce that we have crossed 1000 Subscribers count. SIZ community was established with the vision of educating and empowering people on steemit without limits. We started SIZ operations 41 days ago with initial promotional activities done by @cryptokraze.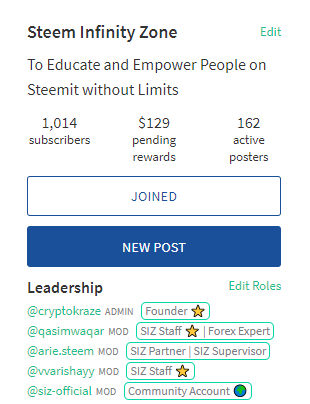 SIZ is growing day by day and I am really thankful to all the active participants who are bringing their friends and family to Steem Ecosystem. It is great to see that more and more people have started sharing educational content in their field of expertise. We already have 1st batch of SIZ Experts who are doing great work and adding quality content. I would like to pay special thanks to @steemcurator01 for supporting SIZ right from the start. As founder of SIZ, I assure you that all the support you are providing us will be used for the development of SIZ Projects and supporting community members.
Next Target 1500 Subscribers
I would like to pay thanks to all the members who joined SIZ and invited their friends and family to join Steem Platform. Our Next Target is to reach 1500 Subscribers and we are confident to achieve this in a short time because of our recent session on Promoting Steemit in Pakistan. This will bring lots of new members to join steemit and help us in reaching our next target.
Summary of SIZ Developments
---
In a short span of time, SIZ management has made many developments to support community members and add value to Steem ecosystem and I am sharing the summary of SIZ development.
SIZ Assets
To show our commitment and seriousness towards Steem, we have developed SIZ Assets (Logo, Header, Divider, Footer, T-shirt, Caps) so that our community will look more professional.
Steem Infinity Zone Assets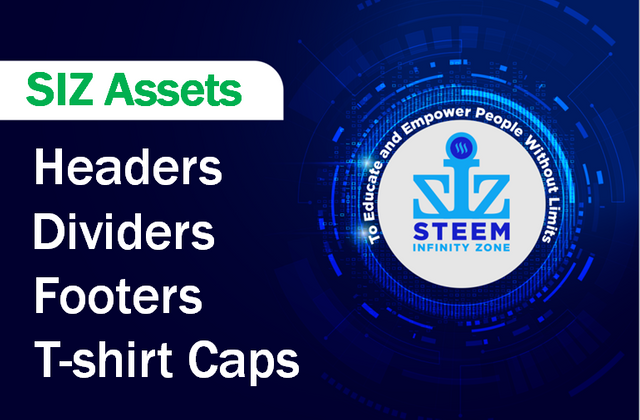 Steemit Education Series
We have launched an initiative called Steemit Education Series to post step-by-step tutorials on the different functions of Steem blockchain. We have produced 8 quality tutorials so far and will continue to add more in coming days.
Steemit Education Series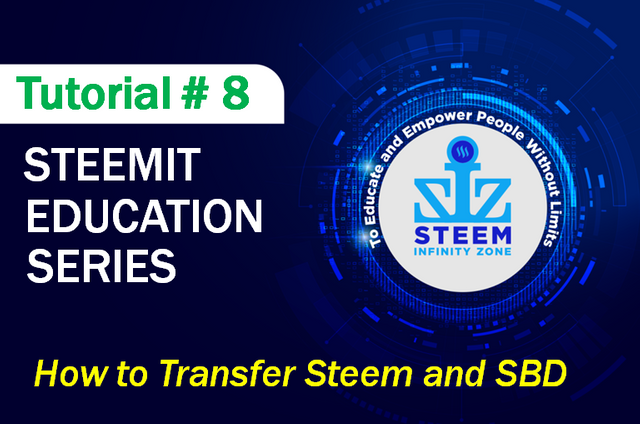 SIZ Rewards
We have launched SIZ Rewards, which is community's official grand rewards pool. SIZ management and other generous donors can support this by sending donations that will be used to support community members.
Launching SIZ Rewards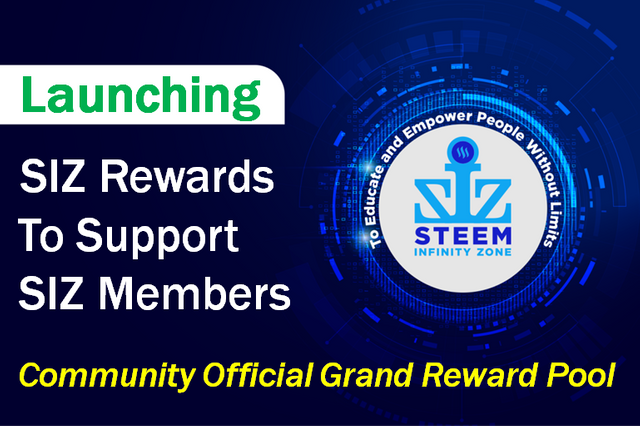 SIZ Delegation Reward System
We have invited delegators to support SIZ community by delegating their Steem Power to the community official account (@siz-official) and get upto 200% curation rewards which is the best offer among Steemit communities. We have received 3000 SP delegations so far and confident to receive more.
SIZ Delegation Rewards System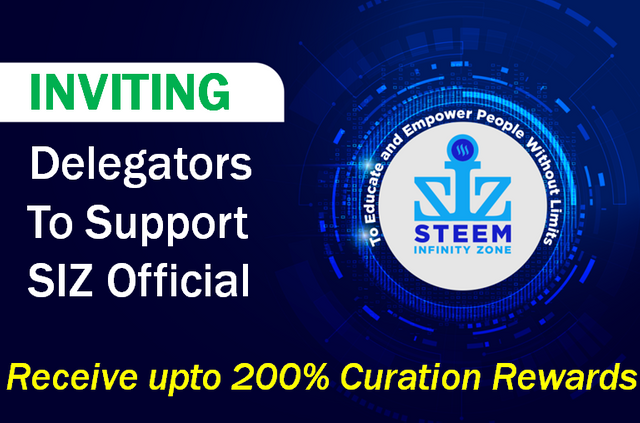 SIZ Exchange
We have launched this project to support community members by providing local currency in exchange of their Steem and SBD. This is a non-profit Service and resources received in SIZ Exchange will be utilized to power up or support SIZ Projects.
Community Official Retail Exchange and Bank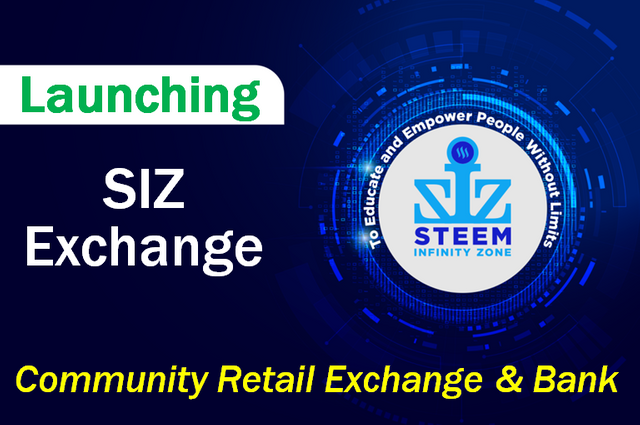 SIZ 1st Meetup
We have successfully organized 1st SIZ Meetup where community members were guided on Steemit content quality. We also discussed different ideas on promoting steemit in Pakistan.
SIZ 1st Meetup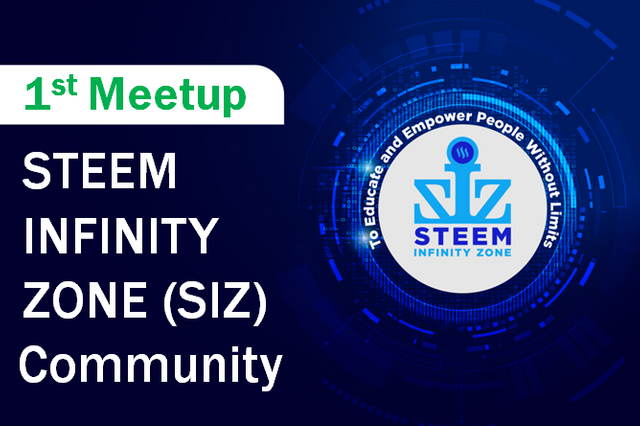 Promoting Steemit in Pakistan
One of the top priority on SIZ is to educate people about Steem and we have started working on promoting steemit in Pakistan. In this regard, first session has been conducted with active participants where we planned on different things that include recruiting city representatives in different cities of Pakistan.
Promoting Steemit in Pakistan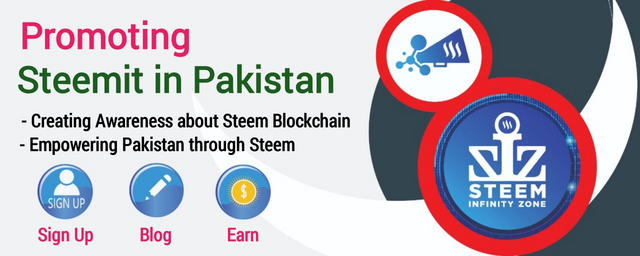 You can delegate your SP to @siz-official and take benefit of our Delegation Rewards Offer of getting up to 200% Curation Rewards
You can also use these quick delegation links. Just click on your desired amount of SP you want to delegate and it will be done in process of 1 minute.
Quick Delegation to SIZ
50
100
200
300
400
500
1000
2000
3000
4000
5000
10000

Steem Infinity Zone (SIZ) is determined to grow and this milestone of reaching 1000 subscribers is very important for us. We will continue to follow our vision and recruit as many people as we can who can add value to Steem ecosystem. I would like to pay special thanks to @stephenkendal, @steemchiller, @pennsif and @arie.steem for always supporting SIZ community.

In order to grow SIZ community official account, 50% of this Post Payout will go to @siz-official


Steem Infinity Zone Team
@cryptokraze | @arie.steem | @qasimwaqar | @vvarishayy


Publisher : @cryptokraze
Discords : FxKraze#2451
Telegram : @FxKraze
Twitter : https://twitter.com/fxkraze