[announcement] Launching SIZ Members Support Program | Appreciating Talent and Quality | 300 Steem Monthly
Dear Fellows,
This is @cryptokraze, Founder of community Steem Infinity Zone (SIZ) with much awaited announcement that is about supporting my SIZ community members. It is great to see that SIZ members are doing great by adding value to the community with their tutorials and step-by-step guides. It is very important to appreciate talented and quality content creators. So, I have decided to support SIZ community members in every possible way I can with my available resources.
To show my commitment and willingness to add value to the community, I am launching SIZ Members Support Program which is an initiative that will support Daily Top Posts picked by @siz-official and the authors of those posts will be given Steem prizes from Community Official Grand Rewards Pool @siz-rewards.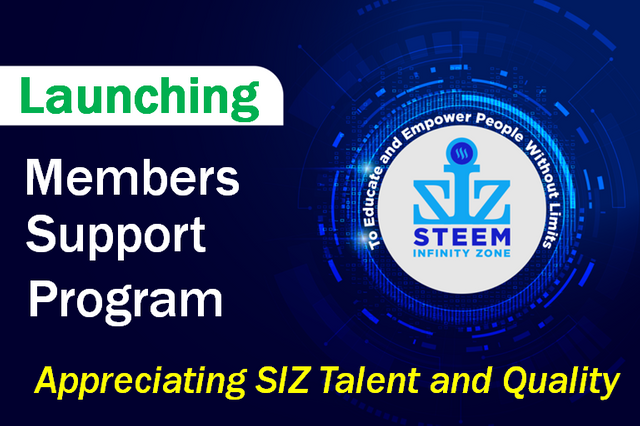 How SIZ Members Support Program Works ?

How You Can Support SIZ Members Support Program?
Quick Delegation to SIZ
50
100
200
300
400
500
1000
2000
3000
4000
5000
10000




Steem Infinity Zone Team
@cryptokraze | @arie.steem | @qasimwaqar | @vvarishayy

Click Here to Join Official SIZ Discord Channel

Publisher : @cryptokraze
Discords : FxKraze#2451
Telegram : @FxKraze
Twitter : https://twitter.com/fxkraze