SIZ Daily Contest #18 - Educate A Friend | + 106 New Members in Total | 14 Steem Distributed Yesterday [300 Steem Monthly]
I am really thankful to all the active members of SIZ who are bringing their friends to Steemit platform. In order to encourage and motivate them, I have started a daily contest named Educate A Friend where a minimum of 10 Steem and a maximum of 20 Steem prizes will be shared among Winners.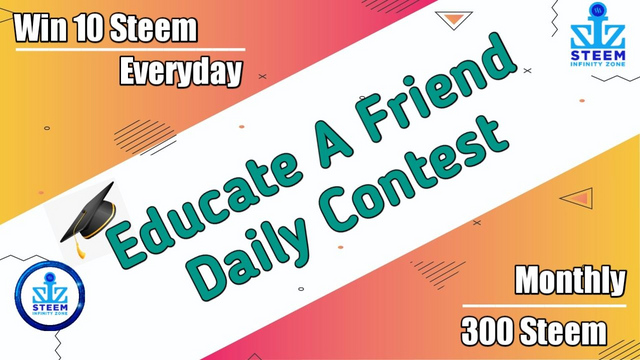 SIZ community is based on educating people so we floated this concept of Educating A friend through the contest. Just getting people signed up is not enough but It is very important to educate the people about Steemit who are joining through you.
This contest is different in terms that you don't need to make a separate post. You have to educate your friend by guiding them about the basics of Steemit. Get them signed up and then Post a Picture of your friend in the comments section, holding a poster in hands with his/her username handwritten or printed on a paper.

How to Participate in this Contest ?
1 - Educate Your Friend
You should properly guide your friends about Steemit platform and explain the basic concept to them.
Tell them about the basic functions of Steemit and guide them on how to make their 1st post.
2 – Sign Up
After educating them about steemit, guide them through sign up process to make their account.
If there is a problem of the Invalid phone number on sign up page, you should use https://steemyy.com/reg.php to sign up.
3 - Post Picture
After sign up process is completed, make a picture with your friend, holding a poster in hands with his/her username handwritten or printed on a paper.
Post that picture in comments section of this contest posts to make it eligible entry.
Mention the username of your friend in comment as well.

Rules and Regulations
Only those entries will be accepted that will post a clear picture and username of their friend.
You can only make one entry per day.
Your friend must subscribe Steem Infinity Zone Community.
You can participate daily in the contest even if you are winner on last day.
The Contest time will be closed when new contest post is published.
If we have more than 5 entries on any day, we will choose the winners based on the quality of the Picture and poster.
We will distribute 10 Steem every day, 2 Steem each for 5 entries. If there are fewer entries the prizes will be distributed equally among the participants.
Prizes will be transferred to winners through @siz-rewards within 24 hours of the winners announcement.

Winners for Contest # 17
We have 7 entries in SIZ Daily Contest #17 - Educate A Friend where 7 new members joined steemit.
We are distributing prize of 2 Steem each to all the 6 participants for doing the good work.
The total number of new members signed up through this contest is 106.
Congratulations to all the Winners and your rewards have been transferred to your wallets.


Let's Win Together with SIZ

We are also very thankful to Steemit team for supporting our community and hope you will like this effort to bring new users on Steemit

As SIZ Contests are designed to increase engagement and grow the community, 50% of all contests posts Payout will go to @siz-official
Thanks to steemcurator01 @pennsif, @stephenkendal @steemchiller


Click Here to Join Official SIZ Discord Channel

Publisher : @cryptokraze
Discords : FxKraze#2451
Telegram : @FxKraze
Twitter : https://twitter.com/fxkraze