SIZ Power UP Report | 28 Members Powered Up 9400 SP in 01 Month
Powering Up is so important for Steem ecosystem and SIZ community is showing their seriousness and commitment towards Steem Blockchain by creating awareness about powering up. We have encouraged all the community members to Power Up and members have responded by Powering up especially on #SPUD4STEEM contest.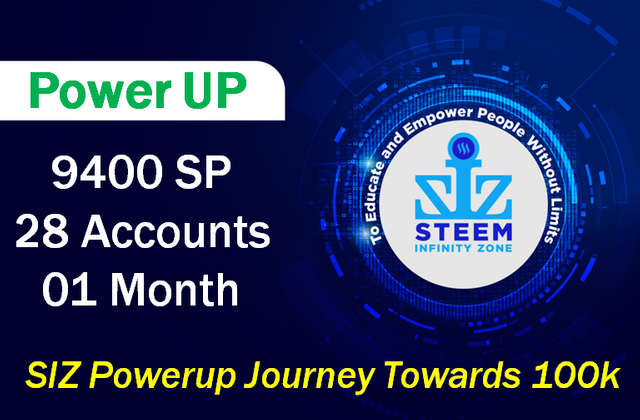 We are sharing the SIZ community Power UP status through this post. In the last 01 month, SIZ members have power up total 9400 Steem. The number of accounts that did power up were 28 which shows the community members are taking this seriously.

SIZ community aims to reach 100K SP and we will continue Powering up in the coming months as well to reach this target. I will encourage all the members to power up regularly so that we can play our role in Steem ecosystem.

Quick Delegation to SIZ
50
100
200
300
400
500
1000
2000
3000
4000
5000
10000

In order to grow SIZ community official account, 50% of this Post Payout will go to @siz-official


Steem Infinity Zone Team
@cryptokraze | @arie.steem | @qasimwaqar | @vvarishayy | @suboohi

Click Here to Join Official SIZ Discord Channel

Publisher : @cryptokraze
Discords : FxKraze#2451
Telegram : @FxKraze
Twitter : https://twitter.com/fxkraze