SIZ Power UP Week (25 to 31 May) | Every SIZ member will be Powering UP | 100% Power UP
Dear SIZ Fellows
Today, I am going to make a very important announcement that is SIZ Power UP Week. As founder of Steem Infinity Zone, I am taking this initiative to Power UP steem this week. Powering Up is so important for Steem ecosystem and through this initiative, SIZ community is showing their seriousness and commitment towards Steem Blockchain.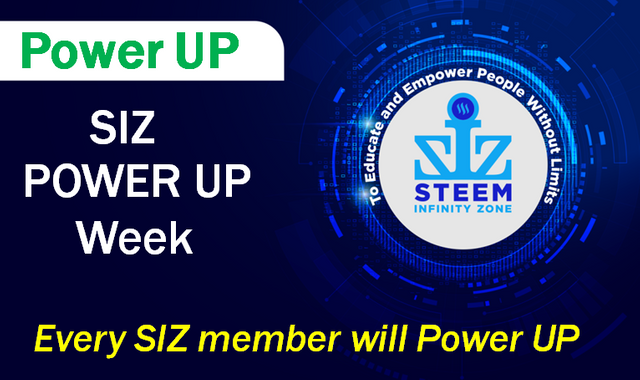 There is monthly contest on Powering UP steem called #SPUD4Steem that is organized by @kiwiscanfly where we can win upto 10,000 SP delegation that is offered by the sponsors. The core concept of #SPUD4Steem is to motivate all steemians to power up on 1st of every month. SIZ community management is showing their commitment towards Power UP and decided to arrange Power UP week. Every member of SIZ community that has some steem in their wallet will be powering up.

What Should you Do as SIZ Member ?
If you have liquid steem in your wallet, no matter how much, we request you to power up maximum steem to your account.

You can power up on any day of this week

Make a post telling us that you have power up.

Use the following tags in your power up posts (#siz-powerup and #spud4steem)

You can watch the step-by-step tutorial on How to Power UP Steem

You can contact me for any kind of help if you are facing any issues about power up.

My Role as Community Leader
As community leader, I have taken good initiatives before and I am leading from the front on this initiative as well.

I will be powering UP 100 SP daily through this week and then do a major power up on 1st June to show my commitment towards Steem Ecosystem.

I will be encouraging all the SIZ members to power up 100% of their Liquid Steem.

I will be monitoring on all the SIZ members accounts that will be powering up and make a report on how much total SP we powered up as Community. I hope this initiative will be appreciated by steem team and @steemcurator01.

I will be taking more initiatives and arrange contest to promote the culture of Powering Up in SIZ community.

I am sharing my 1st Power up of this week and will continue to do so through all this week.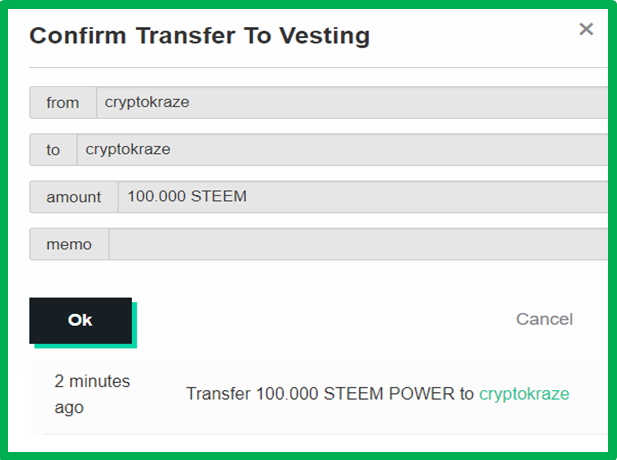 100% Power UP
This initiative is about Power Up, so I have selected the post rewards to Power UP 100% settings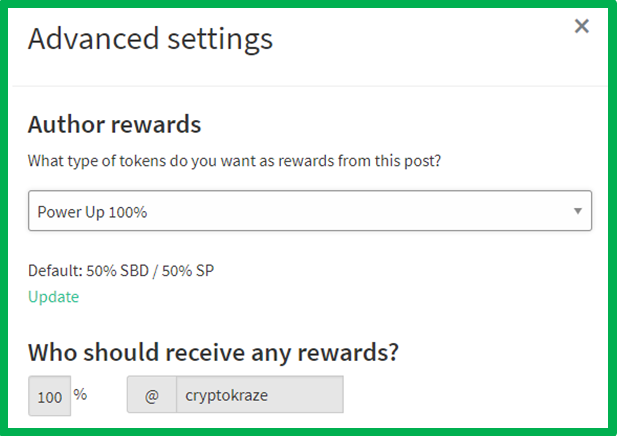 Let's POWER UP
---

Steem Infinity Zone Team
@cryptokraze | @arie.steem | @qasimwaqar | @vvarishayy


Publisher : @cryptokraze
Discords : FxKraze#2451
Telegram : @FxKraze
Twitter : https://twitter.com/fxkraze