SIZ Title Guide | Writing Your SIZ Posts Titles Correctly | 50% to @siz-official
Dear Fellows,
SIZ community is having great progress and more people are joining and posting in the community. I am really happy to see the engagement by active participants who are working continuously with dedication. As the community grows, it can easily get disorganized because different people will be posting different things in different categories. As you all know that SIZ is a platform that holds no boundaries but we need to keep the community in order.
So, we are introducing SIZ Title Guide where we will explain and illustrate to everyone how to write titles for their posts so that community looks organized and even more professional.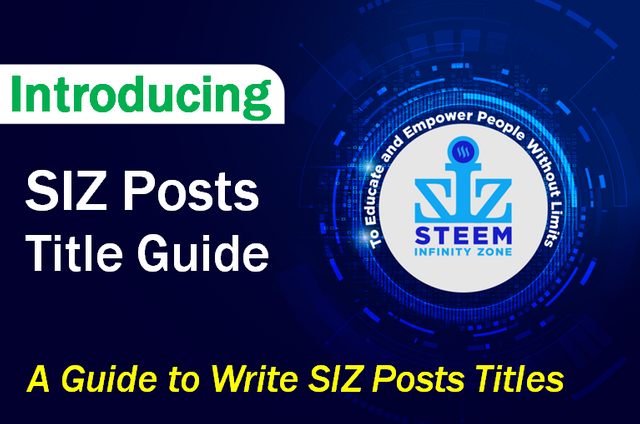 Steemit Promotional Posts Titles

Tutorials Posts Titles

Educational Posts Titles

Crypto Posts Titles

Forex Posts Titles

Health and Fitness Posts Titles

Recipes Posts Titles

Photography Posts Titles

Diary Game Posts Titles

Contest Entry Posts Titles

Quick Delegation to SIZ
50
100
200
300
400
500
1000
2000
3000
4000
5000
10000






Publisher : @cryptokraze
Discords : FxKraze#2451
Telegram : @FxKraze
Twitter : https://twitter.com/fxkraze