Siz Education | How To Recover Permanently Disable Fiver Account | Tips & Tricks
Tips and Tricks to restore the permanently Fiverr Disabled Account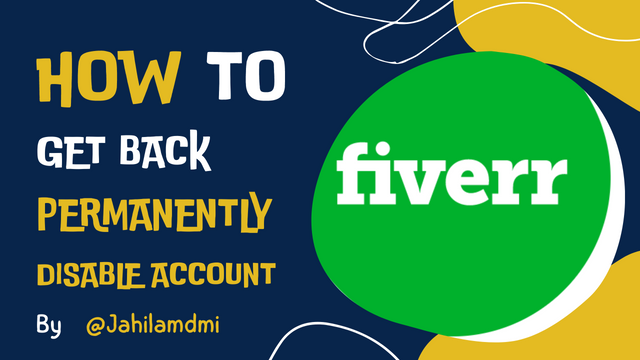 Hello, Mates Today I'm Guiding You How to Recover the Disabled account of Fiver. If You Got any strike without any mistake or any illegal activity against terms and conditions of fiver you can restore it easily.

Note: Follow these all instructions if you following all Fiverr's Terms of Service and they have disabled the account by any misunderstanding.

Contact Fiverr Customer

Contact Fiverr Customer Support Team by their customer email. Because direct Fiverr support seller page will not be available after permanently banned account.

Reasons Of banning account
There can be different reasons for the account being banned. If you are not performing any type of this activity (as mentioned in the Email for the account banned) then prepare a proper Email and its format would be like that

Format Styling
Subject Line (Appeal for the Account Reactivation)
Salutation/Greeting (Hi Fiverr Team)
Body of the Email

1st Paragrapgh

1st paragraph: mention the reasons for the account being banned as described in the Email from Fiverr, and say that due to Fiverr Team misunderstanding this account has been banned, while I am following all Fiverr rules.

2nd Paragrapgh

2nd paragraph: If you have already sent the Email to Fiverr Support or any communication with the Fiverr Support Team, then mention some history and what was ticket No. If it is the first time then briefer about that when the account has been disabled, and what Fiverr mentions the reason. Moreover, say that I am 100% following the all rules.

3rd Paragrapgh

Do the request from the Fiverr Support Team like reviewing my account again and assist me in the process of restoring my account.
At the end provides the Fiverr Profile Link and the Gmail that is associated with the Fiverr Account & signature etc.

Things To Remember

Don't be panic.
Talk to the Fiverr Support team very humbly.
Do the contact from the Fiverr Support Team by associated Gmail from Fiverr account, not from another.
Don't say the words like this was the bread and butter for me and I am now jobless. Instead to talk about why this account is disabled and provide me the solution.
It is time taking process. In my case, it took almost 2 months. Firstly, they disable the account temporarily and then permanently.
After doing the Email, when generating the ticket no, if they don't respond. Then do the tweet with this ticket no and mention the Fiverr Support.
Provide the screenshot or any document according to the relative issue.
Note Follow These All Steps It's Used by Experts Thousand of times and it has 100% Success Rate.
Best Of Luck

Special Thanks To the Steem Infinity Zone Team
@cryptokraze ADMIN Founder ⭐
@arie.steem MOD SP LEVEL 3 | Supervisor
@vvarishayy MOD SIZ Staff ⭐
@suboohi MOD SIZ Staff ⭐
@endingplagiarism MOD SIZ Staff ⭐
@siz-official MOD Community Account 🌍
@siz-rewards MOD Official Rewards Pool
@ashkhan MOD SIZ Staff ⭐
@qasimwaqar MOD SIZ Investor & Sponsor ⭐
Thanks For Visiting My Post

Best Regards
@jahilamdmi