SIZ Approved Course | Lecture 01 | Introduction of Microsoft Access |10% Payout To @Siz-Official
Hello Everyone!!!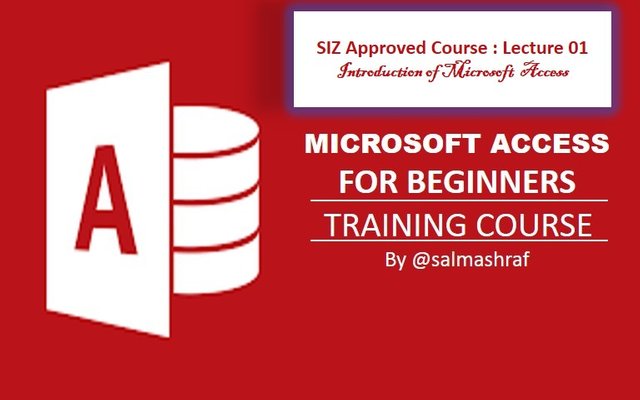 I hope You all are happy and well with the Grace of ALLAH Almighty . I'm very glade to be a part of such an amazing SIZ platform where we will show our skills and learn more with productive manner.You all people are so nice and very skilled.

Introduction Of MICROSOFT ACCESS

Microsoft Access is a Database Management System provided by Microsoft teams. Microsoft Access provides database functionality and editing capabilities to facilitate navigation in the form of tables, reports ,form, or queries. It helps you analyze many details, and manage the data well.

Now in My First Lecture I will introduce you some basic terms and objects of MS Access.

Database Files
A file that stores the entire database.
The data file is stored on your hard drive or other storage devices.
It contains data such as tables , indexes and stored procedure

Data types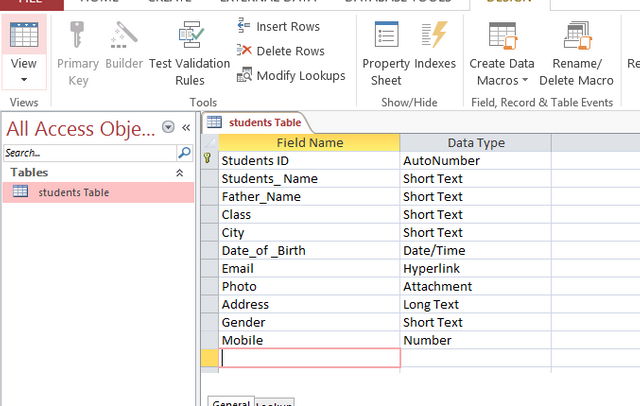 Data types are features of each field.
Every field has one type of data such as text, number, date, etc.
| | | |
| --- | --- | --- |
| short text | Text or combinations of text and numbers, including numbers that do not require calculating (e.g. phone numbers). | Up to 255 characters |
| Long Text | Lengthy text or combinations of text and numbers. | Up to 63, 999 characters. |
| Number | Numeric data used in mathematical calculations. | 1, 2, 4, or 8 bytes |
| Date/Time | Date and time values | 8 bytes |
| Attachment | Files, such as digital photos. Many files can be attached to each record. This type of data is not available in previous versions of Access. | Up to 2 GB |
| OLE Objects | OLE objects can store photos, audio, video, or other BLOBs (Big Binary Objects) | Up to 2 GB |
| Hyperlink | Text or combinations of text and numbers stored as text and used as a hyperlink address. | Up to 8,192 character |
| The lookup wizard | The inclusion of the Wookup Wizard in the data type column in Design View is not actually the data type. When you select this installation, the wizard starts to help you define a simple or complex looking field. | dependent on data type lookup field |

Table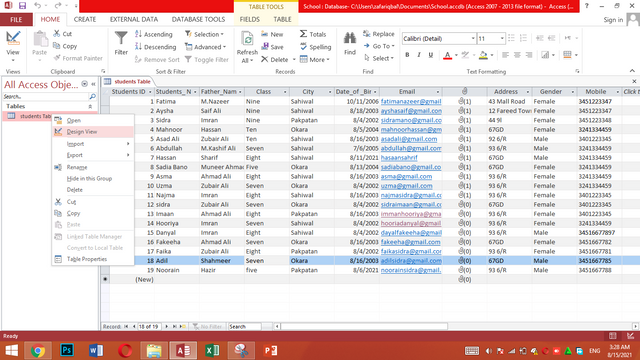 A table is a data storage device in line and column format to store data.
A table is often associated with other tables in a data file.
Each column must have a different name
We can also define the Primary key in the table.
Each field must have a different name, and data type.
Tables containing fields or columns that store various types of data, such as name or address, as well as records or lines that collect all information about a particular subject matter, such as all information about a customer or employee etc.
You can specify a key key, one or more fields with a different value for each record, and one or more indexes per table to help retrieve your data as quickly as possible.

Form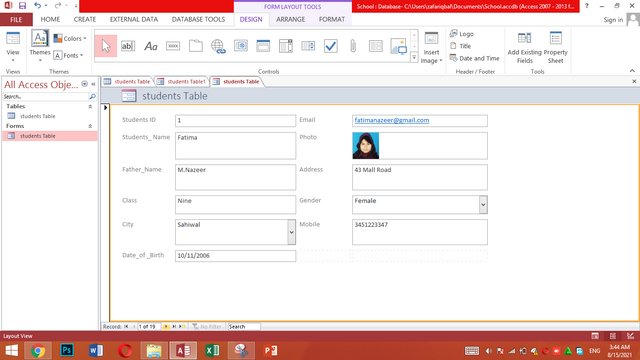 A form is a database that you can use to create a user interface for a data application.
It is very good way that provide interaction between user and data base.
Forms help you display interactive data from a table. It is used to slow down the data entry or editing process.

Report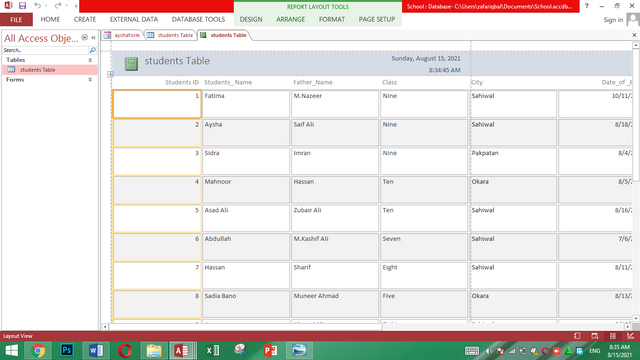 Reports are a great way to organize and present data from MS Access database.
It is in the form of a picture that highlighting main facts and trends.
It is present your data in an attractive and informative way.
A report is a desktop information tool used to format, calculate, print, and summarize selected data.
You can customize the look and feel of the report.

Be prepare for second week Lecture.

Week 2
• How to Create Tables in MS Access
• How to Adding data in tables in MS Access
• How to Create Queries in MS Access
• what Action Quires in MS Access