SIZ Daily Contest #10 | Best Author of the Day (10 Steem Daily)
Dear SIZ Members
Steem Infinity Zone is growing gradually and we are receiving so many quality posts on daily basis. In order to encourage all the members to produce great quality content, we have started a new Daily Contest Best Author of the Day where you will get a chance to Win 10 Steem daily.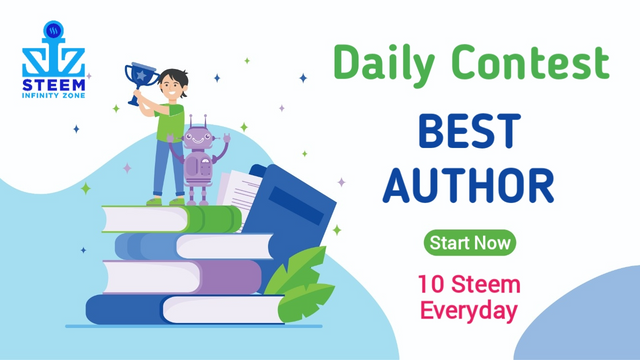 Winner of Contest #09
https://steemit.com/hive-181430/@drhira/siz-education-or-or-incredible-effects-of-red-lentils-by-drhira
Congratulations on Winning Best Author of the Day.
10 Steem Prize will be transferred to your wallet within 24 hours

Contest #10 is Active Now
SIZ community is based on educating people so we are starting this new contest where quality content will be supported. You can post good quality content in any category to be part of this contest but we will encourage you to post Educational or knowledge-based content in this contest.

How to Participate in this Contest ?
1 - You can make a post in SIZ community on any topic but educational posts get a better chance of Winning.
2 - Title of post should be normal like you do for any post. Do not mention Contest in post title.
3 - Post the link of your post in the comment section of the Daily Contest Post.
4 - Include #sizcontest and #bestauthor tags in first 5 tags you used along with your country tag (e.g. #pakistan)
5 - Contest is open now for entries and you can post your links in the comments section.

Rules and Regulations
You can only make one entry per day.
You must be a member of Steem Infinity Zone Community.
Yous posts must be unique and free from plagiarism.
Your content quality and presentation style will be counted while deciding the Best Author of the Day.
You can participate daily in the contest even if you are winner on last day.
The Contest time will be closed when new contest post is published.
We will distribute 10 Steem every day to 1 Best Author.
Prizes will be transferred to winners through @siz-rewards within 24 hours of the winners announcement.

Let's Win Together with SIZ

We are also very thankful to Steemit team for always supporting our community and hope you will like this contest idea. This is another effort by SIZ management to uplift the content quality, increase engagement and appreciate hard-working authors.


Click Here to Join Official SIZ Discord Channel