Astrolabe made of wood 🌛
Deutsch unten
This work is not an art in the classic sense. Rather, this astrolabe is about handicraft art. I made it years ago myself. I used a Wire saw (? dont know the english word for this tool) to get all the components into shape in a very laborious process. The entire manufacturing process took almost 6 months.
I took photos of other astrolabs from different countries around the world as a template. Rete, Ostensor and the Alidade on the back are of course fully functional and mobile. All scales, angles, coordinates are exact and the Astrolab works wonderfully.
The following measurements can be carried out with an Astrolab:
Measurement of star or sun height,
Determination of equinox hours,
Determination of the rise and set times of the sun, moon and stars
geodetic measurements
general astrological predictions
Bearing of cosmic objects
and of course the cardinal points can be determined.
If you can handle an astrolabe, you don't need a clock or compass. However, it is very complex to use this instrument and requires the will to learn a lot. It is easier to learn a programming language than to use an Astrolab.
I designed my Astrolab as wall decoration. It works, but since it's made of wood, it shouldn't last very long with regular use.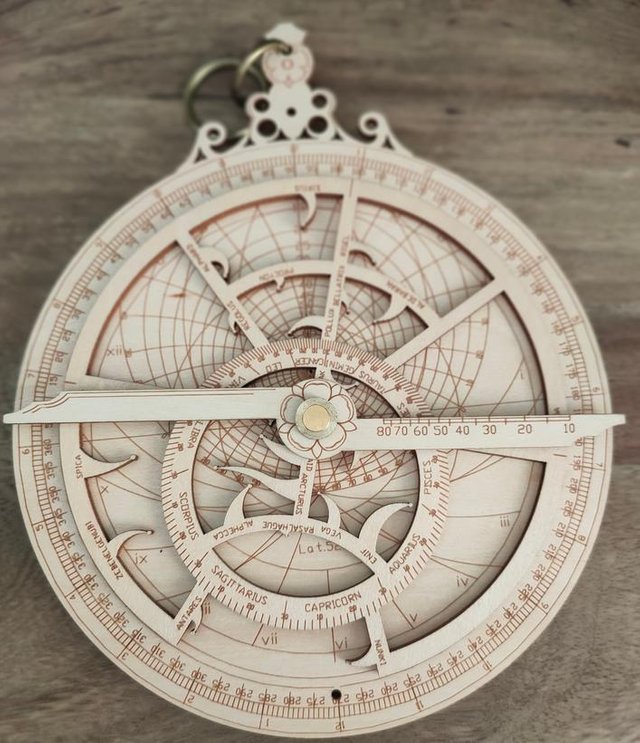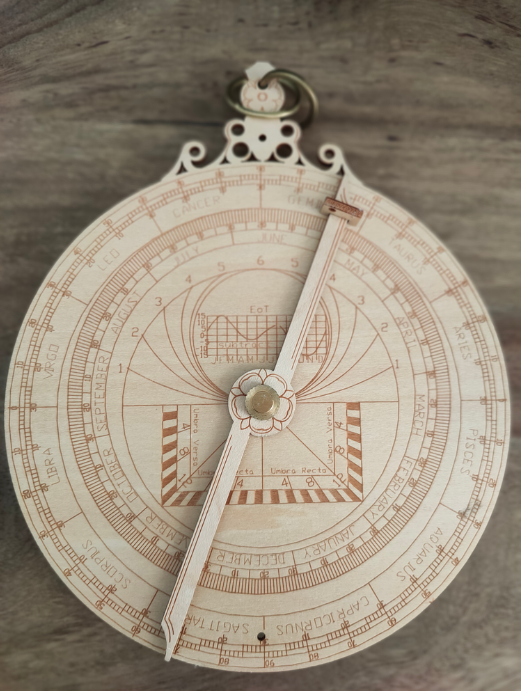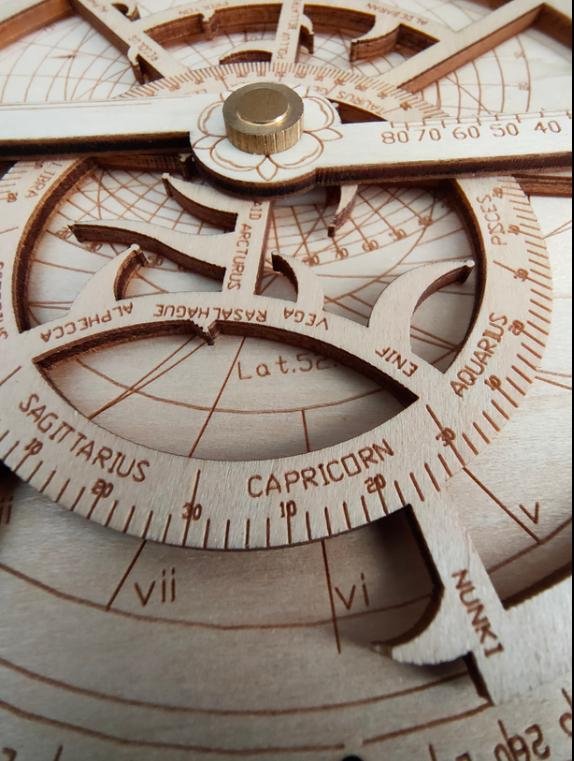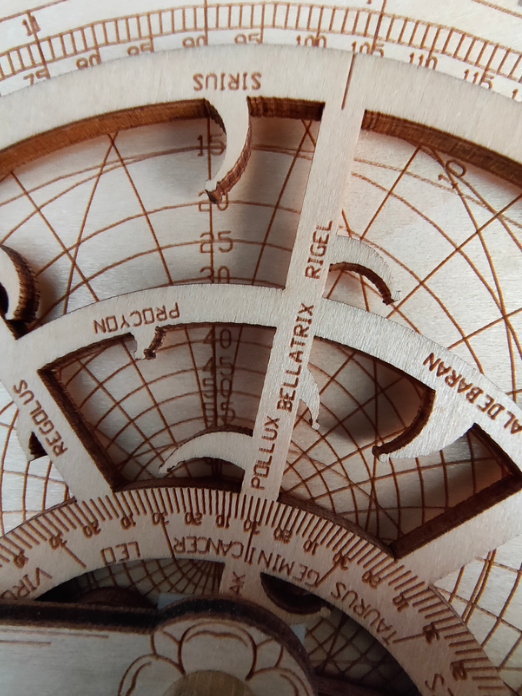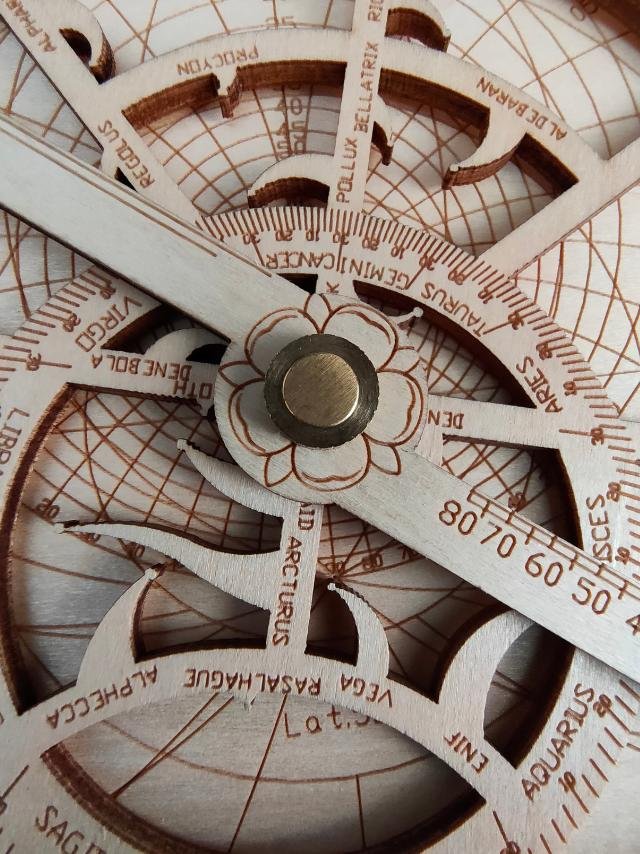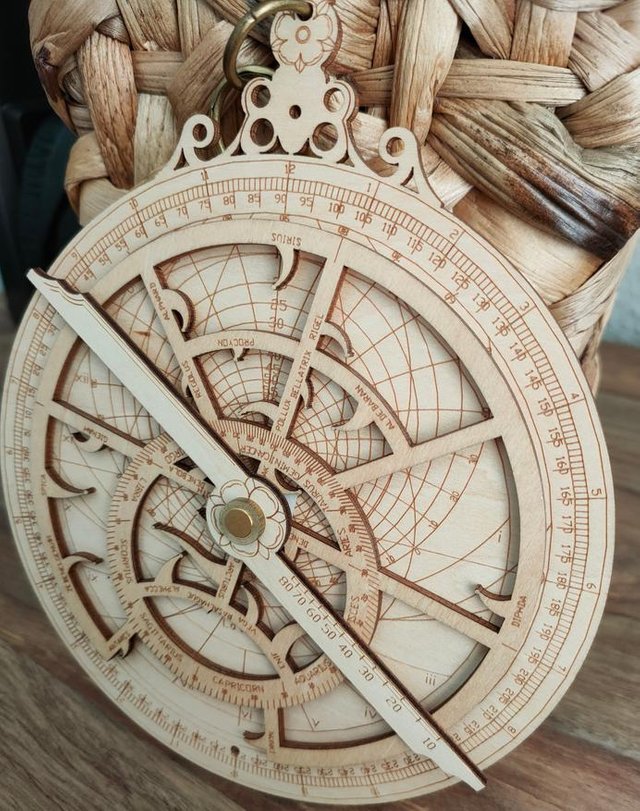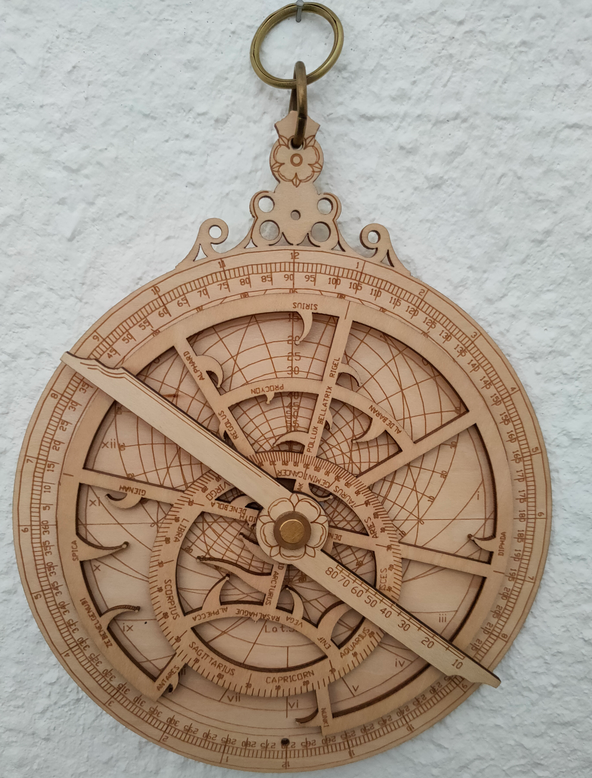 ---
DEUTSCH
Astrolab aus Holz 🌛
Dieses Werk ist keine Kunst im klassischen Sinn. Bei diesem Astrolab handelt es sich vielmehr um Handwerks-Kunst. Das Ding habe ich selbst vor Jahren hergestellt. Alle Bestandteile habe ich mit einer Laubsäge in sehr mühseliger Handarbeit in Form gebracht. Der komplette Fertigungsprozess hat fast 6 Monate gedauert.
Als Vorlage dienten mir Fotografieren anderer Astrolabs aus verschiedenen Ländern der Erde. Rete, Ostensor und die Alhidade auf der Rückseite sind natürlich voll funktionsfähig und beweglich. Alle Skalen, Winkel, Koordinaten sind exakt und das Astro funktioniert wunderbar.
Mit einem Astrolab lassen sich folgende Messungen durchführen:
Messung der Stern- oder Sonnenhöhe,
Ermittlung der Äquinoktialstunden,
Bestimmung der Auf- und Untergangszeiten von Sonne, Mond und Sterne
geodätische Messungen
allgemeine astrologische Vorhersagen
Peilung von kosmischen Objekten
und natürlich lassen sich die Himmelsrichtungen bestimmen.
Wer mit einem Astrolabium umgehen kann, braucht weder Uhr noch Kompass. Es ist allerdings sehr komplex dieses Instrument zu bedienen und erfordert den Willen viel zu lernen. Es ist leichter eine Programmiersprache zu lernen als ein Astrolab zu bedienen.
Mein Astrolab habe ich mir als Wandschmuck designt. Zwar funktioniert es, aber da es aus Sperrholz gefertigt ist, dürfte es bei regelmäßigem Gebrauch nicht sehr lange halten.
Es hat mich sehr gefreut!