Meeting with the Legend of the mountains and his dog. Third ascent to Greater Chimgan, Uzbekistan
Read this post on TravelFeed.io for the best experience
---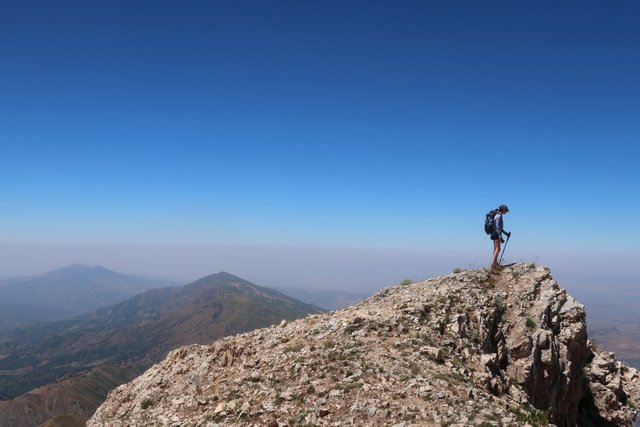 Good day! Today I would like to talk about my third and, perhaps, the most interesting ascent to the Greater Chimgan. Although, to be precise, then, in fact, this is the second conquest of our most popular peak.
My followers remember that last year I was already trying to climb Greater Chimgan and didn't get at all, because I was afraid climb further along one of the "gendarmes". A month later, I tried again and reached the top. Thus, the score with Greater Chimgan I was 1-1. This year I decided to change the score in my favor and climbed to the top for the third time. And not in vain! There, on top, I met a local legend - Uncle Grisha (Grigory Trebisovsky) and his, no less legendary, purebred husky Skadi.
The trip took place in early July and it would be possible not to go to Greater Chimgan - I proved to myself that I can get in there. But rumors were already circulating about the resumption of quarantine, and I decided to go anywhere just to make use of the remaining days of freedom. As subsequent events showed, the rumors turned out to be a reality and it was good that I managed to break into the mountains.
I had some doubts about my physical form - I spent more than two months at home and didn't know if I would be able to get another lift to the Greater Chimgan. Last year, it was very difficult for me. However, everything went pretty well. Surprisingly, I quickly climbed to the top and briskly went down...
Usually, it takes about 6 hours to climb a regular tourist group to the Greater Chimgan, although there are only ones who ran to the top in less than an hour and a half. Namely, that they ran in - every year we hold a competition of skyrunners and everyone who wants to compete in the high-speed climb to the mountain. It takes about 4-5 hours on average to descent and a couple of hours at the top for rest. It is very important to have time to rise and descend before dawn, otherwise wandering in the dark over the "loose rocks" can end up pretty disastrous. Therefore, tourists usually leave Tashkent at four o'clock in the morning in order to be at the base of the Greater Chimgan and start climbing by six o'clock.
However, this time we had a rather tight schedule, because due to the restrictions, we could leave the city no earlier than 06:30 a.m. and, therefore, the start of the climb was delayed by at least two hours and there was no longer any time to lie down at the top. But it's even more interesting :).
This time the group got together pretty large – 15 persons. As usual, we gathered in a designated place and, to my joy, I saw that in our caravan one Mercedes was added to the usual local Chevrolet models. Yes, already respectable age but nevertheless a Mercedes! Therefore, as a regular customer, I immediately staked out a place in it. And I did not lose :). Comfortably lounging on a leather seat, I admired the familiar scenery.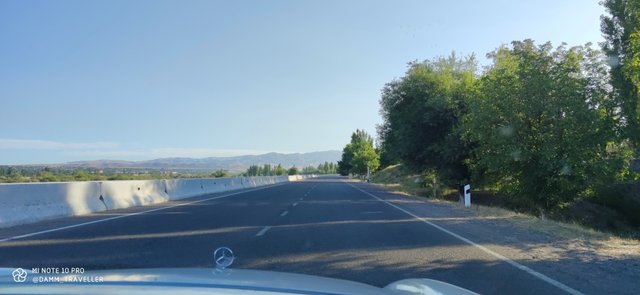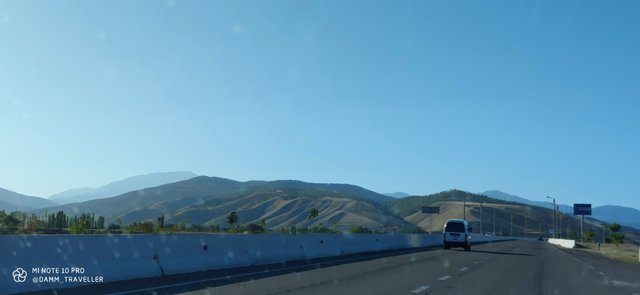 Soon we arrived at the foot of the Greater Chimgan, passed a briefing and climbed up.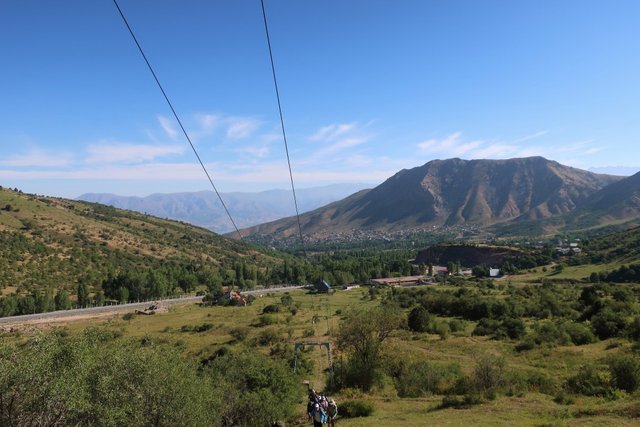 When climbing the Greater Chimgan, there are three rather difficult sections - the first of them is at the very beginning, when right away, without swinging, you have to climb up a rather steep slope along the "loose road". By the way, on the way back it is necessary to go down it and it is rather tiring - tired legs strive to part in different directions. Therefore, they try to go and return before dawn.
But from this site beautiful panoramas open and under the guise of photographing the surroundings, you can stop and catch your breath a little.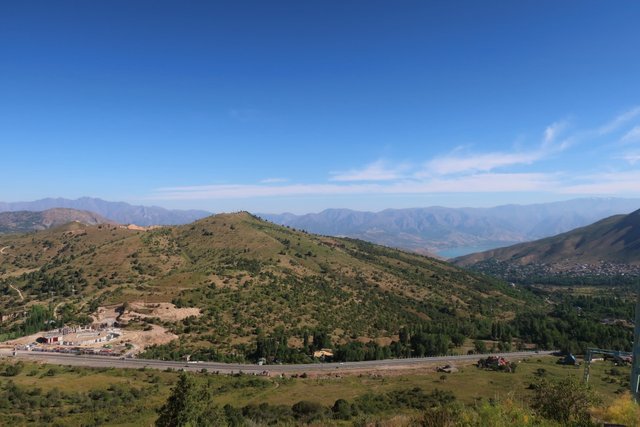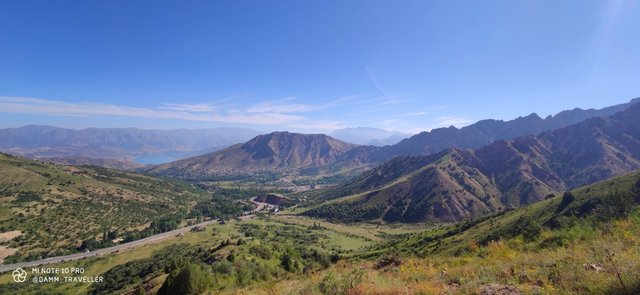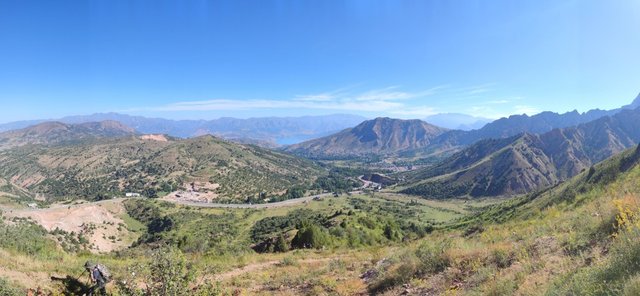 But here we had a completely valid reason to stop - a flock of eagles soared above us. Well, more precisely, I decided that they were eagles. However, the guide corrected me and said that it was most likely griffon vultures and they are scavengers, actually... Hmm, scavengers soaring overhead did not inspire optimism. But it should be noted that they soared beautifully.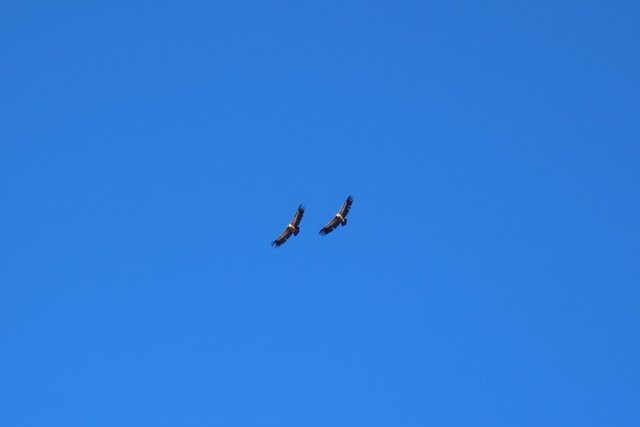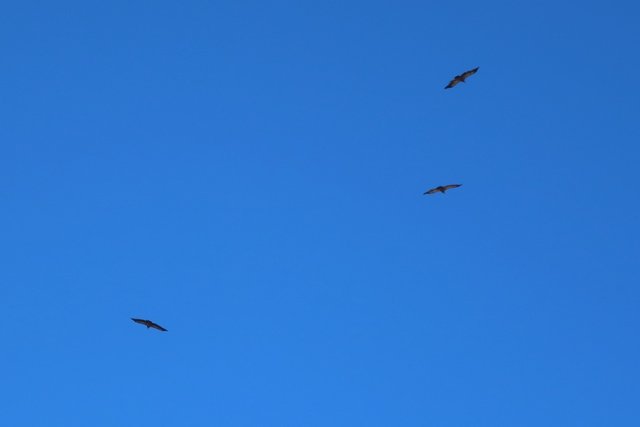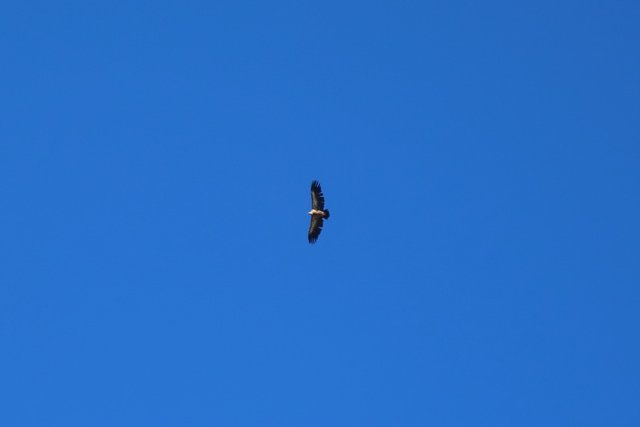 Nevertheless, the climb continued and we had to walk faster. The group was gradually divided into two parts - about a third ran forward, and the rest began to lag behind. One of the participants decided that he climbed the mountains enough, turned around and went back to the drivers and together they went to the nearest mountain cafe to lie in the shade of the trees in anticipation of the return of the group. As the drivers later said, this participant fell under a tree and slept all day. I must say that I do not strongly condemn him :).
Well, our ascent was just beginning. We rose higher and higher and landscapes became more picturesque and picturesque ...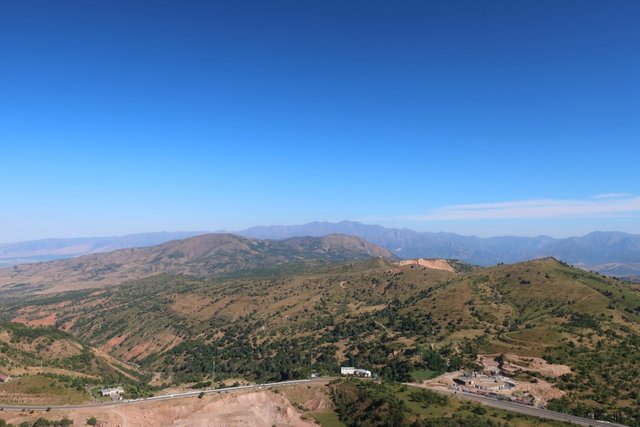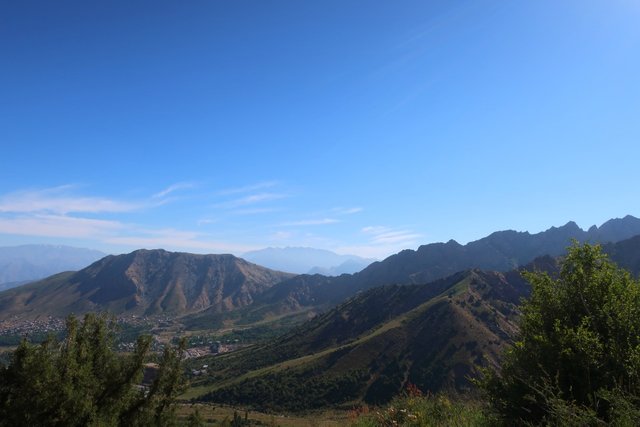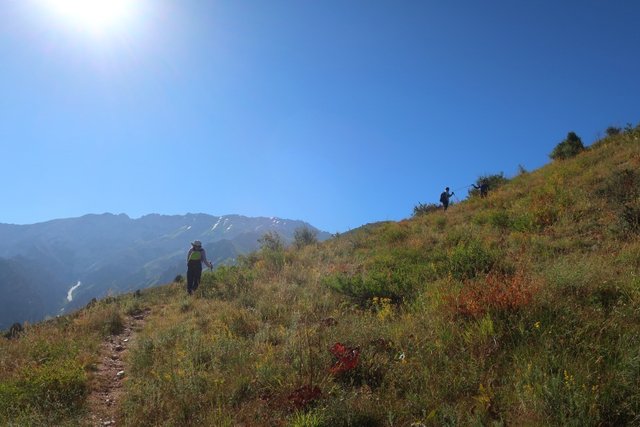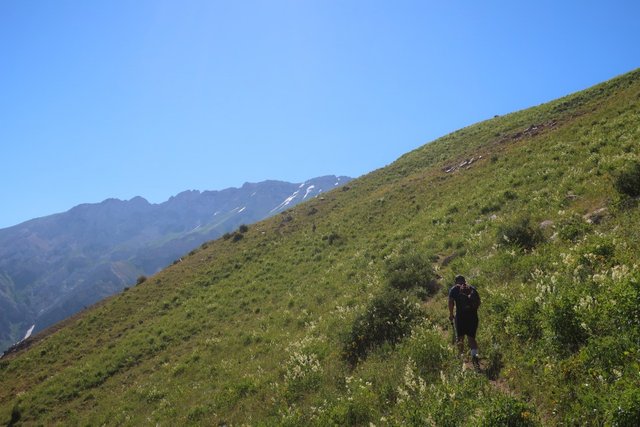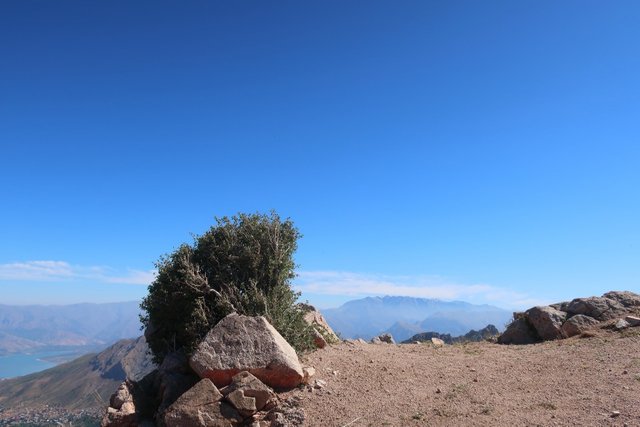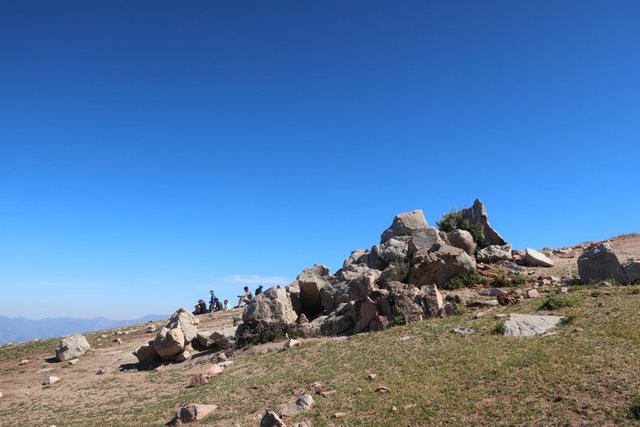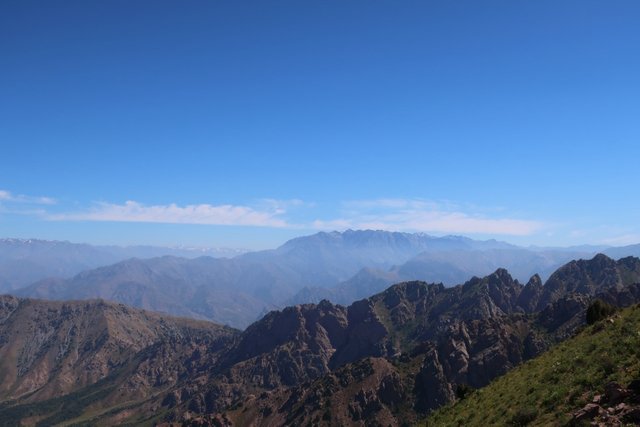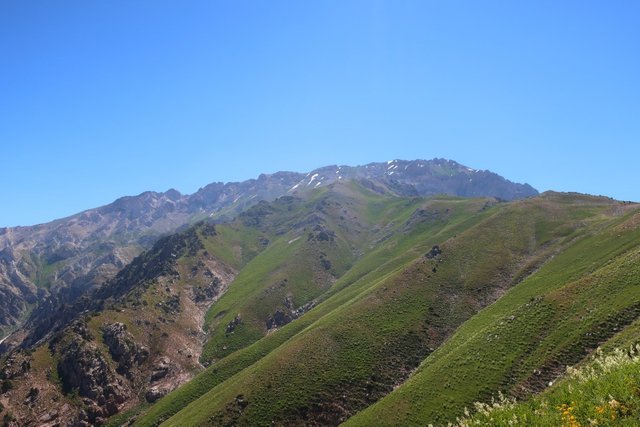 After some more time (to be honest, I didn't notice), we got to the "snow gauge" - about half the route. From the "snow gauge" to the "grotto" there was a second difficult section - this is again a lengthy climb along the "loose rocks". About here Uncle Grisha caught up with us with several tourists - we greeted each other, exchanged a few phrases and agreed to meet at the top. They went upstairs, and we were left to wait for the rest of the group. I will talk about Uncle Grisha a bit later. This is a man with an interesting and amazing fate.
Actually, that day there was a real rush of Greater Chimgans — one group of five guys went upstairs before us, then Uncle Grisha with five tourists, a heavily loaded group followed us, who was going to spend the night on the Greater Chimgan, and when we got upstairs, we met two more pensioners who climbed to the top just to check "whether gunpowder remained in the flocks." And I completely agree with them - we must climb, while still able to climbing!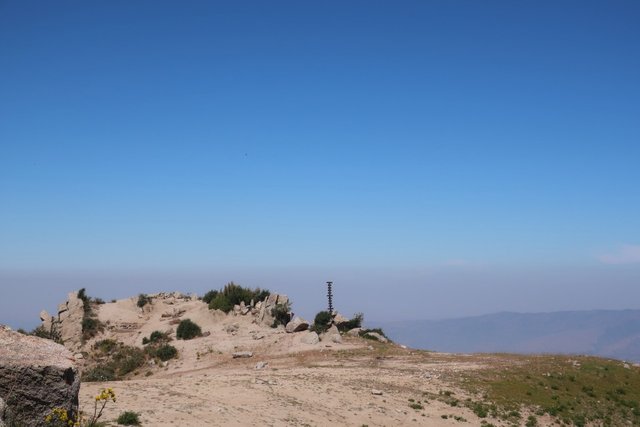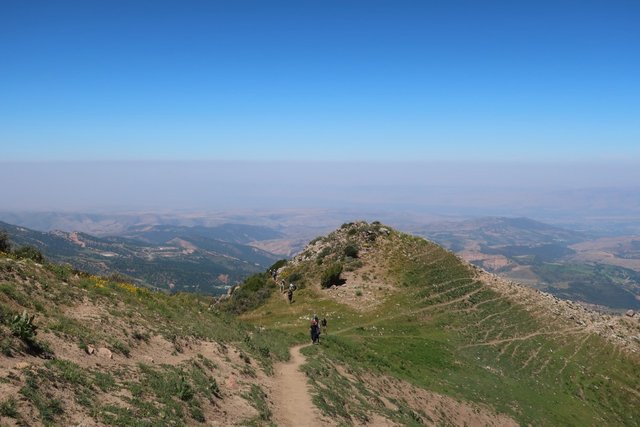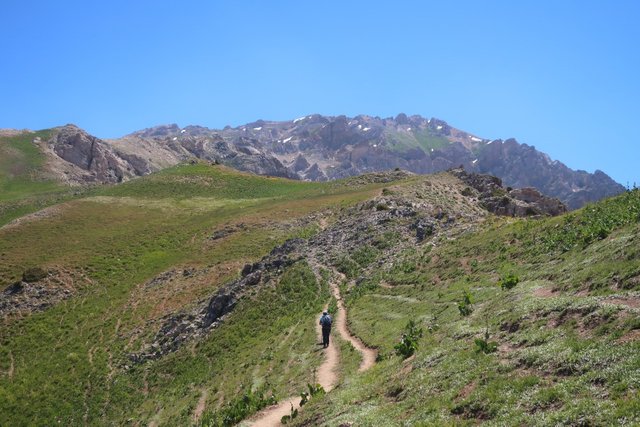 If the usual speed in the mountains is about 2.5 km per hour, then here we crawled from a force of 1 km per hour. Since the speed of movement has greatly decreased, there is time to pay attention to what beautiful flowers grow right on the stones.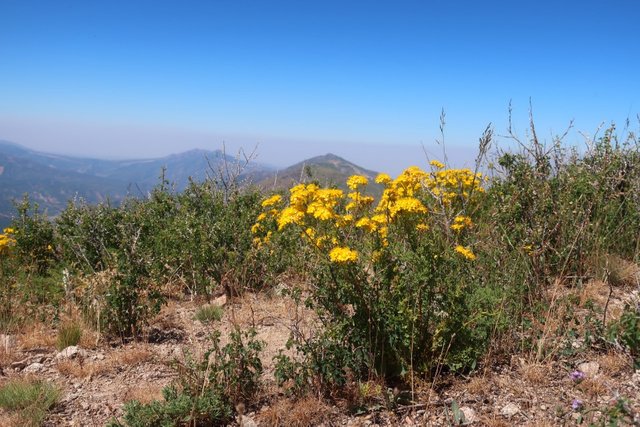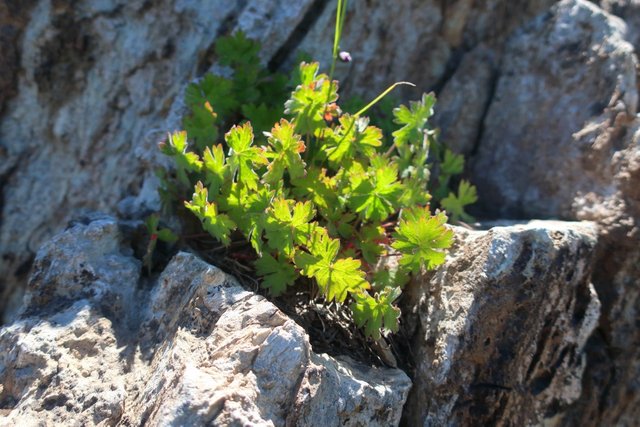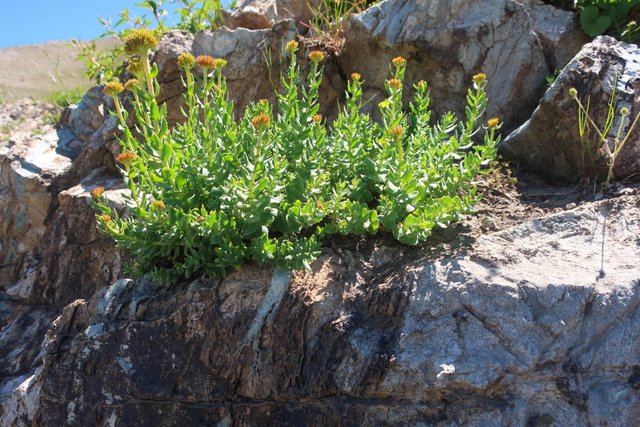 ... And not only on flowers, but also on local fauna ...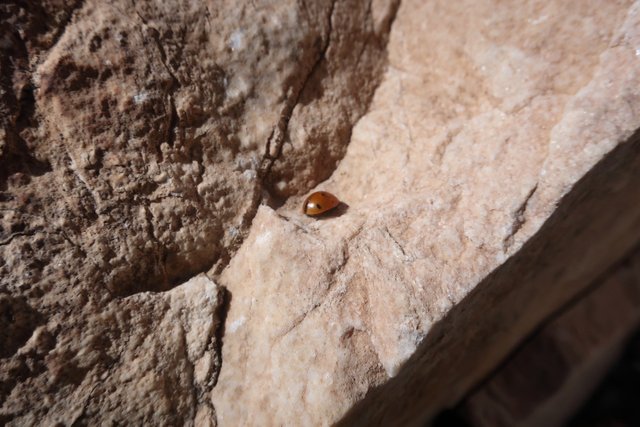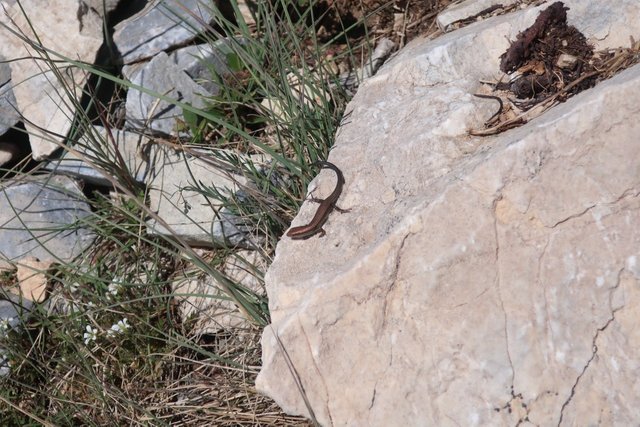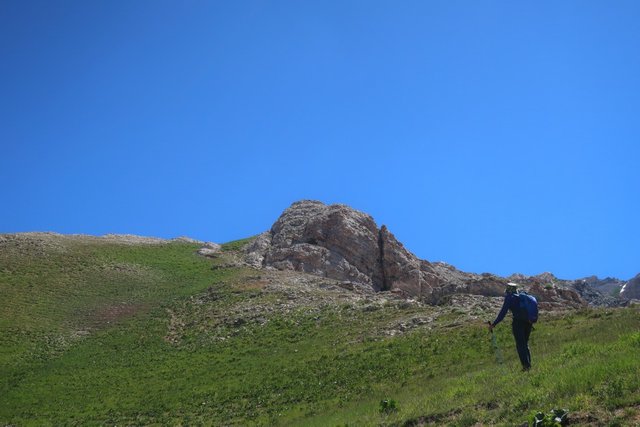 But then a view of the mountains behind the West Ridge opened ...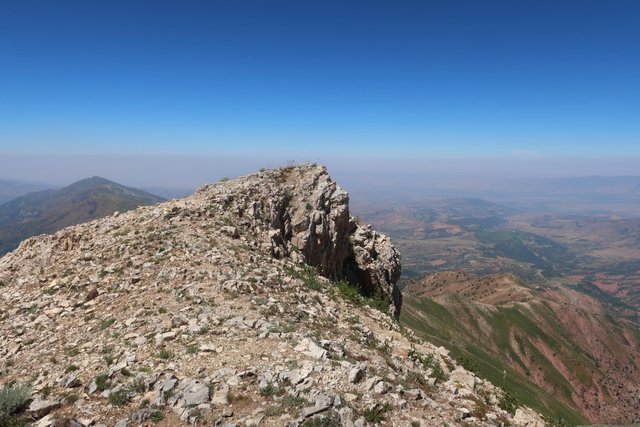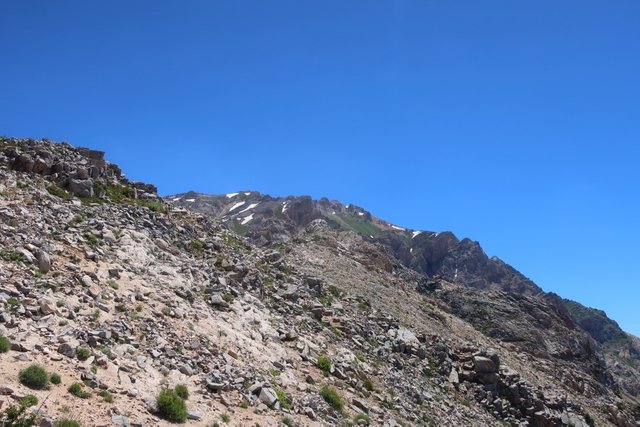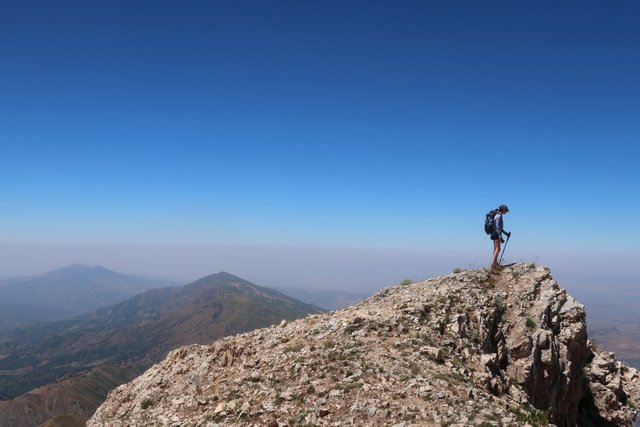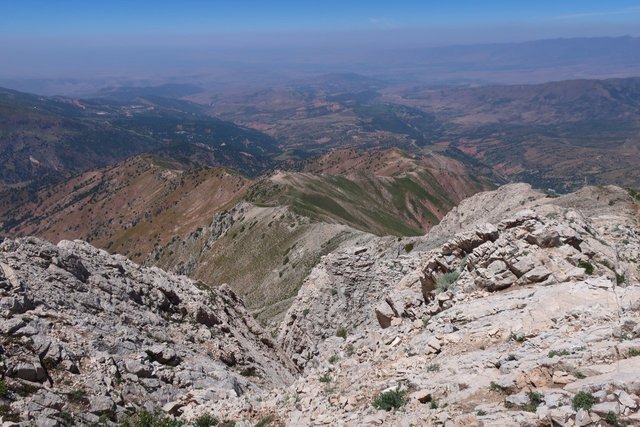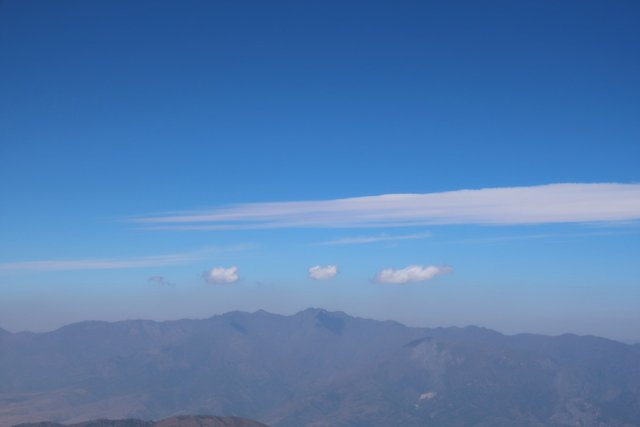 And to the Charvak reservoir ...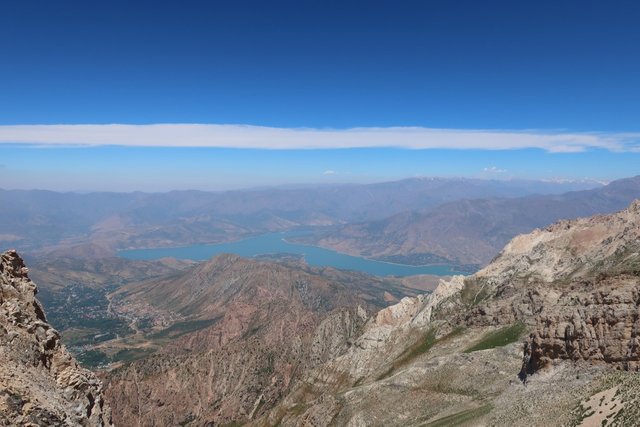 Soon we got to the "grotto" and made a small halt. Alas, we can't rest for a long time - we were already out of schedule. Therefore, having rested for about fifteen minutes, we climbed on.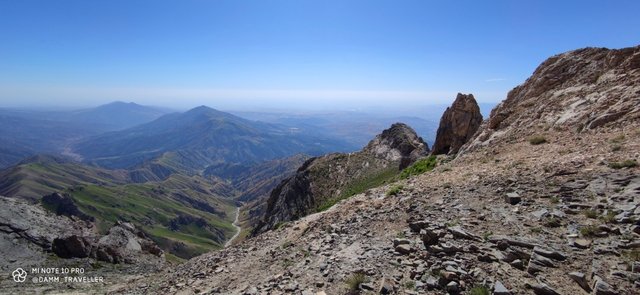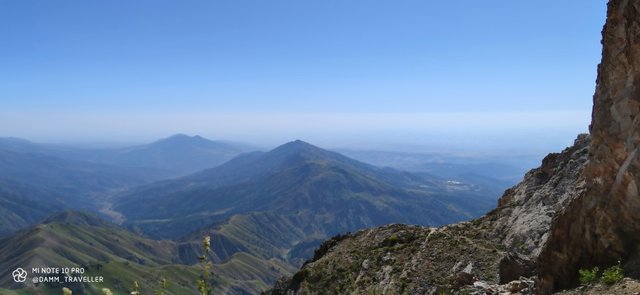 They crawled through the "gendarme", on which I turned around during my first ascent and climbed up the cliffs.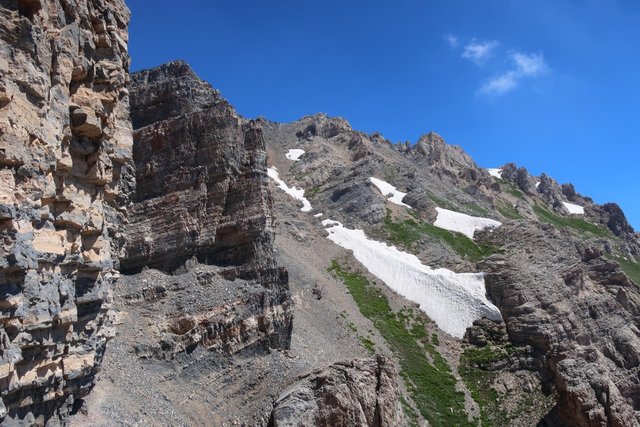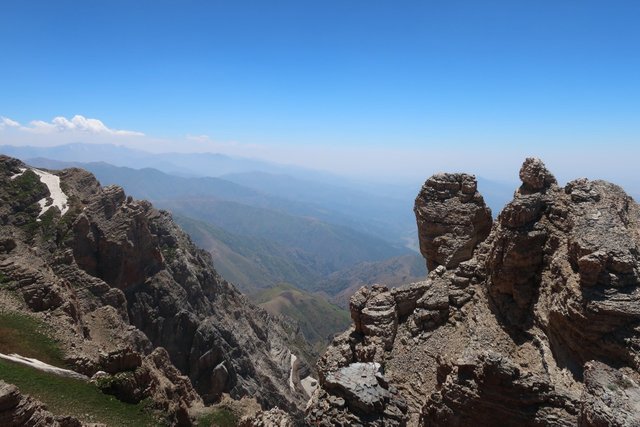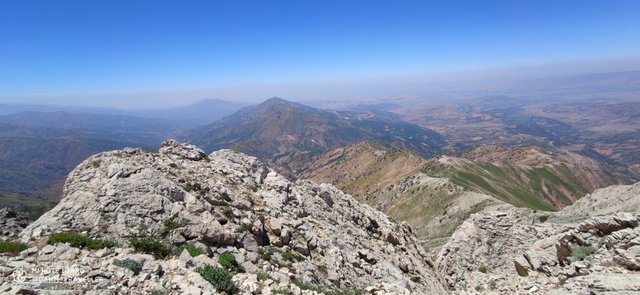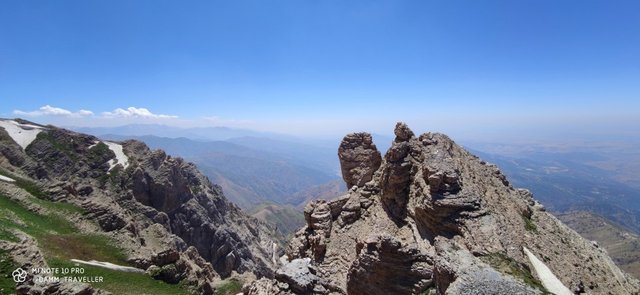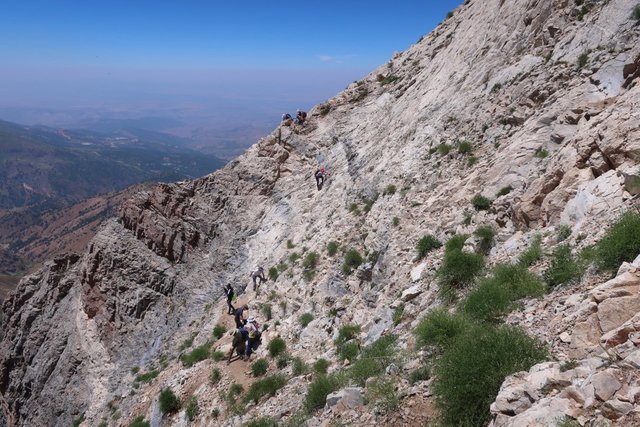 Twenty minutes after the "gendarme", we went to one of my "favorite" sections - a high wall standing at an angle of about 45 degrees, on which we had to climb clinging to a thin cable and sharp stones. In fact, this is not so scary - the stones form steps and it is much easier to climb here than in many other areas, but how cool it looks in the photos :).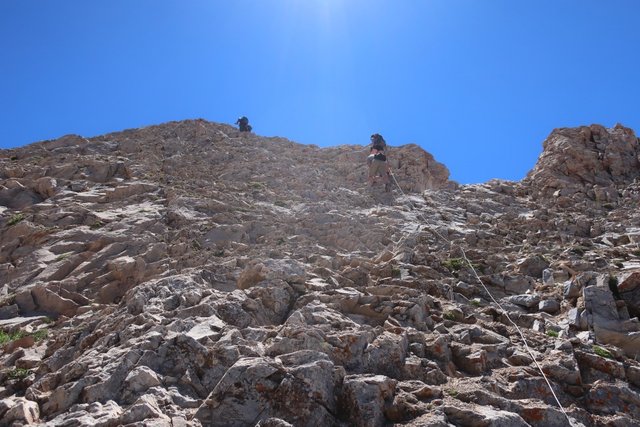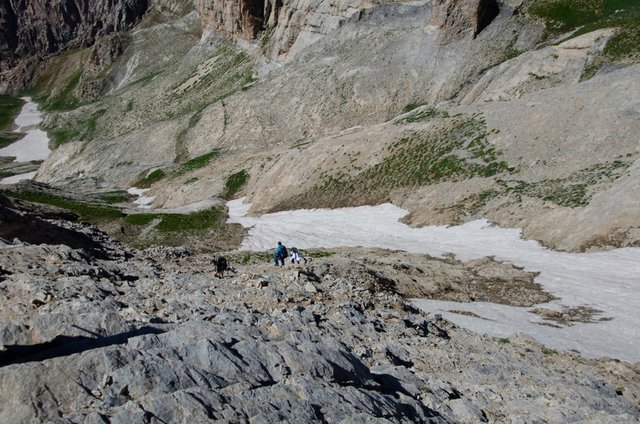 Why did I put the word "favorite" in quotation marks? Just lifted along this wall it seems that the top is already close, but no! She still has to go and go. And you need to go along the snowfield and a very steep slope but there is no strength anymore. This is the third difficult site.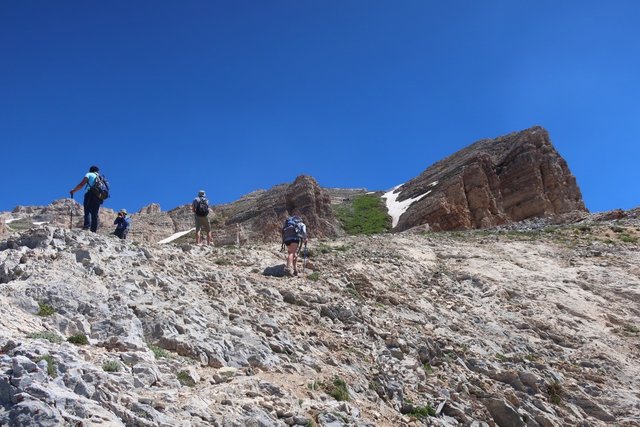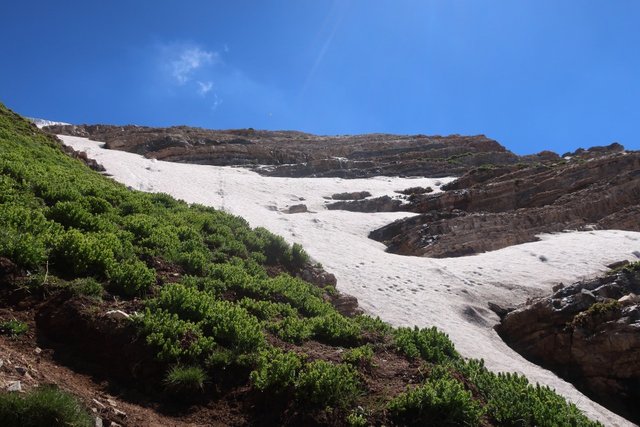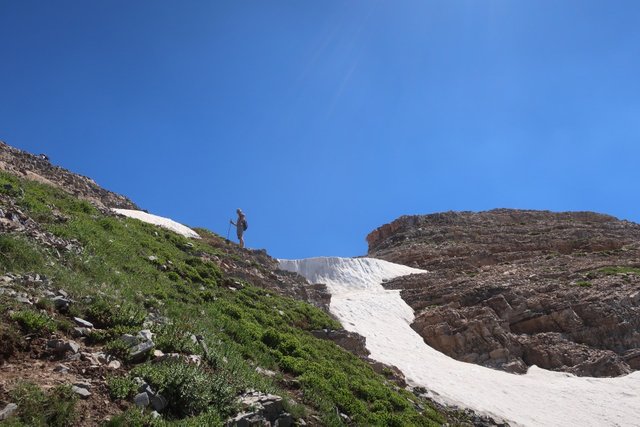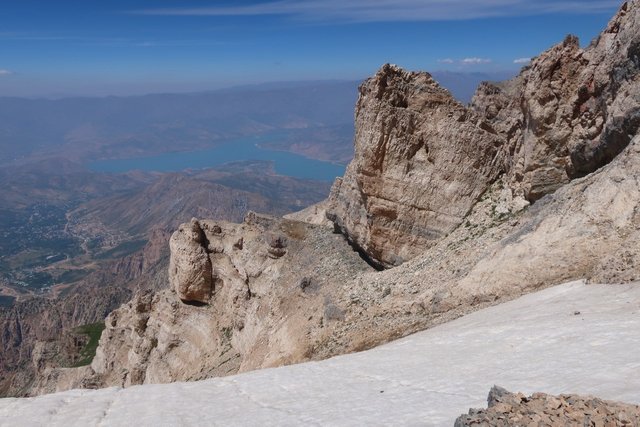 Fortunately it doesn't last long and soon a triangulator (in the common people "triangle") appears with a flag waving in the wind. Here is the top!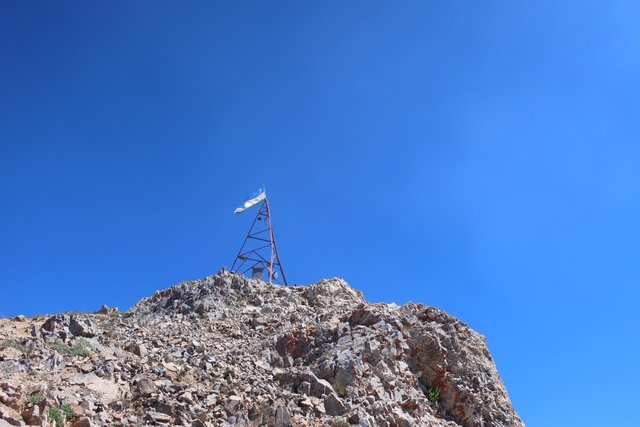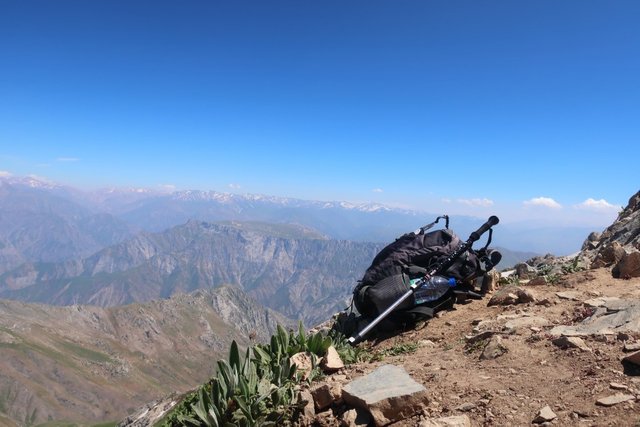 As I promised, I'll tell you a few words about Uncle Grisha (Grigory Trebisovsky). In the early 1980s, he came here from Chernivtsi, Ukraine to look at Uzbekistan and he liked it so much that he has been living here for almost 40 years. Lives in a trailer car near Chimgan and constantly goes to the mountains. Without the mountains here, I think he cannot live. If our mountains have a good spirit, then this is Uncle Grisha. Soon he will be 70 years old, but he continues to climb the Greater Chimgan. Just imagine, he climbed the Greater Chimgan more than 200 times! Remember, I said that, on average an ordinary group rises to the top in 6 hours. Uncle Grisha got up in 3 hours and 19 minutes and was then already over 60).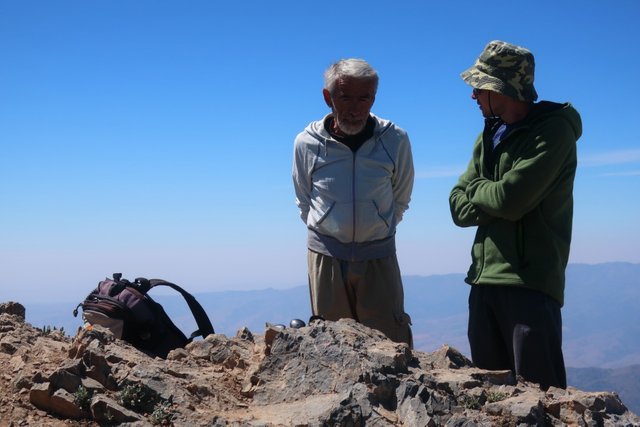 Over the years, he worked as a guide-instructor, mountain rescuer, an instructor of our military, the founder of heli-skiing in Uzbekistan, etc. Enumerate his achievements can be very long. Who cares, you can read his interview here but it is in Russian.
Same famous is his West Siberian husky Skadi, named after the Scandinavian goddess. She is the faithful partner of Uncle Grisha on his voyages. I think you'll not believe, but this dog climbed to the top of the Greater Chimgan about 30 times! Once she disappeared for three days, so the entire Uzbek segment of the Internet became agitated. Fortunately, Skadi was soon found. By the way she has her own Instagram account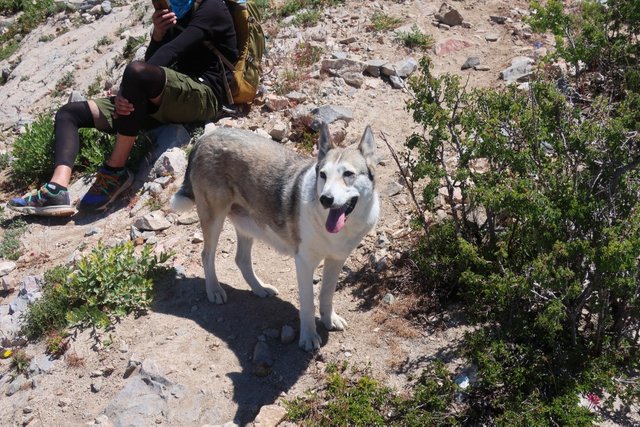 But let us return to our ascent. Since the group went up for too long, we could not sit for a long time, and having a little rest went on the return trip. Some still had the strength to climb stones and take pictures. Thoughts of the main part of the group were devoted to coming down and not stumbling.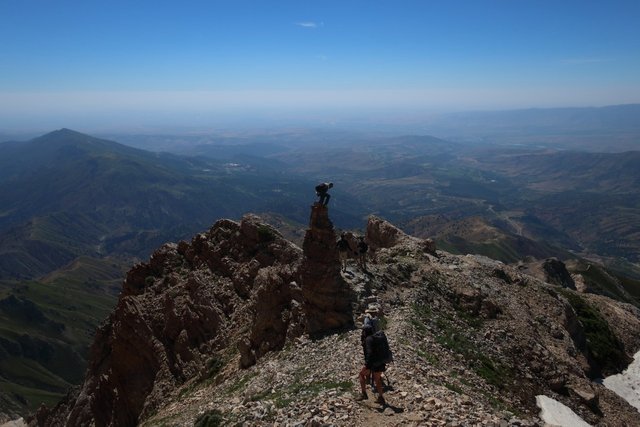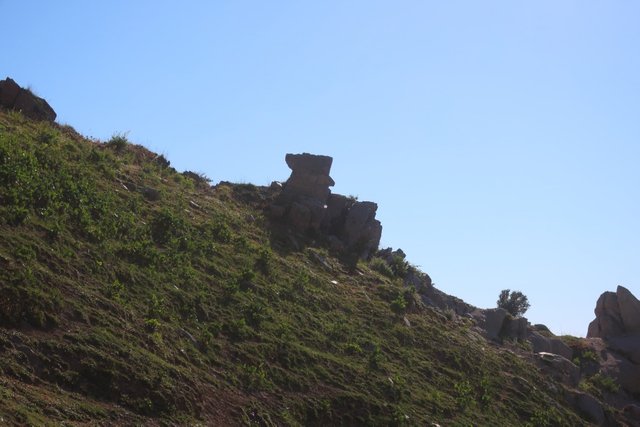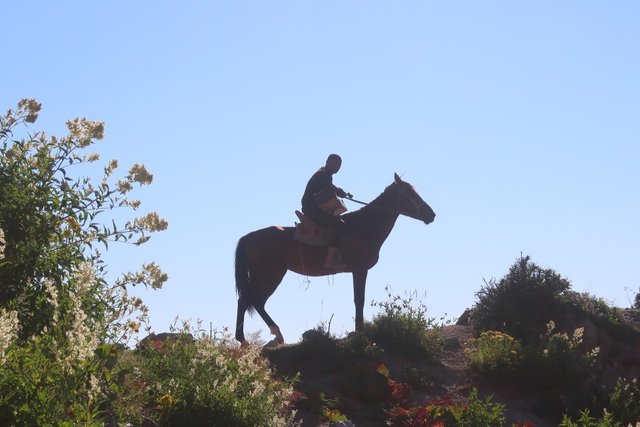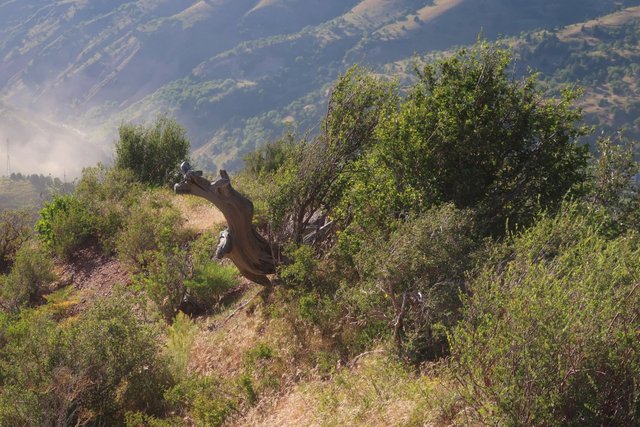 The descent from the Greater Chimgan is more difficult than the climb - the legs are already tired, but still need to go and go carefully so as not to roll down. From this already tired legs get tired even more.
But now, from our last strength, we went down to the bored drivers, plunged into cars and headed home.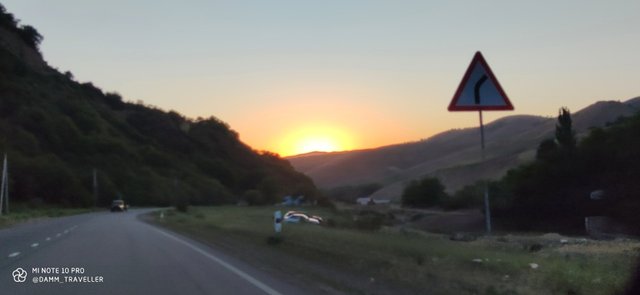 Driving past the Greater Chimgan painted pink by the rays of the setting sun, I decided that I would probably return here again. Because "while you are able to climb, you have to climb"...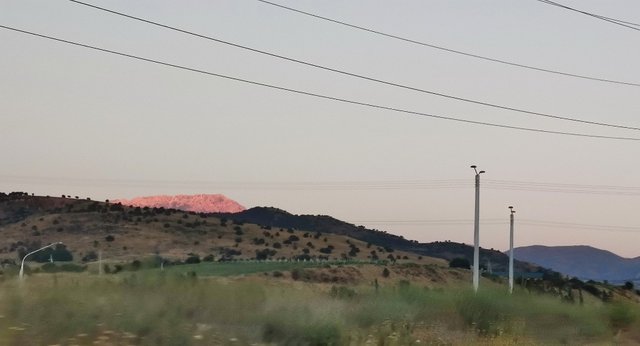 The next day I had a trip planned to the picturesque gorge of Ispay-say. But more about that in my next post. Thank you!
---
View this post on TravelFeed for the best experience.