Norway – A scenic drive along Suleskarsveien
Read this post on TravelFeed.io for the best experience
---
Lysebotn is a small, but popular place at the bottom of Lysefjorden. Especially during the summer months due to the scenic drive to get there. But mostly because it's the starting point for the hike to Kjerag to get a close up view of the Kerag Bolt – a round stone stuck in a crevice hundreds of meters above the Lysefjord. It has also become popular to come for BASE jumping - throwing themselves of a 1000 m. vertical cliff! To stay a few days in Lyseboth offers many thrilling activivities that can give a real good adrenalin kick.
The scenic drive from Brokke in Setesdalen to Lyseboth is one of the most popular in Southern Norway and a day trip I have done several times. Last year in august I was here with a plan to do the hike to Kjerag Bolt. Because we arrived too late we wouldn't be able to make both the hike and then drive back to Kristiansand on the same day. The drive takes hours because of the distance, but also because the mountain roads are narrow, with lots of hairpin turns which causes slow driving most of the time. Also we did too many stops to enjoy the scenery.
Suleskarsvegen across the mountain is closed during winter – usually from november to may, depending on the amount of snow. This year it opened on the 29th of May. The road is cleared but the plowed edges are many meters high. Locals news (vegvesent.no) gives information on when it opens and when it closes. We desided to drive Suleskarsveien to Lyseboth on the 13th of June this year. As you can see, there were still quite an amount of snow.
To get to Lysebotn we continued up another mountain road – Lysevegen. The higest point is 932 m. and just like Suleskarsvegen it's narrow with hairpin turns. Just before we do the steep descent to Lysefjorden, we made a stop at Øygardsstølen at 640 m above sea level to take a look down at Lysebotn. I didn't count, but from an information board we learned that there are 27 hairpin turns and a 1000 m long tunnel almost at the bottom. By the fjord we had a break before we drove back.
Øygardsstølen restaurant is perched on the cliff overlooking Lysebotn. From here the hike to Kjerag starts. There is a tourist information, so you can get all the information you need about the area and the hike to the Kjerag Bolt. The photos beneath are from the trip in august last year. I only walked part of the trail before returning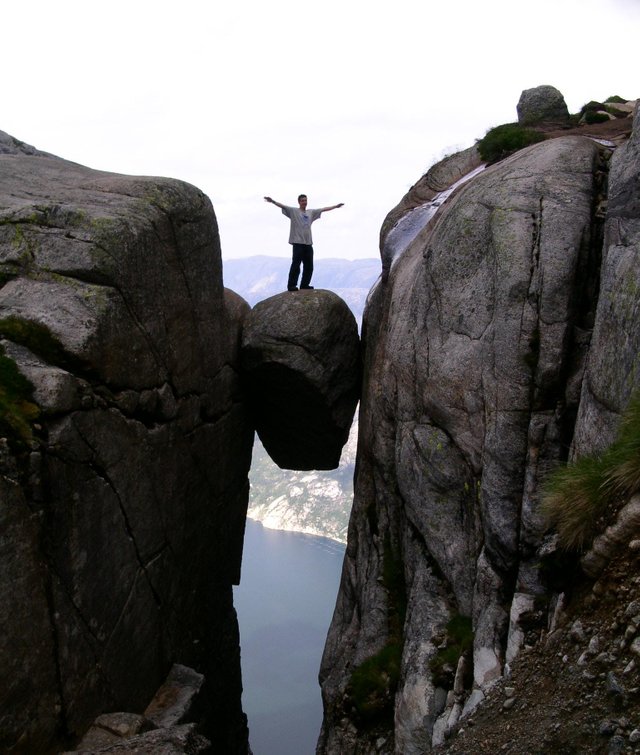 source
As you can see on the map the hike is along the steep cliff to Lysefjorden. It's a 4-5 hours hike and considered hard. It starts with a steep climb up the cliff. The Bolt itself is 5 square meters and 1000 m. above sea level. Many hikers like to stand on the rock. If I manage to do the hike later this year, I am sure I will find it just as rewarding to look at other people standing on the bolt itself.
This is also Suleskarsveien, but taken last year in august, when the snow was all gone. sources:
Information boards at Øygardsstølen
https://www.fjell-vandring.net/fjelltopper-1000-1250moh/kjerag-%e2%80%93-ruvende-fjelltopp-i-lysefjorden-139.html
Please do follow if you want to keep up with my next travel story. Any upvotes or resteems are hugely appreciated!
Latest travel stories, check out :
South-Africa – Panoramic views at Blyde River Canyon
U.J
Kristiansand, Norway
All the photoes are mine, Ulla Jensen (flickr, Instagram and facebook)
[//]:# (!pinmapple 59.054151 lat 6.649222 long Norway – A scenic drive along Suleskarsveien d3scr)
Read about us? // Main page!
Latest content: Travel, Art, Food, Article, Poetry


---
View this post on TravelFeed for the best experience.