Education in times of quarantine
I would like to share with you the way the school system was taken care of in the country I live in - Uruguay.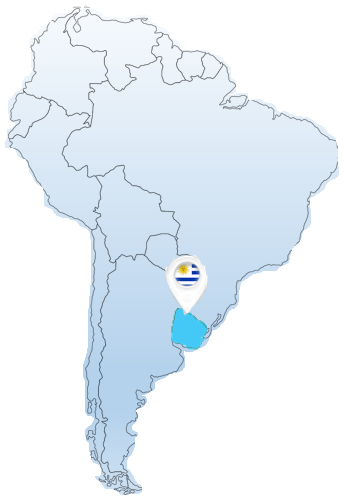 First infected of the Covid-19 virus here were reported on 13th March (Friday), on Saturday the government announced that all schools will be closed at least until 12th April (this now has been prolonged until undefined time). This decision was made basically immediately without much need of considering it (with "only" four infected in the whole country of 3,5 million people) because of the educational system which had been implemented here.
Uruguay is a relatively small country. Second smallest in South America (after Suriname) with the area of 176,215 km² and population of a little bit over 3,5 million. 1,5 million of people live in the capital city, Montevideo, the other two million people are spread in the rest of Uruguay. You can spend hours driving and not passing by any civilization.
The cities/towns and villages are spread all around the country and are quite small. There are many villages with children attending the only (public) school in their village, but there are not always enough teachers.
That where this unique and perhaps revolutionary platform developed by the Uruguayan government with the help of the British Council come in place.
Uruguay invests lots of money in technology and you can find lots of public areas with free WiFi. Uruguay is trying to follow Estonia (e-Estonia https://e-estonia.com/ - check it out ;) )
Long story short, the government invented a platform called 'Plan Ceibal' (with some help of one gringo) and gave EVERY CHILD in the country a small portable laptop (called 'Ceibalita'). With this laptop, children log in into their CREA account (which is a personalized account for each student and teacher on the Ceibal platform) where they can access all sort of educational materials. The laptops and CREA are used also at school with the teachers, where, even if the teacher doesn't have enough knowledge about a subject, can access materials on CREA and use them in the classroom to deliver a class. There are also many teachers with the expertise involved, but they live in the capital or in other countries. The government had installed televisions and Cisco technology in each school so children can receive online lesson and access necessary materials and homework in CREA platform...
It's a fairly complex project involving lots of areas and materials.
I personally am involved with the subject of English. British Council helped the Uruguayan government develop a program for children and my colleagues and I deliver online English classes to rural schools in Uruguay from Montevideo, several cities in Argentina and the Philippines. We spent with each group 45 minutes each week and then the classroom teacher spends another 45 minutes twice a week doing homework and revising materials with children on CREA platform. We can also provide assistance and support via the platform. It was developed a few years after the original Plan Ceibal platform which is focusing on general primary and secondary education. Delivering the second language via this platform was put to a test and was proven effective, it's called 'Ceibal en inglés' and I'm very proud to be a part of it!
If you are interested in more details, visit the website of Plan Ceibal:
https://www.ceibal.edu.uy/en/institucional
And here if you are interested in numbers :)
https://www.ceibal.edu.uy/es/articulo/ceibal-en-cifras
And to give you a better idea of Ceibal en inglés, watch this video :)
https://www.ceibal.edu.uy/es/articulo/ceibal-en-cifras
I believe most of the countries are finding a way to continue with education even in times of quarantine. But I would like to know what the situation is like in developing countries where technology hasn't reached small villages and rural areas. Without Plan Ceibal hundreds of thousands of students would be left without education during the quarantine, and that could potentially be fatal...
Share with me what the education system is like now in the country you live in...
With Love & Stay Safe
Janathedreamer