[TRAVEL] THE WEIRDEST TRAVEL STATISTICS EVER!
Read this post on TravelFeed.io for the best experience
---
Awee Readers! How are you? Coming up to share some nasty data!
---
Where's the goddamn pen?!
… is the question I bark out when anything but the pen comes out from depths of the backpack. If you use a purse, you share the struggle.
Why ranting about a pen on this post?
Because having a travel diary is the sexiest way to make a journey remarkable. It doesn't need to be a fancy gadget on an even fancier smartphone of any sort; all you need is a bunch of paper and a pen… when you're able to find the pen...
On the diary, a traveler is capable of expressing his deepest thoughts, or more often, it's where rushed words come out to record a particular situation or a character. It's also on the smashed notebook, where all sorts of nonsense are scribbled for the sake of killing boredom ― that's the topic of today's post.
THE WEIRDEST TRAVEL STATISTICS EVER!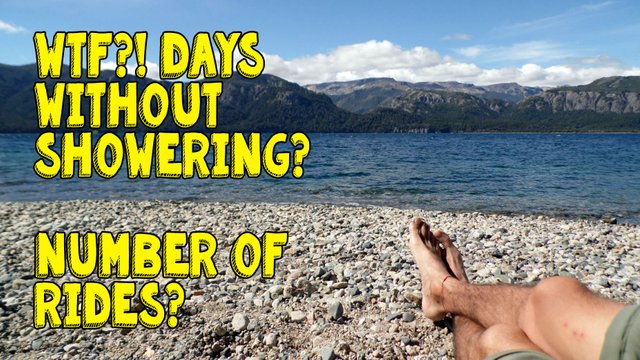 Whenever boredom visits the tent on a rainy day, the only choice is to pull out the pocket notebook to put together something. On a particular day, I decided to take note of some curious and most awful statistics during a trip, ignoring any shame pertained to a few of them. Let's go!
The statistics on this post are related to a two-month trip around remote Patagonia spending ― average ― 5 usd/d and living houseless for 95% of the time. Let's go!
1. Transportation
Starting with a common traveler's statistical data, to avoid scarying away those unused to the nastiness of backpacking.
Still shameful those bus rides! But on my defense, I have to say they were necessary to scape sketchy places and mostly they were cheap local buses, so.. whatever. The meaningful take is that 87% of the rides represented a local I met, which is the cherry on the cake about hitchhiking ― uncountable the number of people you meet!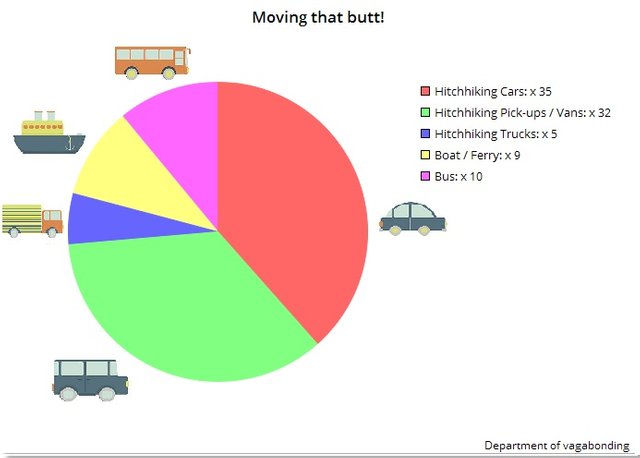 ---
Other facts that are interesting to share:
Quickest waiting time for a ride: 5 minutes
Slowest waiting time for a ride: 2 days and a half
Longest time on a boat: 10 hours
Longest time with the same ride: 3 days
Yes! Don't even try to capture the struggle of spending 2 days and a half sleeping by the road waiting for a ride (it's written on this blog somewhere).
If there's any doubt that hitchhiking is possible, fear no more! Next!
2. Accomodation (Or lack of)
Here it starts to get interesting, and it's by far the most expressive way to save money! If you are willing to embrace being houseless, the world has no limits.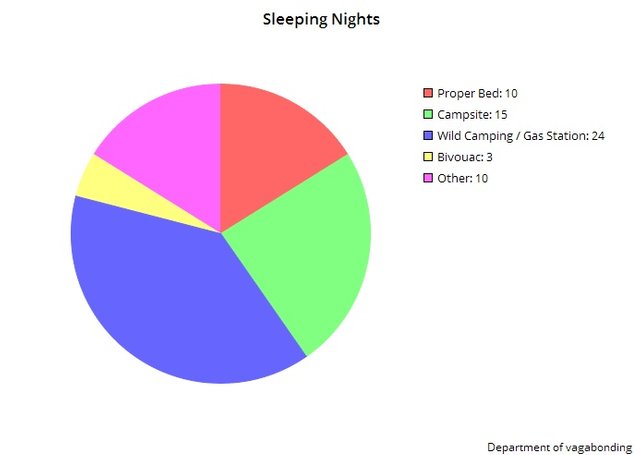 ---
From the 62 nights spent on that trip, only 3 were in a hostel; curiously those hostel nights explain why the average expense went up to 5usd/d.
Proper Bed means a night spent on a real bed (as you envision it), those account the 3 hostel nights and 7 invitations.
Other includes everything, from sleeping on a pre-fabricated house on top of a truck to the streets ― the real art of vagabonding life.
From 62 nights 52 I spent inside a tent or directly (3) sleeping on the ground in nature, a.k.a bivouac.
Unless you go houseless around big cities, you should be more than fine anywhere else, don't be afraid to go for it. Neeeeeeeext!
3. Showering or not to Showering?
Ok, this is for the stronk... Not always hitchhiking is that sea of roses as portraied on Instagram pictures of hipster travelers exploring mountains on their brand new camping gear. Showering is a problem, and more often you are stinky as F#ck!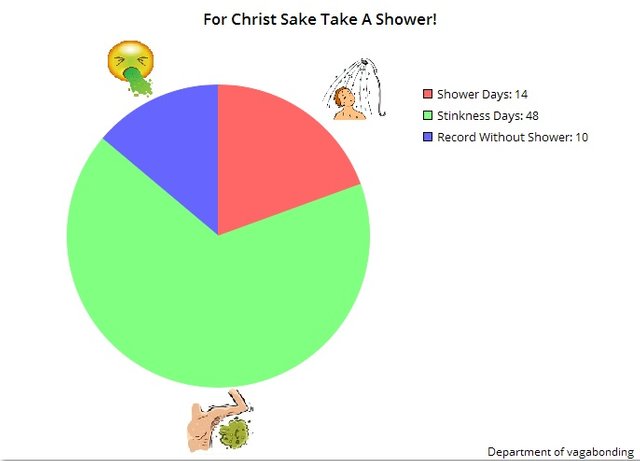 ---
Fourteen showers in Sixty-Two days! The record of 10 days without showering happened between Chiloé and Villa Trafúl, when I could take no more I jumped on a river.
How long can you endure without proper cleaning?
4. Washing Clothes
Part of not looking completely homeless, is to at least wash the clothes and have clean clothes available (doesn't need to carry a whole wardrobe). So here is the vagabonding style of doing laundry!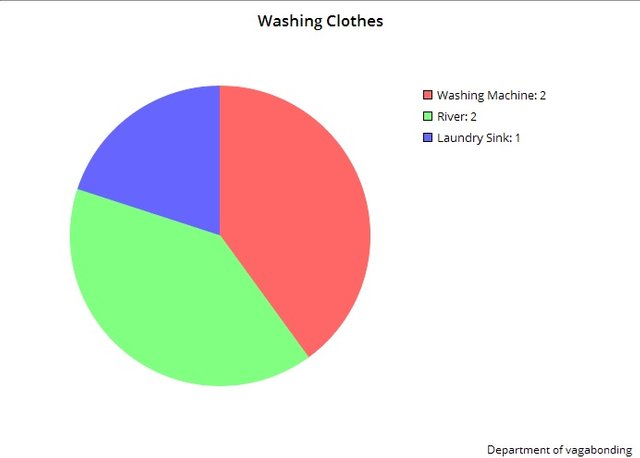 ---
During 62 days, only 5 were laundry days. On the other days I wore unwashed stuff or spare stuff.
On my humble crazy opinion, there's no excuse, nor shame; if you need to do laundry as a vagabond, do it on a clean river and you should be fine.
If you plan on washing clothes on a river, remember to use bio-degradable soap!
5. Conclusion
To be honest, there's no real conclusion from all the data. Just the fact that traveling as a vagabond can be nasty as hell at times.
However, that's just one tiny negative part compared to all the greatness of hitchhiking. The people you meet, the good deeds you encounter, the laughs, the river baths and so forth. In the end, a few days without a shower means nothing; or better, it makes you value a shower even more.
And always remember: The world is not scary!
---
What's your nastiest travel situation? Drop a comment down below!
If you liked this post, please, consider leaving your upvote for a hot coffee.
~Love ya all
---
Disclaimer: The author of this post is a convict broke backpacker, who has travelled more than 10.000 km hitchhiking and more than 3.000 km cycling. Following him may cause severe problems of wanderlust and inquietud. You've been warned.**
---
View this post on TravelFeed for the best experience.